Immigration an Ordeal for Qualified White People
February 3, 2017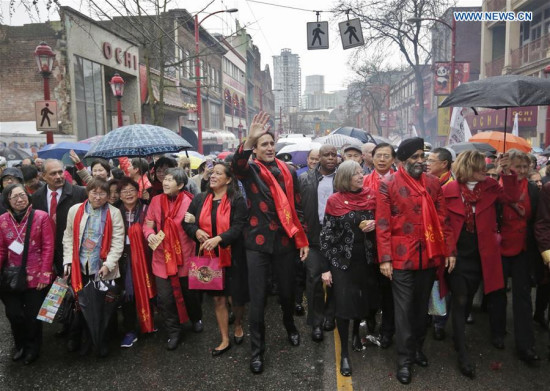 (left, Justine Trudeau pandering to minorities, in this case Chinese.)
Eastern European immigrant "Mick" compares the ordeal
he went through to immigrate to Canada with the Red Carpet
treatment minority "refugees" seem to receive today.
(Disclaimer: I am all for minority immigration when it serves national priorities.
I am against it when it serves the agenda of international bankers
who want to make the European founding peoples a minority while promoting
feminism and homosexuality to depress their birthrate.
Justine has already qualified as a globalist traitor by saying Canada has "no core identity" and is "the first post-national state.")
"Refugee" is the magic word that transforms an economic migrant into a liberal darling.
by Mick

(henrymakow.com)
More than 16 years ago my wife and I immigrated to Canada from Eastern Europe - so both of us were White Christian European landed immigrants at the time.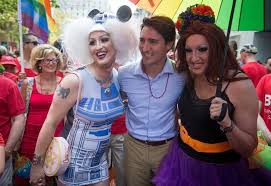 (Justine "Minorities-R-Us" Trudeau pandering to gays and transvestites. Have you ever seen such an unhinged loser?)
Still remember our first time we showed up at the Canadian Embassy, simply to inquire about our chances to immigrate to Canada. I remember the huge sign, almost like a billboard just in front of the Embassy, saying "IF YOU WANT TO IMMIGRATE TO CANADA, YOU HAVE TO BE ABLE TO SPEAK ENGLISH OR FRENCH - SI VOUS VOULEZ IMMIGRER AU CANADA, VOUS DEVEZ ETRE CAPABLE DE PARLER FRANCAIS OU ANGLAIS".

It was as simple as that, beyond any contestation. You can't speak either of the two official languages, you don't go - c'est la vie.
The next thing was a special booklet for the so-called Self-Assessment. That meant ALL your life and your professional/language skills had been assessed, as well as your police file and any other details being rigorously scrutinized and your overall personality SCORED (had to score more than 70 points out of 100 just to be taken into consideration by Canada Immigration).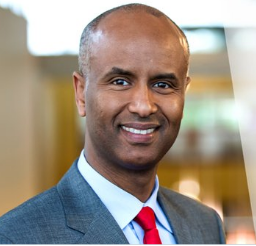 (Canada's current Minister of Immigration, Ahmed Hussen, came to Canada as a Somali refugee at the age of 16)
As so-called "Independent Immigrants", my wife and I paid for EVERYTHING - for processing fees, medical check-ups, costs of transcripts and translations of our University diplomas, and eventually for the notorious LANDING FEE (was $975 CAN per person back in 2000) - so much for whining about "poor" Chinese immigrants about 100 years ago when they had been "head-taxed".
What would be a definition of "LANDING FEE" in plain English? Basically you Mr. White Immigrant pay the Canadian Government a $975 per person to land. So, just to call a spade a spade - it was nothing but a head tax, but who cares or cries over some White Europeans coming to Canada?
All in all, slightly over $6k CAN had leaked out of our pockets BEFORE we even touched our new country's soil. We never objected to that; we thought Ok, this is the way it is and these are the rules - on y va!
But hold on, as a cherry on top came in a final interview with a white Canadian Visa Officer - face to face. My gig lasted for about 40 min - questions like "Why do you want to go to Canada?", "What do you hope to achieve?", "How do you plan on supporting your family there?" etc., so it went on like a real job interview.
Half of it in English, and half in French - for I put down on my application that my French was good. No quarters or ANY guarantees given, and ditto for my wife. No paid accommodation or provisions by the Canadian or Provincial Government. We were to land; we were to find a place to rent & get a job, and the onus was strictly on us to take care of everything.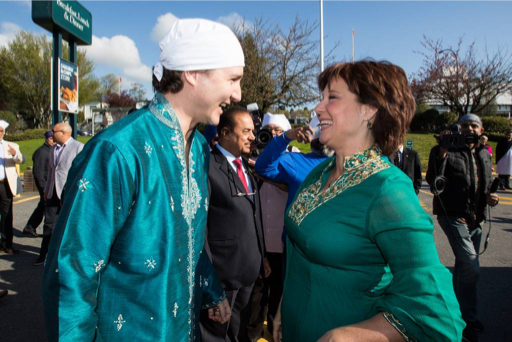 (Justine and BC Premier Christy Clark pandering to Indian minority)
It was only after we had signed an official document, in front of the same Visa Officer, that we would have at least $15k CAN in our possession upon arrival in Canada, that he gave us the green light. We didn't mind it though; we wanted to come to Canada and life is good now. The fact to keep in mind is that, when it comes to potential White European immigrants, they go by the book.

Nowadays they don't even want to question the coloured African or Asian fake refugees or "immigrants". That it is simply not politically correct; that interferes with their human rights, right? Just "Open the door and let them in", as Sir Paul McCartney says in his famous song.
Then they get hooked onto the Welfare/Medical system, without any language or professional skills. Not all of them, but too many I'd say.
Meanwhile, thousands of Chinese "students" keep pouring into Vancouver (or Hongcouver for that matter), never to return to their beloved China where life is so "prosperous" and the middle class is "flourishing". And Justin the so called PM of Canada, and his liberal feminist lackey Christy Clark are dancing in the streets of Vancouver dressed in the Chinese outfits and "celebrating" The Year of the Rooster.....
---
Related: Minority member expresses disgust with Traitor Trudeau
First Comment from M, a current applicant from Brazil:
It's discouraging for any immigration applicant to see people with no qualifications bypass the difficult requirements of Canada's system.
Actually, things were even worse until a month ago. In Canada, they have the "Express Entry" system, which gives you points for items such as education, language command, age, etc. The cutting point today is about 458 points. However, if you had a job offer (maybe your uncle from India who has a bakery) you would get 600 hundred points extra. I will tell you, even with a Masters degree, it is very hard to get 450 points, but a job offer would mean immediate approval. Now they diminished the number of points given because of a job and made the pathway through education more favorable. Probably because in this way, they can attract many thousands of foreign students who will pay big money to the Canadian school system.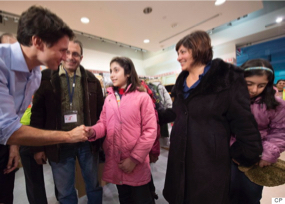 (left, Trudeau pandering to Syrian "refugees." 25,000 have been shown to the front of the line.)
The whole thing is a mess: There are also provincial systems, and some of them are so unfair and contingencial that if you are a bricklayer or a fork lift driver, you will get residency much before an engineer with a masters.
However, Canada still has a better system than the US, where the only viable pathway is marriage (one can buy a fake marriage in California for $10K), $500K in investment or illegality, which is the preferred way for millions of lawbreakers who know they will be eventually pardoned.
The truth is that nobody wants to immigrate to Canada because it is an unique country. People regard Canada as the 51st American state, as in truth, it mostly is. Most people would immigrate to the US if they had a choice, because of the cold in the North. Nobody that I know says that they love Canada for some unique characteristic; they look for life in a civilized place, where one can raise their children away from violence.
Brazil, Mexico, they have a lot of personality and singular cultures, but what is the advantage when you can get robbed and get shot going to work? Marxism did a great job of destroying civilized life in all Latin America, and samba doesn't make it better. Brazil has more violent deaths a year than Syria and Iraq combined, we should have refugee status. Sincerely, when it is your family's safety at stake, you can even deal with the Trudeau freak.
Let's go to bland, post-national, insipid, but civilized and beautiful Canada!
Currently, a family of four has to prove $22,000 in available funds. Add that to $4000 in air tickets and heavy expenses on translation of diplomas, English tests (the IELTS fee is around $250), medical tests, new furniture, winter clothing, etc, and the total cost can easily climb to $ 40K. Usually people sell their apartments to fund the move. It is a risky undertaking.