James Perloff: Parallels Between Vietnam Era and Today
February 25, 2017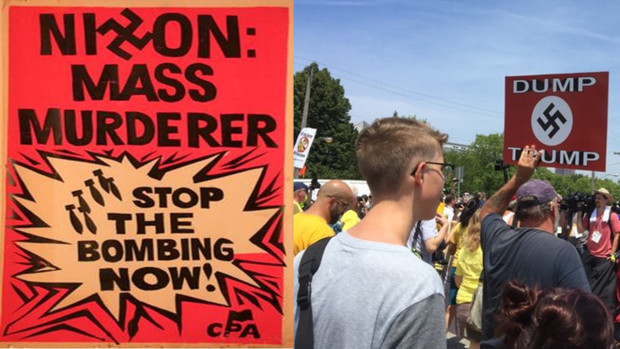 Donald Trump is a mortal threat to the NWO agenda and must be removed
at all cost.

James Perloff thinks the strategy used to remove LBJ and Richard Nixon
in the 1960's-70's will be applied.
The main parallels are in the mass mobilization of young demonstrators, funded by billionaires, combined with brainwashing from the media.
The other great parallel is the national division. America hasn't been this divided since Vietnam. T
rump of course has no major war.
However, he might get into one with Iran.
by James Perloff
(excerpt by henrymakow.com)
I have wanted to write a post called something like "Is Trump the Real Deal?" That is a controversy right now in alternative media: some are faithful Trump advocates; others take the view that in the jaded world of realpolitik, no true outsider can win, that the Trump-Clinton rivalry was only for show, and that the Powers That Be wanted Trump to win anyway.
I do believe, categorically, that Hillary Clinton was the Deep State's first choice. This was demonstrated by mainstream media's ruthless daily pommeling of Trump, while kid-gloving Clinton despite her innumerable scandals; the rigging of debates; and even trotting out George H. W. Bush to announce he would vote for Hillary. The election was followed by unprecedented efforts to overturn it, including street riots, recounts, death threats to electors, and the unsupported "Russian hacking" claim.
But though the Establishment favored Clinton, is Trump a true populist outsider?
On the negative side, after pledging to "drain the swamp," Trump has appointed a number of swamp creatures, including neocons, Establishment Republicans, and Goldman Sachs bankers; there are those who feel he is moving too slowly on his promises, some of which--such as investigating Hillary--look abandoned. Most concerning to me is Trump's long history of Zionist connections, now crystallizing in his administration, which I may elaborate on in an upcoming post.
Since I honestly consider the "jury still out" on Trump, I'm going to focus on two things that are definite: (1) mainstream media's continuing relentless attacks on him; and (2) the orchestrated nationwide protests.
[In his full-length post, Perloff elaborates these points, then draws parallels to his hippie days in the sixties: the funding of Vietnam War demonstrators by the Rockefellers; the CIA's links to the counterculture; and how the music industry, Hollywood, and news media were all controlled and mobilized to transform American culture.]
CULTURAL TRANSFORMATION
While communism was allowed to win militarily in Vietnam, in America cultural Marxism won. We were changed from a Leave It to Beaver society to a Woodstock society. It hadn't been just about Vietnam; a sweeping assault had been launched on the nation's core Christian values, as sexual liberation--previously known as "immorality"--infected American youth, along with getting high on drugs. And having been defeated by "invincible" communism, many of my generation became political leftists, in a variation on Stockholm Syndrome.
This opened a Pandora's Box, as a host of other counterculture agendas were piggybacked onto the antiwar movement: feminism (feminist pioneer
Gloria Steinem worked for the CIA
), the gay movement, the pro-abortion movement, finally morphing into today's transgenderism, pedophilia, and open Satanism.
FAST FORWARD UNTIL TODAY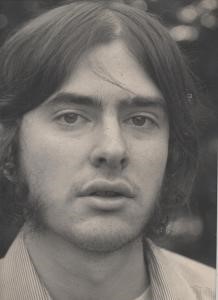 (Perloff, during his 'useful idiot' phase )
We are now in a huge and emotional national divide for the first time since the Vietnam War. As I have watched Soros-funded rioters fill the streets, I'm reminded of my youth. And I ask: Where were all the protesters when Bush and Obama were bombing Iraq, Libya and Syria? At least the hippies of the sixties had something of substance to protest: a war. Today's demonstrators rail against shadows: the fact that their candidate lost ("not my President"); a comment Trump made about women in a locker room twelve years ago (while Bill Clinton's rapes remain ignored); and a faux label of "racist."
--
As in the hippie era, Hollywood and the music industry are partaking, with Meryl Streep bashing Trump at the Golden Globe Awards, Madonna saying she's thought about blowing up the White House, and Sarah Silverman calling for military overthrow of the government. It wouldn't surprise me if we soon saw a television remake of All in the Family, with a new Archie Bunker as a Trump "deplorable."
Steele warns that the riots might include "staged shootings by white paramilitary operatives." Such a scenario could be guided into full-blown nationwide race riots, and advance the already overgrown police state.
The Federal Reserve, a congenital organ of the Deep State, could pour gasoline on the flames. The Fed, which has been holding off a dollar collapse for years through quantitative easing, could tighten the money supply and crash the markets. Such a collapse would of course be blamed on Trump. Like the doves at the close of the Vietnam War, Hillary supporters would bark: "We told you so!"
With the nation in political and economic chaos, CNN's pundits would proclaim that Trump must abdicate "for the good of the country"--a call that would be echoed by the usual GOP sellouts like John McCain and Paul Ryan. All this could happen without Trump doing one thing to provoke it. And if he didn't step down, impeachment would be called for, as some Democrats are already discussing, including initiation of an "Impeach Trump Leadership PAC."
Think it couldn't happen? Let's remember the crescendo that capped the hippie era: Richard Nixon's resignation over erasing a lousy 18 minutes of tape.
The 2016 election represented an unprecedented David-Goliath victory of alternative media over mainstream media; let's keep that victory going. What we are witnessing now, in the scathing attacks on Trump and "fake news," is payback. But as the Bible says of the devil, "He is filled with fury, because he knows that his time is short." (Revelation 12:12)
---
Related-