We Are Being Farmed Like the Animals We Eat
June 26, 2017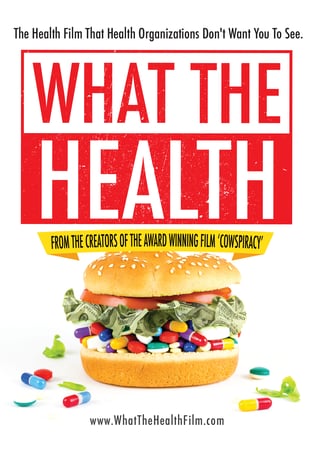 that our animal-based diet is
responsible for
most of our health problems.
by Henry Makow Ph.D
The 90-minute documentary "What the Health"
unveils a new dimension in the conspiracy:
we are being farmed like the animals we eat.
I've seen many films advocating vegetarianism or veganism but usually my enthusiasm fades after a couple of days.
I'm from an east-European background and I love my meat, especially sausages and cold cuts. However this documentary made quite an impact on me because it showed convincingly that my animal-and-dairy-based diet is responsible for most of my health problems.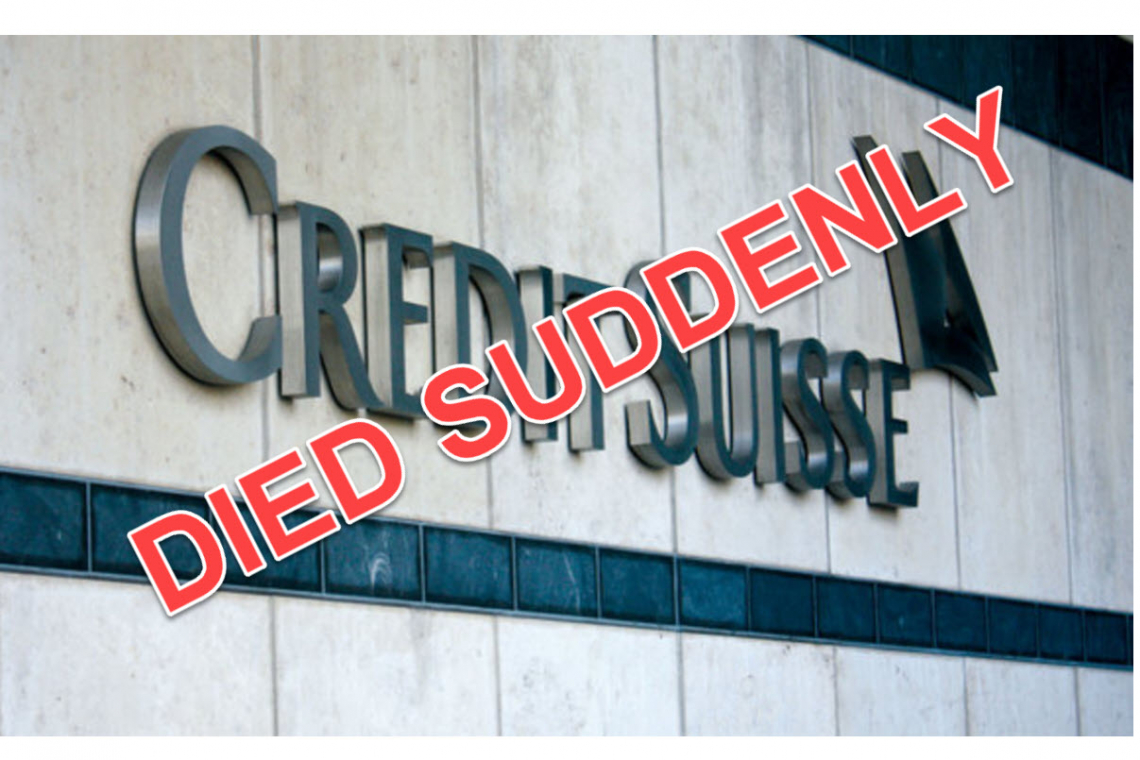 (True benefactors of humanity, filmmakers Kip Anderson and Keegan Kuhn will never get the Nobel Prize.)
A satanic cult such as is Western society makes its members sick and then sells them a phoney "cure." Our animal-and-dairy-based diet is fuelling a trillion dollar food,
healthcare and pharmaceutical boondoggle that is gradually bankrupting and killing us all.
We are no different from the factory-farmed chickens and cattle we see in the film. Except we are farmed to be consumers of foods which make us sick, and drugs which only manage the symptoms. We are not supposed to be healthy or get well.
The government actually subsidizes and promotes unhealthy diets. Laws protect producers of toxic food and treat whistle blowers as "terrorists." There is even a "cheese burger" law which protects fast food restaurants from being sued.
Why is this? Because the US government is controlled by lobbyists who
funnel
money to politicians. Our democratically-elected leaders sell
themselves
to the highest bidders and it's perfectly legal.
Similarly, organizations like the American Cancer Society and American Diabetes Association are sponsored by the food manufacturers that cause the sicknesses in the first place. The role of these groups is to perpetuate the illness.
The same applies to doctors in general. They are drug pushers. They don't learn anything about diet in medical school. Can you imagine?
When California
tried
to mandate seven hours of instruction on diet, the American Medical Association actually fought and stopped it. That proves that a good diet is fatal to medical industry profits.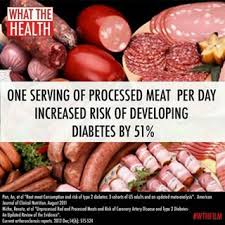 I have had Diabetes 2 for decades which makes me feel tired. My doctor has me on a no-sugar low-carb diet and the drug metformin. I was
surprised to learn from this documentary that sugar and carbs are not the problem. It is animal fat which prevents the sugar from getting into my cells from my bloodstream. He has never mentioned this.
According to this film,
WORLDWIDE WE ARE LOOKING AT APPROXIMATELY,
350 MILLION PEOPLE WITH DIABETES
1 OUT OF 3 MEDICARE DOLLARS IS SPENT ON PEOPLE WITH DIABETES
1 IN 10 HEALTHCARE DOLLARS IS SPENT ON PEOPLE WITH DIABETES
WORLD HEALTH ORGANIZATION REPORT HAS CLASSIFIED BACON & SAUSAGE AS CARCINOGENIC TO HUMANS
Especially persuasive were interviews with three invalids who were taking a cocktail of drugs to manage their illness. They were so desperate and defeated. In all three cases, they were on the road to recovery only two weeks after changing to a plant-based diet.
Meanwhile Congress is debating the "
Affordable
Healthcare Act" -- how many billions to devote to this racket.
The bottom line is that health like war is a boondoggle, but this one immediately affects us all. We talk about dropping out of "the system."
"Going off the grid." Fighting the bankers. It could be as simple as changing our diet.
First Comment by Tony B:
Can't agree with this, Henry.
The problem is not what we eat but what has been done to poison what we eat in every stage from the seed or the newborn to the final processing. Chem trails constantly dumped into the sky poison everything - air, water, ground, plants, animals and us. Worse, most of the common vegetables are now GMOed and the grains are all soaked in Roundup at the time they are harvested, therefore vegetables are just as poisoned as animal food. Soy in the west is practically 100% GMOed, is a natural poison to the human system unless fermented (almost none is) and is used as a filler in almost everything that is processed, meat or vegetable.
Humans are designed to eat every kind of natural food. There are diseases and sicknesses directly connected to NOT eating any meat as well as the other way around. Moreover, "vegans" end up with weakened systems especially a weakened immune system, propaganda notwithstanding.
If people understood how vegetable fats are created they would not come near any of them. To be profitable they have to be heated into a rancid mess. Then chemicals are added to make them look good, smell good and taste good. Margarine is one molecule away from being plastic. Set out a stick of it and no insect will touch it while they will devour butter as quickly as they can. Animal fat is the fuel the human body must have in every cell in order to live. It is insane to deny people the fuel which runs their bodies and replace it with faked up garbage. But it works well for the "bottom line" of high profit at the expense of human health.
Diabetes? Probably every American has "type 2" diabetes. So what? People who take medication for it suffer - from the medication. Want rid of it? Simple. There are a million places to find out how many pounds of sugar we consume today per person. It's enough to kill an elephant partly because it, like soy, is in practically every last processed food. Moreover every last sugar beet is GMOed and now all cane sugar is soaked in Roundup at harvesting. Kids who chew on natural sugar cane in the field have perfect teeth and are otherwise healthy also, but after the processing sugar is the product that was responsible for the miserable health of kings when only they could afford it and now it is one more of the poisons we all massively consume constantly to our detriment.
The only true answer to proper human food consumption, beside making it natural, unprocessed food as much as possible, is the ancient and reliable, "All things to moderation." The rest is a lie, no matter who pushes it.
Marco adds:
Henry, visit Italy and look for people in bad physical condition because of their diet, it will be hard to find. All they eat over there is salty meats and dairy, with a good round of starchy carbs mixed with oil to top it off. Italy would be Hell for a health crazed gluten obsessed vegan.
I'm sure our masters would love it if we all ate seeds, and nuts, while they gorged themselves on fillet mignon.
I don't understand the neurosis these days about diet, I think its a trap, there are enough things to worry about - why worry about what you are going to put in your belly.
It's very simple, if a certain food makes you feel healthy and good after eating it, keep eating it. If it makes you feel sluggish and depressed, don't.
Nothing makes me feel better than a good meal of meat and potatoes.
If people are truly worried about processed meat and dairy, find a local farmer to buy meat and raw milk from.