Poland in Crisis -- Globalist Traitors Battle Nationalists
July 25, 2017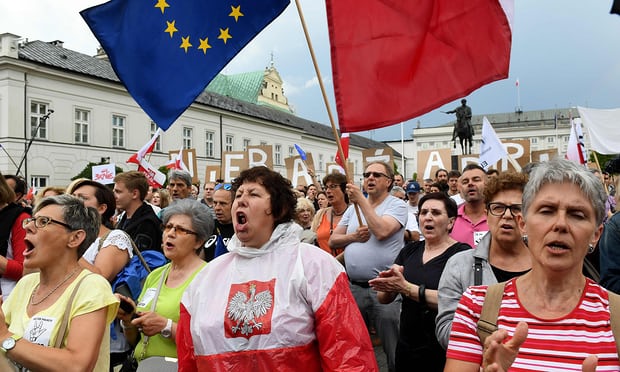 (Left, Soros' useful idiots take to the streets)
We're in a life-and-death struggle
for the future of the human race
between Communists
(satanist, globalists,"liberals")
As in America, globalists in Poland are
resorting to extreme behavior
to intimidate
their opponents. In the article below
a Polish reader conveys the
urgency of the situation.
by Patriotic Pole
(henrymakow.com)
Poland is under massive attack right now. They want to destroy the present right wing government (PIS Law and Justice party) and get back the former communist, traitor PO government that served the Germans and Brussels. Majority of Polish media belongs to German owners, which continually attack Polish right wing, conservative party.

They produce fake news and horrible, lying propaganda among Poles and abroad to discredit PIS and the President as well. They mock and ridicule them and are very vicious in what they do.
Poland, like Hungary does not want to OBEY Brussels, Merkel and Big Brother, so now it's going to be destroyed like Ukraine and many other countries. This is always the same plan, to make people hate the government and riot against it, and we know what happens next.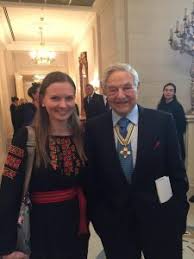 It's getting serious; they have a very detailed 16 points plan to do it, step by step. There are people connected with Soros, this woman- Lyudmyla Kozlovska, left, is Ukrainian, (a friend of Soros). She started the foundation called -Open Dialogue.
They spread lots of info, how to act, what to do, and agitation against this government through Facebook.
On Facebook she talks people into switching this government off and paralyzing the country in order to force this government to give up on introducing changes in the old, communist and corrupted judiciary system and to resign.
Since this gov was elected by the majority of Polish people, the former government which is full of traitors and communists cannot stand it. They are afraid of being exposed, their frauds and thefts, their corruption and connections, so they (the present opposition) have been doing all they can to destroy the present government which is very bravely and steadfastly trying to repair the country. If it was not for this government, Poland would be no more, just a shell with nothing left, no jobs, no money, no babies as thousands of Poland emigrated to various countries for lack of prospects, very low wages etc. This was done and promoted ( emigration) under the former leader, the prime minister Donald Tusk.
They are pure evil, the opposition is extremely arrogant and will not hesitate to destroy the present gov in any possible, vicious way in order to get the power back into their hands.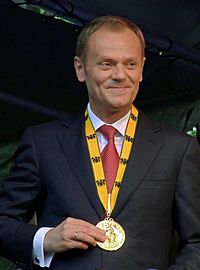 The head of the former gov was Donald Tusk, left, who now works as the president of European Council in Brussels. Many people mock him calling him the king of Europe. He is the traitor, always working against Poland, even now, the best friend of Merkel. Sold out most of Polish industry; whatever was worth anything he sold it for pennies.
It's such a shame as this man always acts against Poland. He is not on our side, he has no respect among Polish patriots and Polish people.
The people who are rioting in the streets now are also spreading fake news abroad on purpose. Their call to action is : "Act in the streets and abroad" (to slander and destroy the present gov). So they scream - "Dictatorship!, They take away our freedom! They destroy our democracy!" etc. which is all lies. They go to Brussels and report on this gov accusing it of various, evil things, which is all done for the sake of destruction of this gov as they hate everything that comes from PIS ( Law and Justice ruling party).
This is the best gov, Poland has ever had since WW II. It's very patriotic, Christian, supporting family and tradition, national identity, traditional values, Polish history and it's working for people not for their own benefit, it's trying to repair and restore what the previous one had damaged and stolen or sold out.
For the first time in history Polish parents are receiving financial help for their children which helps them in a huge way to supply their needs, so the number of new born babies started growing sharply, 14,000 more babies born this year than a year ago. This government exposes lots of frauds and also murder in Smolensk, the plane crash with the Polish gov and president Kaczynski). The ruling of former gov under Tusk was just constant lies, emigration, poverty, fraud and deception. Many believe that it was involved in murder of 90 people in the plane crash in Smolensk. They have always had pure hatred towards PIS and Kaczynski brothers. (One of them was the President of Poland who died in 2010 and the other one is now the head of the ruling party but does not hold any formal function in the government.)
Obviously Brussels is not happy as Poland is getting stronger and richer, and the gov listens to Polish people who said clearly, they do not want Islamic invasion so the gov is strongly against any so called refugees in Poland. This drives Brussels mad as they try different tactics to take those people in. They threaten Poland with sanctions, isolation etc.
The former gov agreed to take thousands.
They blame now the new law, which is going to change the judiciary system but the change is very much needed as the system is terribly corrupted by the former, communist governments. Moreover, the changes are to make that system just as it is in Germany and many other Western countries so this is just an excuse to overthrow this government.
This government is very gentle with rioters. The former one, led by Tusk, would have had police forces chasing away all those people by water guns etc, which happened many times.
----
Related-
Most Polish people support this government and many have changed their mind and started supporting it seeing what is going on.
And this amazing speech by D. Trump.
I have never been his fan but that speech was amazing. It happened two weeks ago and now there is destruction of Poland going on. It's too brave, too rebellious, too family and God oriented for communists, for Soros, for Brussels for the devil himself.
This is the info in main media
Victor Orban, Hungary supports Poland, He built a wall to stop refugees, very strong leader.
http://uk.reuters.com/article/uk-poland-politics-judiciary-hungary-idUKKBN1A70C3
https://www.rt.com/news/397213-hungary-support-poland-inquisition-orban/#.WXRYGU0CCTI.twitter