David Irving: 2 Million Jews Died in Gas Chambers
September 20, 2017
This video has been removed but this material can be found here (thanks MC)
David Irving is not a "holocaust denier."

In a 2009 confession, he acknowledged that
around two million Jews
were gassed at four camps.
So why is he being persecuted?
by Henry Makow Ph.D.
David Irving has been vilified by Organized Jewry as a "holocaust denier" but his real crime has been to do original research.
Someone said, "history is propaganda about the past" and, while affirming there were gassings, Irving has deviated from the Party Line. He questions how many Jews died at Auschwitz and whether exterminations were carried out under Hitler's orders. He claims Hitler always tried to mitigate or stop violence against Jews.
In 2009, Irving made a two-hour autobiographical "Confession" (above) which I highly recommend. He is a genius, the best Britain can produce in terms of character and courage.
His speaking ability and grasp of information are phenomenal. This man should have been Prime Minister of England. He puts all the other doofuses, including the psychopath Winston Churchill, to shame. Organized Jewry owes David Irving an apology and millions in compensation.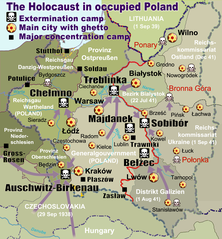 In 2005 Irving was lured to Austria by a secret police agent posing as a student and jailed for 13 months. That's 400 days in solitary confinement, in a 6' x 6' cell, for doing nothing but seeking to learn the facts about the holocaust. He deals with the holocaust starting at 1 hr. 35 min in the Confession. He found documents that confirm that the "Bug River" camps were indeed extermination camps, and that around two million Jews were gassed
at Treblinka, Sobibor, Belzec, as well as Majdanek. He says he is a "deviationist" among revisionists who claim no gassing took place. He says these exterminations, called Operation Reinhard, were economic in nature - looting rich Jews and then murdering them. D
ocuments list the gold watches, coins, fountain pens etc accrued by this operation.
As for Auschwitz, he quotes a source who says people unfit for work were gassed, but he tends to minimize the numbers. He cites a post-war Polish document that places the death total of all people at 300,000 .
"According to Rees, in 1942, there were 2.7 million Jews murdered by the Nazis, including 1.6 million at the Operation Reinhard camps, but only 200,000 Jews were gassed at Auschwitz that year in two old converted farmhouses. Rees wrote that almost one-half of all the Jews that were killed at Auschwitz were Hungarian Jews who were gassed within a period of 10 weeks in 1944. Up until the Spring of 1944, it had been the three Operation Reinhard camps at Treblinka, Belzec and Sobibor, that were the main Nazi killing centers for the Jews, not Auschwitz."
Since Irving acknowledges that many more Jews also died by the bullet, it is hard to understand why he is considered a
"holocaust denier." Even official historians like Raul
Hilberg
put the number killed at closer to five million. Irving suggests that the
holocaust
is big money for Organized Jewry and that is why they came down so hard on him. Of course, it's also used to give Jews special status as martyrs.
HITLER
Irving's humanizing Hitler is another reason he has been ostracized. He quotes Hitler as saying he wanted to postpone the resolution of the "Jewish Question" until after the war.
I don't know why Irving sued Deborah Lipstadt for defamation for calling him a holocaust denier. How did he ever expect to get justice?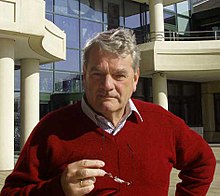 He says Lipstadt admitted in an interview they tried to "destabilize" him before the trial. Irving relates how on the day his 30-year-old daughter who suffered from incurable disease committed suicide, a rich Jew sent him an expensive reeve with an inscription "a merciful death" referencing the Nazi euthanasia program.
Lipstadt's
$15 million defense team was financed by Illuminati Jews like Steven Spielberg. Irving stood alone. The verdict cleaned him out. Yet when Hollywood recently made a movie about this trial, David, the lone hero who stood for truth against Goliath, is made out to be the villain. This is what organized Jewry is all about, inverting good and evil. (This is the true meaning of "revolution.")
I am glad David Irving's confession is on tape and still on YouTube. People with character and courage are a dying breed in a dying culture. We need to listen to him speak and be inspired.
Although I think Irving is naive about Hitler, generally he is one of the few historians we can trust. As he says, a hundred years from now, people will want to read his books, because he was jailed for writing them.