Undoing Male Sex Programming
October 1, 2017
(Left, Naked females look identical yet Western occulture is besotted with them.
This mental programming degrades men and women to the level of animals.)
If we don't program our minds, the Illuminati will. Sexual desire
is mostly in the mind. If men think of a steak, we salivate.
If we think of sex, we respond accordingly.
But what if men didn't think of sex?

Let Philosopher Arthur Schopenhauer's words below inspire us to try this experiment: Banish all sexual thoughts (and images) for a three-month period. Discover the true meaning of "sexual liberation," which satanists typically have inverted.

Women-worship is a form of idolatry. Despite their posturing, women were not meant for veneration. Males have been brainwashed to seek female approval.

The sex act is the act of procreation. If we believe life is sacred, it should be consecrated as well. Using it for a cheap thrill dehumanizes us.


"They are
sexus sequior
, the inferior second sex in every respect: one should be indulgent toward their weaknesses, but to pay them honour is ridiculous beyond measure and demeans us even in their eyes."
Women (i.e. sex) veneration has made women so arrogant "that one is sometimes reminded of the sacred apes of Benares which, conscious of their own sanctity and inviolability, thought themselves at liberty to do whatever they pleased." - Schopenhauer (1788-1860)
Disclaimer: I do not endorse all of Schopenhauer's views, but present them as an antidote to Masonic Jewish inflation of women, which is designed to emasculate men and destabilize society. For example, I believe in the nuclear family and do not endorse polygamy. Nor do I agree with Schopenhauer financial provisions.
by Arthur Schopenhauer
(Excerpts by henrymakow.com)

The nature of the female
[Nature] has provided her with superabundant beauty and charm for a few years at the expense of the whole remainder of her life, so that during these years she may so capture the imagination of a man that he is carried away into undertaking to support her honorably in some form or another for the rest of her life, a step he would seem hardly likely to take for purely rational considerations.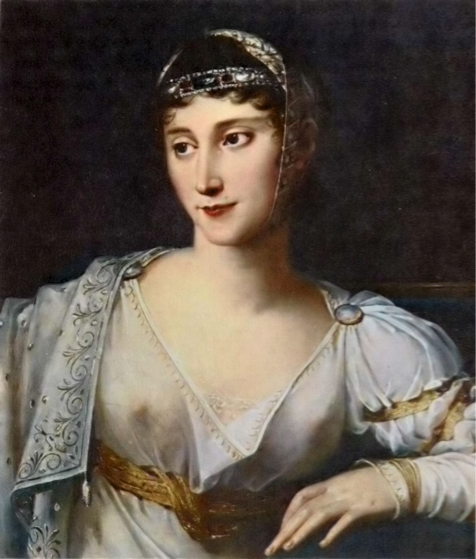 Thus nature has equipped women, as it has all its creatures, with the tools and weapons she needs for securing her existence, and at just the time she needs them; in doing which nature has acted with its usual economy. For just as the female ant loses its wings after mating, since they are then superfluous, indeed harmful to the business of raising the family, so the woman usually loses her beauty after one or two child-beds, and probably for the same reason.
Female truth

The fundamental defect of the female character is a lack of a sense of justice. This originates first and foremost in their want of rationality and capacity for reflection but it is strengthened by the fact that, as the weaker sex, they are driven to rely not on force but on cunning: hence their instinctive subtlety and their ineradicable tendency to tell lies: for, as nature has equipped the lion with claws and teeth, the elephant with tusks, the wild boar with fangs, the bull with horns and the cuttlefish with ink, so it has equipped woman with the power of dissimulation as her means of attack and defense, and has transformed into this gift all the strength it has bestowed on man in the form of physical strength and the power of reasoning.
Dissimulation is thus inborn in her and consequently to be found in the stupid woman almost as often as in the clever one. To make use of it at every opportunity is as natural to her as it is for an animal to employ its means of defence whenever it is attacked, and when she does so she feels that to some extent she is only exercising her rights. A completely truthful woman who does not practice dissimulation is perhaps an impossibility, which is why women see through the dissimulation of others so easily it is inadvisable to attempt it with them. But this fundamental defect which I have said they possess, together with all that is associated with it, gives rise to falsity, unfaithfulness, treachery, ingratitude, etc. Women are guilty of perjury far more often than men. It is questionable whether they ought to be allowed to take an oath at all.
Feminine charms
Only a male intellect clouded by the sexual drive could call the stunted, narrow-shouldered, broad-hipped and short-legged sex the fair sex: for it is with this drive that all its beauty is bound up.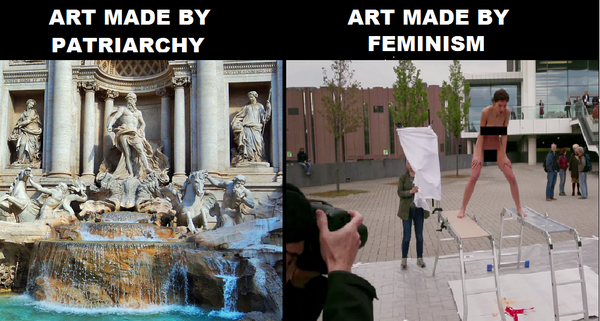 (l. She's defecating.)
More fittingly than the fair sex, women could be called the unaesthetic sex...Nor can one expect anything else from women if one considers that the most eminent heads of the entire sex have proved incapable of a single truly great, genuine and original achievement in art, or indeed of creating anything at all of lasting value: this strikes one most forcibly in regard to painting, since they are just as capable of mastering its technique as we are, and indeed paint very busily, yet cannot point to a single great painting; the reason being precisely that they lack all objectivity of mind, which is what painting demands above all else. Isolated and partial exceptions do not alter the case: women, taken as a whole, are and remain thorough and incurable philistines: so that, with the extremely absurd arrangement by which they share the rank and title of their husband, they are a continual spur to his ignoble ambitions. They are
sexus sequior
, the inferior second sex in every respect: one should be indulgent toward their weaknesses, but to pay them honour is ridiculous beyond measure and demeans us even in their eyes.

Insipid women-veneration
This is how the peoples of antiquity and of the Orient have regarded women; they have recognized what is the proper position for women far better than we have, we with our Old French gallantry and insipid women-veneration, that highest flower of Christian-Germanic stupidity which has served only to make women so rude and arrogant that one is sometimes reminded of the sacred apes of Benares which, conscious of their own sanctity and inviolability, thought themselves at liberty to do whatever they pleased.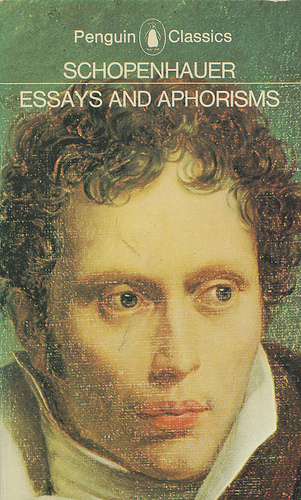 No argument about polygamy
There can be no argument about polygamy: it is a fact to be met with everywhere and the only question is how to regulate it. For who is really a monogamist? We all live in polygamy, at least for a time and usually for good. Since every man needs many women, there could be nothing more just than that he should be free, indeed obliged, to support many women. This would also mean the restoration of woman to her rightful and natural position, the subordinate one, and the abolition from the world of the lady, with her ridiculous claims to respect and veneration; there would then be only women, and no longer unhappy women, of which Europe is at present full.
Property and inheritance
In India, no woman is ever independent, but in accordance with the law of Manu, she stands under the control of her father, her husband, her brother or her son. It is, to be sure, a revolting thing that a widow should immolate herself upon her husband's funeral pyre; but it is also revolting that she should spend her husband's money with her paramours - the money for which he toiled his whole life long, in the consoling belief that he was providing for his children. Happy are those who have kept the middle course - medium tenuere beati.
-------
Related-
Thinking is a Bad Habit
(About thought control and switching the center of our being.)
Occult Plan to Disinherit Males Revealed in 1852
Sports Illustrated Cover Criticized
First Comment from Brittany:
I have been visiting your site for a while now and generally enjoy reading your articles. I would call myself an awake and aware person and agree with you on most things. I am married, female and a social studies teacher in a public school and do my best trying to wake middle and highschoolers up to the Illuminati system, and have even lost a job due to my efforts. I am also an artist and homesteader.
I introduce myself in this way because I find your position on females to be somewhat offensive as someone who agrees with you on most of the feminism stuff. Modern feminism is mostly an attempt to extract women from the household into industry in order to hide the destruction of the dollar. And I agree, it is sad to watch so many women obsess over their looks or use their sexuality as a weapon.
However, a lot of women want to find a man who will take care of them so that they raise a family and being physically attractive helps. I don't see why this is viewed as some kind of demonic thing. Interestingly, in the animal world, it is often the male who must impress a mate with his physical attractiveness as she is often less beautiful so as to blend in with the surroundings and protect the next generation from predators (peacocks and ducks, for one).
This article really rubbed me the wrong way. Not all women are dumb, stupid brutes that need to be controlled by a patriarchal system. And there have been many great female painters- Frida Kahlo, Rosalba Carriera Elisabetta Siriani to name a few. Sure, they don't get a lot of attention, but that doesn't discount how beautiful their works are.
We both have an affinity for hard-hitting journalism but let's not forget it was a female investigative journalist- Ida Tarbell, who stood up to the Rockefeller family and pioneered investigative journalism against these Illuminati families.
It is absolutely true that men contribute so much to Western society and there is nothing wrong with that. Men are awesome- they really are. Everyday I love my husband more and more for everything that he does for us. I visited Italy and truly admired the great works of art created by men.Not once did I resent not seeing an equal number of works by women. However, I do believe that historically, career roles for women were very very restricted. Women raised babies and took care of families and that was about it unless you were living in poverty and had to earn wages washing clothes, wet nursing, cleaning, prostitution, etc. It is great that women raise families but claiming that women are somehow talentless or inferior because fewer of them had resources/opportunities to create great works of art in their spare time is simply not true.
But there are great women contributors to Western History too like Joan of Arc. American Margaret Heffernan Borland is the only woman known to have led a cattle drive of 10,000 in the Old West. Annie Oakley could shoot better than most men and lets not forget the Native American Sacagawea who helped Lewis and Clark figure out where the heck they were going. Currently, artist/sculptor Heidi Wastweet is creating beautiful anti-Illuminati silver coin designs which proves to me that there are smart talented women out there who have an understanding of how the world works and are using their talents to create a better world.
I just don't understand why you must be so cruel on the subject of women. Women need men as much as men need women. Women should not be worshiped but neither should men. We should have an intense respect for each other.
In fact, I am leaving my teaching slave-wage job at the end of this school year to pursue homesteading, family and other things that give my life meaning.
Sincerely,
Brittany
PS. Anyways, in case you were interested in why I lost my last job- my students and I arranged a town-hall meeting with Congressman Pete Sessions and we asked him all kinds of conspiracy-style questions. I suddenly lost my position at the end of the school year despite that my students had excellent AP scores and one of my students used the footage to make an award winning CSPAN student-cam documentary on free markets.
Here is an article written about my students
including a link to the full town hall (student questions subtitled for your convenience),
PPS. I am the ONLY government/econ/history teacher I know (male or female) who has the courage to do anything like this. Bottom line: most people are living in fear and will not stand up to injustice. It doesn't matter what gender you are.
--
Thanks Brittany-
This article was directed at men to help them overcome powerful mind control. I realize there are a lot of sane wonderful smart women still, and you sound like one of them. Many of the best anti-NWO pioneers have been women like Edith Starr Miller,
featured yesterday,
Nesta Webster, Olivia Marie O'Grady,
Bella Dodd,
Elizabeth Dilling
and Pequita de Shishmareff.
henry