Sex Assaults Pretext for Soviet-Style Purge?
October 14, 2017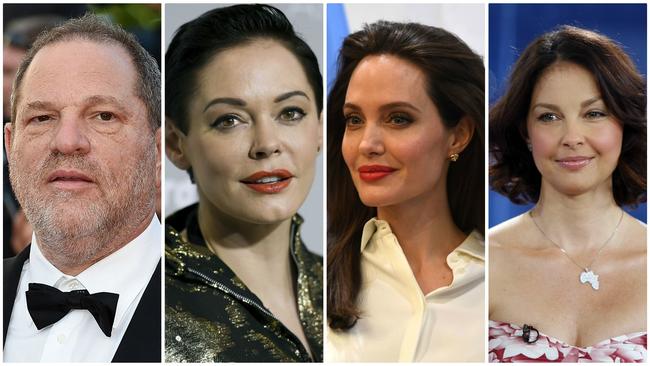 (left, Weinstein & some of his actress accusers.)
Overnight, Harvey Weinstein went from player to pariah. This behavior is typical of the Illuminati and has been going on for years.

He deserves to be demonized but Lanny Goodman asks if there is
a hidden agenda behind throwing him to the wolves.
Disclaimer: I think Goodman's thesis is overwrought and farfetched
but he claims to
have high Masonic sources. Make up your own mind.
by Lanny Goodman
(henrymakow.com)
Just as Communists
in the former Soviet Union jailed and murdered
almost 100,000,000 Russians
under the brutal dictatorship of Jozef Stalin by his secret police chiefs Felix Dzerzhinsky and Lavrenty Beria, a similar purge is about to happen in Freemasonic America.
Because of Joe Biden/Bill Clinton's ill-advised VAWA law of 1994, nearly 1/3 of American men have had a complaint against them by a woman.
Most of these police inquiries resulted in no arrest or prosecution, 70 million Americans have a criminal record.
The Harvey Weinstein prosecution establishes the fact that local police may now "re-open" already closed past complaints, or "re-visit" formerly closed cases in order to "re-investigate" and "use-prosecute" (and subsequently "re-jail").
The Illuminati Freemasons are using both the mainstream and the alternative media (united against the understandably vile and criminal Harvey Weinstein) to publicize the fact that there are no statutes of limitations for any man in the USA on these "sexual assaults and crimes," even when these idiotic baseless events occurred decades ago.
And since 1/3 of all American men have brushed with domestic disputes/issues/complaints/difficulty, it's literally a "turkey shoot" on the American male. The problem is, the Illuminati Freemasons will only use these arrests against their political enemies. For example, they have really hated Oliver Stone for decades, because he mercilessly exposed and attacked them
in
his films such as JFK, Platoon, Wall Street, Born on the Fourth of July, Nixon, Salvador, World Trade Center, W., South of the Border, and
Snowden, he finds himself (as of today) under investigation (and possibly arrest) for sexual assault for some stupid incident that happened back in 1991.
A list of these "dissenters" has been compiled by the Department of Defense/Pentagon over the past two decades using email, text, voicemail, phone call, facsimile, personal eavesdropping, internet, and social media data and communication, to determine once and for all, if that individual is either a "friend" to the New World Order, or in fact a problem and a thorn in their side, set to be eliminated, just like Stalin did.
Harvey Weinstein, even though a
fabulously
wealthy and powerful Jewish man, was thrown under the bus and sacrificed, just like the Illuminati Freemasons sacrificed Jews in the German Holocaust, because frankly, they are not Jewish, nor do they consider themselves real Jews. They are Occultists, Luciferians, who believe that they are in fact personifications of God on Earth, left to their own devices, henceforth their motto
"Deus Meumque Jus,"
or "God is according to my right thereto."
Coupled with the Las Vegas mass shooting, the U.S. Government is poised to begin confiscating all automatic, semi-automatic, and assault weapons because apparently each one can be converted to another, with or without a "bump stock" mechanism, and these would be the only weapons Americans could have used to fight back against federal agents.
And now yesterday, with President Donald Trump's decision to "decertify" the Iran Nuclear Agreement, or JCPOA, the scene is now set for a series of horrific "false flag attacks" portrayed as an attack by Iran in retaliation for the U.S. breaking of this deal, sanctioning their Revolutionary Guards in the process.
The world has never been less safe than it is now, for both Americans and the world, and the time is now ripe for complete and total Illuminati Freemasonic control in a one-world government, with all of their enemies and political opposition immediately marginalized, jailed, or outright murdered, all under the "guise"
of past domestic violence or "sexual assault" fraudulent complaints, frivolous investigations or false convictions.
---