Vegas Eye Witnesses Die or Disappear
October 15, 2017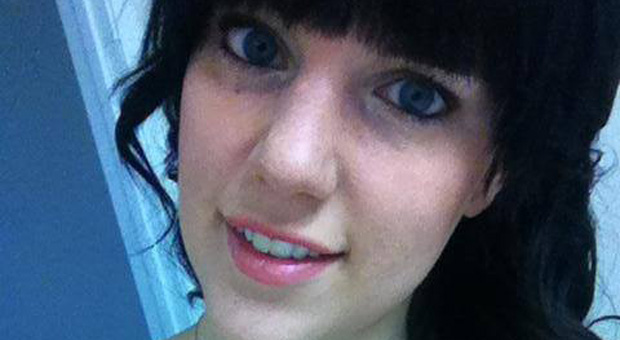 Kymberley Suchomel, 28, found dead
Oct 9 after Facebook posts
disputing official Las Vegas shooting story.
FBI declines to interview another
witness of multiple shooters.
Obviously "democracy" and the "free press" have been
subverted and replaced by a veiled Masonic tyranny.
Neonettle
A key witness in the Las Vegas shooting attack, who identified multiple shooters, has been found dead at her home.
28-year-old Kymberley Suchomel managed to escape the massacre, at the Route 91 Harvest Festival in Las Vegas, uninjured but made a public statement describing the attacks and how they were carried out by multiple gunmen that were firing weapons into the crowd.
Her post on Facebook quickly went viral as it confirmed what many had already suspected: The mainstream media "official" narrative that Stephen Paddock was a "lone wolf" gunman was false.Kymberley gave a detailed account of her horrific experience a few days after the event as she said she had struggled to think of the words to describe the "nightmare" she had been through. She said multiple gunmen were not only firing weapons in the crowd but chasing people and gunning them down.
She described how she was "chased" by one of the shooters: "We were rounding some sort of corner maybe- and I looked to the right and I saw this large cowboy sitting down with his legs spread, holding a blood-soaked woman. "I thought to myself 'we NEED to hide', but as I looked quickly for somewhere to go, the gunfire once again got closer and closer. "We couldn't hide because they (and I do mean THEY) were chasing us.""I kept looking back expecting to see the gunmen- and I say MEN because there was more than one person. "There was more than one gun firing. 100% more than one."She also stated that what was being reported by the mainstream news networks didn't match the events that actually took place, saying: "I have been watching the news non-stop since I arrived back home to my family. And it just doesn't make sense."
The story that are feeding everyone doesn't add up to our eyewitness accounts. There is something wrong with what they are saying & the evidence seems fake if you ask me."There are multiple people stating that there was a lady towards the beginning of the evening who had made her way up to the stage warning people that we were all gonna die- her and her boyfriend were escorted off the premises."
Why has she not been mentioned by authorities? Every single survivor I have talked to also remembers multiple shooters, and at least one from the ground- why aren't we being taken more seriously? Tons of things don't add up."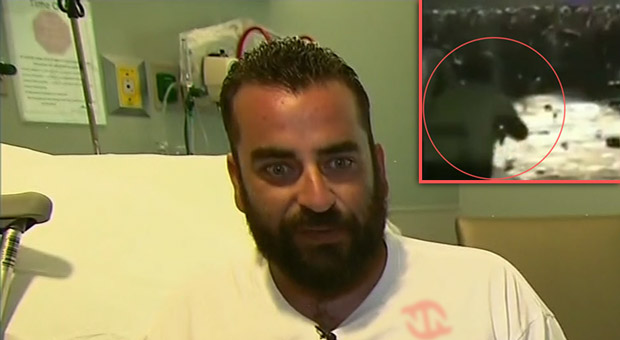 Rocky Palermo was shot by a gunman in the crowd
during Sunday night's mass shooting and says he has the evidence to prove it. He says there were between 3-5 active shooters firing weapons into the crowd and says there was gunfire coming from the ground as well as from above. Palermo was rushed to hospital after taking a .223 round to the pelvis and still has 30-40 pieces of bullet shrapnel still inside his body.
Doctors told him the bullet was inches from paralyzing or even killing him. Mr. Palmero confirmed that his injury was caused by an attacker on the ground and that the bullet was fired at his with a horizontal trajectory and wasn't fired down from above, although weapons were being fired from "all angles".
Oddly, Rocky says he has been trying to contact the FBI to give them his eyewitness account of what happened on that night, but his requests have been ignored by agents investigating the case.
SUCHOMEL DETAILS
According to
Sea Coast Online
, Suchomel, 28, who was not injured during last week's shooting, died early Monday at her Apple Valley home, according to her grandmother, Julie Norton.Norton found Suchomel just after 8:30 a.m. when she arrived to care for her 3-year-old great-granddaughter, Scarlett.
She believes Suchomel may have died in her sleep after her husband, Mike, left for work at 4:30 a.m.Norton told the Daily Press: "I believe the stress from the shooting took her life.
"Days after the shooting, Suchomel explained to the Victorville Daily Press how she and her friends escaped with their lives as a gunman, perched from a hotel suite on the 32nd floor of the Mandalay Bay Resort and Casino, opened fire on some 20,000 concertgoers on Oct. 1.
With 58 people killed by the gunman and nearly 500 wounded, the Las Vegas event is the deadliest mass shooting in modern U.S. history.
That was the night that my life, and the lives of my friends, and so many others were changed forever," Suchomel told the Daily Press the day after the shooting. "I might have escaped unharmed, but I know that I've been emotionally and mentally scarred for life."
Suchomel shared her fear of trying to fall asleep at night as the "sounds of gunfire" become louder in her head and the images of "broken and bloody bodies" flashed through her mind.
Kymberley Suchomel isn't the first key witness to have died since the shooting attack after a man killed himself and his disabled daughter in a horrific murder-suicide shortly after the FBI raided his home.
John Beilman was wanted for questioning by federal agents in connection with a communications device discovered in suspected shooter Stephen Paddock's hotel room. Earlier this week, a valet worker from the Mandalay Bay hotel who parked suspected shooter Stephen Paddock's car, disappeared without a word to friends or colleagues.
Chad Nishimura mysteriously vanished shortly after he gave a statement to a local news network saying that Paddock was just a "normal guy" and that "he didn't have many bags.
"Also, it was revealed today that the Mandalay Bay hotel security guard who was hailed a hero by the law enforcement and the mainstream media, Jesus Campos, has gone missing.
Campos was due to appear on Fox News with Sean Hannity last night, which was 1 of 5 TV interviews he was scheduled for, but he didn't show.This discovery emerged shortly after it was revealed that Campos was shot before the shooting massacre has started, and not after as the "official" narrative had claimed.
Campos has disappeared.
**UPDATE**Kymberley Suchomel's original Facebook post has been mysteriously deleted since her passing, but an archived version of the original post
can be viewed here.
SECOND POST ON FACEBOOK...OBVIOUSLY, SHE WAS TRAUMATIZED.
"It's been 5 days. And it's not getting any easier. Although I'm not sure it can really be expected to get any easier. Tonight is the first night since it happened that my husband has had to go to work. He works nights & I started really freaking out when I realized that soon I'd be alone at night. My grandmother, who had a previously scheduled trip to Washington, graciously agreed to cancel her trip so she could stay the weekend with me. It's like I'm in elementary school again, and I need a babysitter. I hate this feeling. I hate it so much. But I hate the idea of being alone even more. "Alone". That single word makes my heart race. Makes my stomach twist.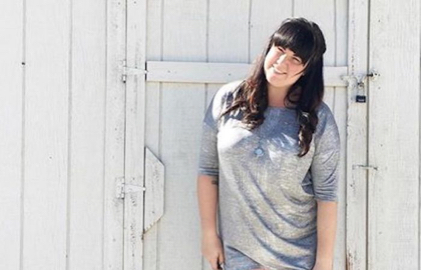 How can a single word affect me so badly? During the day, I can confidently say I'm alright. As alright as I can be I guess. But as soon as nightfall hits, it's a completely different story. When the sun is out, I can see my driveway, across the street, in my backyard, everywhere. But once the sun is gone- I'm blind. I have no idea who could be hiding in my bushes. I have no idea if someone is crouching behind my car. I'm completely blind. The world outside is totally unknown. Every single noise I hear makes me jump in fear that something is about to happen. I constantly have this uneasy, butterfly feeling in my stomach. Nightfall rears its ugly head, and I'm a mess. A broken mess.
.... At 8:30 pm every night, I have an alarm that goes off to remind me to take my prescription for a pituitary tumor I have. It's gone off every night since May. But for the last five days, when it goes off, my heart races faster than ever before. I get sweaty. I get scared. I know it's going to go off, but I still react this way. When will it stop?! When my daughter moves too quickly, tosses one of her toys, or talks too loudly after being quiet- I get the same fast beating heart and fear. Just a few minutes ago, as I lay next to her watching her cartoons, she rolls over to give me a hug.
My instant reaction was to get closer to the ground and I actually yelled at her for moving so quickly. I yelled at my three year old daughter for hugging me. What kind of mother am I to do such a mean thing to my daughter? I'm a broken mother. When multiple people talk at the same time (ie: my daughter and my grandma), I get super anxious. I feel as though I'm drowning in their voices, and I wouldn't be able to hear if someone is coming. And I get mean about it. Not intentionally, but I get mean.
I don't really know why I'm writing this down, I literally never post on Facebook. But for some strange reason, I have an overwhelming feeling to do so. I just wish I was writing down my feelings of how much fun I had, rather than the hole this experience has left in me & the fear I'll no doubt live with for the rest of my life."
---