Shocking Picture Turned Me Off Porn
November 12, 2017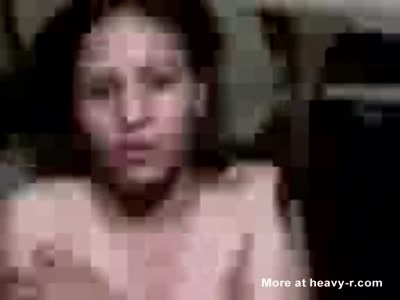 Marco: "This is not the photo I refer to. I don't think I should share it with you for your own sake. It's overpowering in its diabolicalness. I cannot describe what he did to that girl. When I was on the phone with the police the man over the phone lost his breath when he saw her."
Marco finds it disturbing that while famous people

are being destroyed for their sexual excesses,
the most unspeakable sexual depravity
continues to flourish on pornography forums such as Reddit.
by Marco A

(henrymakow.com)
Pornography is of the Devil. I know this beyond any doubt in my mind; it is from Hell. It is Satan's contempt for woman, and it his attempt to ruin all natural love between men and women. It is a gateway to Hell, and it is opening the door for unimaginable evil to come upon this Earth.

I was a slave to pornography on and off my entire life, but this was a hammer blow that totally crushed that deviancy in me. In my hypocrisy, I often railed against pornography, and indeed I often hated it and went for weeks at a time not looking at it. When I did, I contented myself with the so-called 'lighter' forms; a photo here, a story there.
But I know now that it is all wrong. All of it.
I have had the misfortune of seeing something that irrevocably changed my entire being. My mind shifted, my spirit mourned, everything about me changed in that very moment, and I turned back to God. How can this be a misfortune? It is because of the nature of what I saw.

Eventually, you will always lose when you play with fire, and for a few weeks, I delved deeper into pornography. Long story short, while indulging in depravity on the internet, I had the misfortune of seeing a photo of a poor girl sexually exploited, and brutally tortured. Her abuser was taking pleasure in causing this suffering, bragging about it online.

When I saw that photo, and read what he wrote, my entire body rebelled. I stood up, walked three steps and collapsed. I thought I was going to vomit. I was afraid I was going to go mad.
I immediately contacted every law enforcement agency, local and international I could. I also contacted child exploitation organizations and did everything I could to possibly help this poor girl.
I knew then and there that pornography is ultimately tied to sexual exploitation and every horrific sexual crime imaginable. I explored the scientific literature and found this:

"...Schultz (1971) interviewed severely violent sex offenders and found that invariably they were extensive viewers of pornography from a very young age. Half the men Shultz interviewed told her that pornography played a definite part in their crimes, either by arousing them, or by actually teaching them what to do, or both. The emphasis on the deviant norm: cruelty, perversion, bestiality, and the like, in sex material so readily available, was influential in their sex-linked crimes.
Gager and Schurr (1976) similarly concluded, from reviewing police records, that a distinguishable relationship exists between pornography and the method of operation of sex criminals." (1)
REDDIT.COM

Now, where did I find this tragic photo? I found it on Reddit.com. One of the largest social media outlets on the internet where millions upon millions gather every day to discuss everything from politics to sexual deviancy.


Along with contacting many law enforcement agencies, I likewise contacted Reddit administration. They suspended the account and provided me with the general statement, "We took all necessary actions." I just pray that this involved handing over all necessary information of the suspect to law enforcement.

There are some with over 100,000 subscribers to subreddits devoted to sexual depravity. I cannot possibly describe just how large a network of pornography thrives on this website, but I will try to shine some light on this overarching darkness.

Some of these subreddits have common themes - for example, some may seek to role-play sexual encounters with the opposite sex, some may seek bestiality encounters, and some may seek to role-play rape encounters where one acts as an 'aggressor' while the other participant acts as the 'submissive'. These encounters are textually based, meaning they occur online through the internet via text, but they can also include video, voice, and photography.

Many of the people on these disgusting pornographic subreddits are extremely dangerous. Of particular concern are subreddits where people will seek to meet up in real-life. For example, a person can seek a 'submissive girl' for a real life encounter for a night, perhaps to serve drinks at a party. Can you imagine the danger involved in allowing this to continue?

I will provide examples of threads where individuals are seeking another for a sexual encounter, whether through online chat or for a real-life encounter. I will also provide a brief quotation from the post-prompt in order to give a better understanding of the posts highlighted below.
You will notice how far society has come to resemble Hell, and how incredibly evil it is for Reddit to allow this behavior to continue unrestrained on their platform. (I will put whether or not the posts are for a textual role-play or for a real-life encounter in parenthesis beside the title of the sub-reddit thread; however, God only knows how far a simple 'role-play' encounter can lead and how manipulative the people behind these 'role-play' prompts are. I fully believe that many girls are vulnerable and have been ensnared by these seemingly less harmful 'role-play' threads by manipulative people):

- "Submissive girl visiting a BDSM dungeon" [Online Textual Roleplay] "...I've always been interested in BDSM and wanted to submit to master or mistress."

- "Degrading and Humiliating Fucking" [Online Textual Roleplay] "...Ever wanted to be treated like a fuck toy, solely for the pleasure of dominant men? ... to be called names, made to do and say humiliating things on camera while the men laugh, to have your naked body covered in writing and cum."

- "I love hurting girls like you..." [Online Textual Roleplay] "Hit you in the back of the head once, then every time you see me pull my fist back, you'll tense up... I'll turn you into a self-hating abuse slut... drinking, drugging, and cutting herself to forget about your daddy issues for a while."

- "looking for a submissive woman." [Real Life Encounter] "...I'm looking for a submissive woman. Plain and simple... I'm located just outside of NYC."

- "Orange County, CA - daddy/dom for sub/switch" [Real Life Encounter] "...I'm a dominant looking for an in real-life relationship with a submissive in Southern California."

- [Female] "Edmonton Canada - Domme seeks slave for 24/7 poly TPE" [Real Life Encounter] "...I'm a 25 year old university student currently seeking a second slave to add to my house. Currently, I own one male slave and we live together in Edmonton. I'm definitely polyamorous..."

- "Slaves needed, UK based get priority" [Online or Real-Life] "...Ok so what I'm looking for are submissive women who either want to be trained to be my slave, have already been a slave and want to serve me online or in person."
- "NYC - I want to penetrate you only twice, as clinically and coldly as possible, in near silence." [Real Life Encounter] "We will select an evening, after 6pm, to meet... You will be told the cross streets to meet me at with a time..."

This list does not do justice to the sheer volume and depravity you could find. I reported this behavior to Reddit; however, they never replied in regards to this matter. Reddit's CEO Steve Huffman will personally respond to complaints regarding 'The Donald' (Donald Trump subreddit) as he did when questioned about it in his "quarterly inquisition" post, but he will not touch this open proliferation of sexual deviancy on his website:

"Finally, the_donald is a small part of a large problem we face in this country--that a large part of the population feels unheard, and the last thing we're going to do is take their voice away." (2)

I wonder if the "large part of the population" he is protecting are the deviants thriving on his website because they definitely have a large voice on his platform - no one is taking their voice away!
I even went to the main Feminist subreddit desperately seeking aid in reporting the deviancy on these sub-reddits, but I was banned almost instantly. I suppose Feminism doesn't go so far as to protect the innocent and to fight against sexual deviancy that endangers and demeans women. I suppose Feminism is just another enemy of women pretending to be a friend.

I have threatened Reddit, threatening to contact the press on this matter, and I have. I have contacted Breitbart and Life Site News, but I have received nothing, not even a reply. Not surprising to say the least. Pornography on a powerful engine like Reddit.com is perhaps uncharted territory and is asking to be sued.

But that is no excuse, it is cowardly and the press has failed in this regard. They haven't failed me, but they have failed all the innocent victims of sexual exploitation who suffer, and undoubtedly future victims of this degenerate culture:
"Research reveals that all genres of porn, not only those simulating rape, perpetuate rape and degrading views of women... A 2011 study published in Sexual Addiction & Compulsivity analyzed the effects of pornography use on sexual attitudes and behaviors of fraternity college men. It found that 83% of those who used "mainstream" pornography expressed greater intent to commit rape, should they be assured they wouldn't get caught... it is vital to recognize that porn culture is feeding the rape culture on college campuses, in our communities, and in our homes." (3)
--------


(1) Pornography and Sexual Abuse of Women https://link.springer.com/article/10.1007%2FBF00288509?LI=true

(2)
https://www.reddit.com/r/announcements/comments/7a4bjo/time_for_my_quarterly_inquisition_reddit_ceo_here/

(3) Dawn Hawkins Executive Director, National Center on Sexual Exploitation
https://www.huffingtonpost.com/entry/pornography-the-missing-piece-in-the-movement-against_us_57696ccfe4b06cb7dd543b4c
Related- Makow - Sexual Depravity is Hallmark of Satanic Possession
----------------------How Sex Became Our Religion
David Richards - Virtual Sex Will Put Porn on Steroids
------------------ Watching Porn is Sadistic
First Comment from CR
It appears to me that part of the objective of the pornography industry is to promote certain sorts of deviant acts and normalize abnormal behaviour. For example, anal sex and group sex have been steadily gaining in popularity over the years, we can only assume that this is due to the amount of porn videos depicting this sort of behaviour because it was neither normal or common in the past. Or Playboy's new transsexual playmate - you can't possibly believe that there is such a large demand for transsexual porn that the best-know porn magazine in the world would feature that for "straight" men (they cant be too straight if they are looking at that shit).
I have seen lists in the news of the most popular porn searches and such, so I looked it up. According to the Pornhub Network https://www.pornmd.com/sex-search, the top 10 most popular searches in the world are:
1-mom son
2-compilation
3-anal
4-teen
5-step sister
6-milf
7-mom
8-sister
9-amateur
10-18
So basically, incest, anal sex, and young girls.