The Talented Samuel Dickstein
February 21, 2018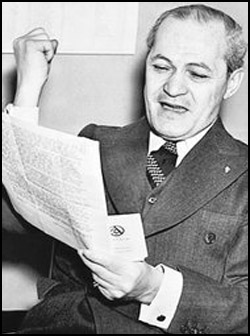 ( Samuel Dickstein 1885-1954)
Samuel Dickstein, a Lithuanian-born Jew, was a Congressman
from 1923 to 1945 and a founder of the Committee for UnAmerican Activities
originally the "McCormack-Dickstein Committee."
During this time, he was a paid agent of the USSR.
by John Simpkin

(Abridged by henrymakow.com)
Samuel Dickstein was born into a Jewish family in Vilnius, Lithuania, on 5th February 1885. The family emigrated to the United States in 1887 and settled in New York City. An intelligent student, Dickstein won a place at the College of the City of New York, and graduated from New York City Law School in 1906. He was admitted to the bar in 1908 and three years later was appointed as a Special Deputy New York Attorney General.

...Dickstein, a member of the Democratic Party, defeated Meyer London at the election for the 68th Congress in November 1922. ...He eventually became the chairman of House Committee on Immigration and Naturalization. It has been claimed that during this period he became corrupt and received money for arranging people to obtain United States citizenship. NKVD station chief, Gaik Ovakimyan, described Dickstein as "heading a criminal gang that was involved in shady businesses, selling passports, illegal smuggling of people, and getting them citizenship."