Are Women Taking Over the World?
March 26, 2018
While women are not technically a minority, the Illuminati
have convinced them that
they are oppressed. Thus many
have become useful tools in the overthrow of heterosexuality
and the construction of the Masonic Jew World Order.
Men are under attack in the west. In Canada, half of Cabinet positions have been reserved for women, regardless of their ability. The government propaganda service (the CBC) is staffed by women who narrowly focus on
globalist shibboleths like gun confiscation and white dispossession. Drowning in a sea
of estrogen, people are imagining a world without
men. I present trailers from two funny mockumentaries that envisage the all-woman future and an article about the damage to a society (Norway) when women have too much power. One in six women, and one in four men, in Norway have no children at 45 years old, an increase of 67% for women, and 79% for men since 1985. Source
"Angry men are a big concern in Norway, a rich country now ruled by women
'The challenge in the Scandinavian countries is not to end up with a large group
of young men who have no purpose in life, no hope for a job'
Political power in Norway is dominated by women. They hold the office of the prime minister, the finance minister, the foreign minister and the speaker of parliament.
"It's not a female conspiracy," says Prime Minister Erna Solberg.
Even by Scandinavian chart-topping standards for gender equality, Norway stands out when it comes to the political landscape (they're not quite as good in corporate Norway). So what gender issues do these politicians worry about?
"The challenge in the Scandinavian countries is not to end up with a large group of young men who have no purpose in life, no hope for a job," Solberg said in an interview in Oslo.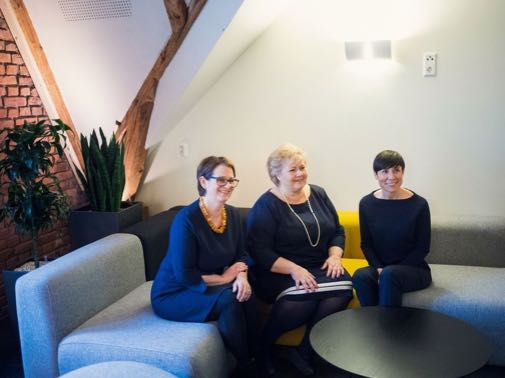 (Erna Solberg, Norway's prime minister (center) Ine Eriksen, Norway's foreign minister (right) and Tone Troen, Norway's speaker of parliament ( left) following an interview in Oslo, Norway, on March 21, 2018.)

It's a demographic that needs careful political attention to avoid a dangerous backlash, the prime minister said. At the University of Oslo, about 57 percent of all
Ph.D.
students last year were women. The risk of men falling behind also makes them more vulnerable to losing their jobs to automation.
"That's what we see in the angry white men who not only don't like Muslims and immigrants but absolutely not women either, at least if they can't keep the woman to themselves," Solberg said.
Foreign Minister Ine Eriksen Soreide says, "the problem Erna is pointing to is a massive problem, globally. A lot of very vulnerable countries have enormous youth unemployment, and most of them are men."
Tone Troen, Norway's newly minted speaker of parliament, says she's confident the next generation will do better. But "it's important that boys and girls make non-traditional choices when it comes to education," she said.
Men do wield some power in Norway. They hold most of the executive positions in listed companies, run the central bank and the country's $1 trillion sovereign wealth fund (the world's biggest). And while Norway is beaten only by Denmark when it comes to equal pay, men still get about 7 percent more than women, on average.
Like the rest of the world, Norway was shaken by the #MeToo movement, which revealed a series of misconduct cases in both politics and business, including in Solberg's own Conservative Party. The deputy leader of the biggest opposition party even resigned amid allegations of misconduct.
"The threshold for what's acceptable has been moved," Eriksen Soreide said. "That's probably one of the most important wins." But reaching total equality will take "a terribly long time," she said. Solberg quipped we might need to wait until "2072."
Before becoming foreign minister, Eriksen Soreide was defense minister, following in the footsteps of a long line of women leading that department. She used to get asked by young girls whether men were even allowed to run the defense ministry in Norway.
"It says something about the perspectives," she said.
(See this funny trailer)

First Comment from KK:
"
If society is to heal, all women will have to return to the home. Period."
The problem is debt, government debt to banksters. Without debt, there is no feminism because men have to go out and work 12 hours a day on jobs while women have to stay at home and take care of all social needs (kids, parents, grandparents, sick ones) 12 hours a day. Feminism relies on debt because no economy can ever produce enough for the women. Women have adopted the government as their husband and, believe me, the government does a great job of supplying all of their financial needs. What should men do? Be an example and totally get rid of all government financing of their own lives. This involves sacrifice and patience. Many are angry at the globalist banksters while on their government pensions and welfare programs and say, "But my small cheque is nothing compared to the big money these elitist get for free." But it's all free money no one should have.
Women think that equality is making the same pay for the same job but they have to do mathematical gymnastics to make that work. If two female nurses have to do the work of one male nurse, then why aren't the women paid half as much? No woman though understands that kind of reasoning. Where I work the feminists have taken over the high-paying jobs and will make sure all the dirty, low-paying grunt work is forever done by men who will never be able to support a family on that pay.
If society is to heal, all women will have to return to the home. Period.