Is Mind Control the Motive for Legal Pot ?
April 15, 2018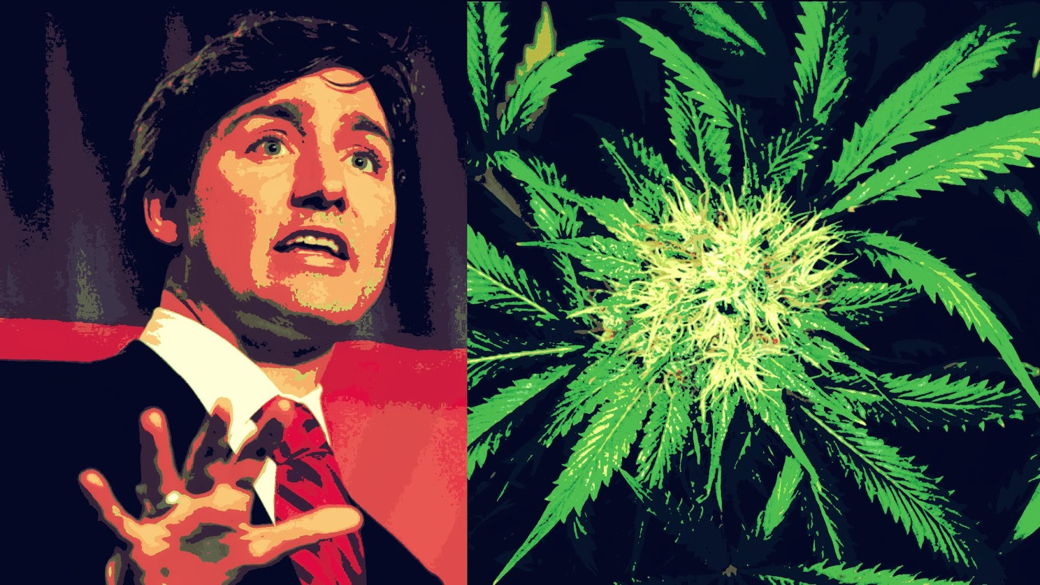 Next July, Canada becomes only the second country
in the world to legalize marijuana. (Uruguay was first.)
In January, California becomes the 8th state to legalize cannabis.
Obviously, the Illuminati think legal pot serves the NWO cause,
satanism, and enslavement.
But for many, weed is actually "mind-expanding," an antidote to mind control.

Is the Illuminati making a huge mistake?
From Nov 28, 2017
by Henry Makow Ph.D.
If you belonged to the one percent that own 50% of the wealth, controlling billions of useless eaters would be a top priority. Naturally, you would use the education system and mass media, but you'd want something more permanent and reliable.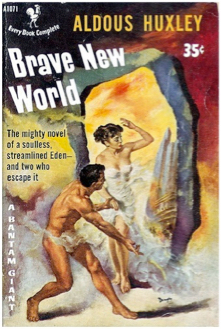 In Aldous Huxley's dystopia,
Brave New World (1932)
a drug called SOMA
taught the people to "love their slavery." Is this the purpose of pot legalization?
POSSIBLE MOTIVES
"The CIA wanted to discover chemicals that would "lower the ambition and general working efficiency of men." Sounds like a general description of the devolution of society.
* Substances which will produce "pure" euphoria with no subsequent let-down.
* Substances which alter personality structure in such a way that the tendency of the recipient to become dependent upon another person is enhanced.
* A material which will cause mental confusion of such a type that the individual under its influence will find it difficult to maintain a fabrication under questioning.
* Substances which will lower the ambition and general working efficiency of men when administered in undetectable amounts.
Although Rappoport links these goals to the opioid crisis, clearly these symptoms could also apply to marijuana.
The problem is that many people who use LSD and marijuana credit it for liberating them from the ego and from mind control.
In this
video, Cathy O'Brien said cannabis was never used for mind control because it had the opposite effect.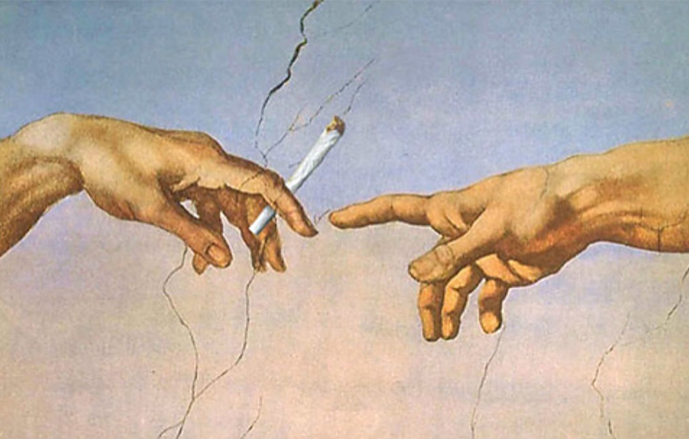 Indeed my generation credited LSD and to a lesser extent, marijuana with revealing God to them.
Marijuana allows many people to shed the shackles of their socialization and see life authentically, from a spiritual perspective. It is turning on the headlights after driving down a highway in the dark. Suddenly, you can see the white line.
We
believed that we
could "save the world" by getting everyone high. Unfortunately, the premise was wrong. Everyone makes little difference. The people in power --the satanist Jewish bankers and their Freemasonic fart catchers --- are the ones that needed to be turned on, and they obviously were not.
In any case, the Illuminati seem to think that the people will not be enlightened by exposure to marijuana. I beg to differ, and I look forward to its legalization next summer. In the meantime, I welcome reports from jurisdictions like Oregon and Colorado as to how the spread
of this wonder drug has impacted society. Is it more alive and true?
----
First Comment from Lynda-
I think we are in the transitional phase of this. The ultimate goal is to control and eradicate the supply of natural cannabis and substitute a GMO. Legalisation is the first step to round-up of all the suppliers, businesses etc.
At this point, the Overlords have lost control of the cannabis narrative because there is too much independent, scientific research. And there is too much clinical data on its benefits. Too many people know someone who knows someone who manages their Parkinson's Disease with cannabis or someone who cured their cancer with cannabis. In short, the horse has bolted. What to do. The Overlords would not be the Overlords if they did not have a plan. And right now, I would say we are in the transitional phase of it.
Cannabis is one of the earth's sacred plants. Anyone except a modern Westerner would be able to tell this just by looking. And there is a long history of use in Europe and I suppose all over the world as a fiber (hemp) for clothing, rope, and soft furnishing. It is warm in winter and cool in summer. Properly worked it feels like silk but has the tensile strength and wearability of the heavier fibers. Buy a hemp shirt and feel the difference. In work socks, it wears as well as wool but without the itchiness. Just like linen is a water fiber, cotton an air fiber, wool a fire fiber, hemp is a spirit of earth fiber.
Then there is the medicinal properties. Cannabis acts on the neurological system. This is substantiated in thousands of independent studies. For the pain of terminal bone cancer there is no substitute for it. it has a long use in the relief of the pain of the dying - but especially cancer that has metastasized to the bone. And it prevents and successfully treats the cancer itself. Too many people know this. Then there is its power over the neurological diseases: Motor Neurone, Parkinson's, uncontrollable seizures - all controllable with cannabis and many times curable with cannabis.
And yes, for those with no pathology, especially neurological pathology or pain, cannabis is a great stress buster if taken in a ritual / sacred manner. Stress is one of the great killers of our time.
If it could be studied in independent (NO Big Pharma $$) laboratories and hospitals we would know the THC percentage that is needed for a range of diseases. But we don't. Therein lies the difficulty in treatment.
However, the ersatz preparations with Big Pharma trademark are now being trialed my city at a major hospital. How they got their experimental subjects was like this.
Parents whose children had uncontrolled epilepsy were simply rounded up through suppliers (who were allowed to operate as bait). Once they were rounded up, they were made to participate (or else - social services takes the child). Almost all of these children were vaxxed. A healthy baby. Triple Antigen. Then on the same day - constant crying. We are not talking a fussy baby here. We are talking about the scream that the old clinicians called: 'crie encephalique' intracranial pressure and what today would be called 'cyotokine storm' of systemic inflammation followed by seizures. The parents are told by the medical profession that of course it is their fault, shaken baby or whatever. From that time they are a marked population. And for so many of these children nothing the medical profession has to offer is going to cure or alleviate those seizures. Sooo.. The parents get into the independent research. They find suppliers. They try to drop out of the system. And on cannabis, those children are going to start improving.
Too many people have successfully negotiated this path for there not to be a groundswell of demand for legalization. So how to do this in a way that doesn't interfere with Big Pharma racketeering and the lucrative drug maintenance programmes for a host of diseases that cannabis successfully treats or cures outright.
In my city, the medical community that is on the watch for good is following the cannabis trial at a major hospital by insiders who are watching it all unfold - with horror. The threats from the social services. Children who were brought in, their parents under police guard, with their seizures controlled (and we can't have that), children who were getting better on cannabis etc - now going backwards and getting their seizures back. Arrests and drug busts on parents if the blood tests reveal the real THC in the blood as opposed to the synthetic THC. This trial and I am sure others like it is the kind of medical Bolshevism currently being rolled out in the transitional phase of the Cannabis plan.
Mike Writes:
The recent trend to legalize marijuana does not represent a threat to the Illuminati and certainly not a change of heart. Purchasing a legally limited and overpriced substance from a government-owned or monitored facility does not exactly represent freedom.
People seem to forget that the original intent of our laws was not to control and dominate us, but to represent us. This suggests that we Are the law. Yet who feels that way when they go begging at a government-controlled office?
A lot of things can deal effectively with cancer and other diseases, but it is important to recognize that there is a monopoly in control which essentially owns the communications industry and the political parties.
It makes billions of dollars in profit each year and will never be swayed by what is best for the people. Not only that, but poor nutrition, harmful drug remedies and dubious vaccinations are required to ensure a steady stream of customers to support the industry.
Do you think a naturalistic hospital could survive within a country dominated by the Rock-feller allopathic system? It would conveniently explode, like the Texas fertilizer plant that intended to challenge Monsanto in court.
Now the advent of genetically modified seeds, and the insane go-along acceptance by the public. We already know all about the Illuminati, but maybe we should start studying the public, ourselves. It is a fact that the Illuminati power rests on the ignorance, greed, apathy, and proneness to delusion of the general public, ourselves. Maybe a discussion of 'Fairy Tales' would be in order.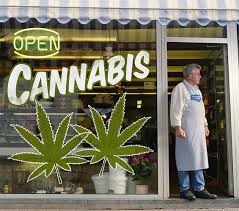 The writer
of this piece
seems to think that RICO was set up to deal with organized crime. But I would suggest that our whole system consists of interlinked organized crime, and therefore the RICCO Act was designed to protect organized crime. The legal system, medical system and political system are all rackets, and to think that any of them represent you is an unfortunate delusion which just may come around to bite you in the backside.
There is no question about the medicinal value of marijuana, but to suggest that it is a necessity to gain a higher awareness or to compensate for the dullness in your life is to hold a materialist perspective like the Illuminati and their useful idiots.
More important is to realize that you are being weakened and off-balanced in the longer run by poor nutrition and prescription medications. It is not enough that a few websites mention the dangers of a few bad food additives in passing. Unconsciously the public is being influenced by the full weight of commercial marketing. What is being done to the public through its consumption of essentially poisonous foods, poisonous entertainment, and poisonous social engineering are all components of a full court press.
What I am suggesting is that good health is primary, so that medicinal substances shouldn't be needed at all. Dentists and pharmacies and hospitals and Medicare or Obamacare should not be needed. Knowledge is power, and neither the schools nor the mainstream media can be depended upon for this. We take back our power by taking on the responsibility ourselves and not relying on any designated authorities.
Some useful information on YouTube; https://www.youtube.com/watch?v=_dhlp8jSiiU
---