May 14, 2018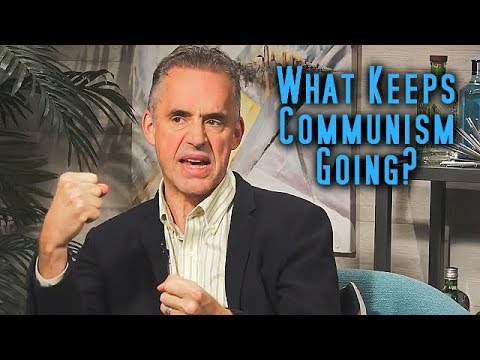 (left, explaining Communism as a "mindset" without reference to Jews or central bankers)
Jordan Peterson is False Opposition
Jordan Peterson has been elevated to the status of 'false idol.' He wouldn't be getting the media attention he does (online or offline) if he were any threat to our revolutionary (i.e. Antichrist) status quo.
by Matt B
(henrymakow.com)
Peterson is being splashed on every billboard in neon signs, figuratively speaking, and treated like the "second coming", because his opposition in reality is NO opposition.
Conservatives have become the 'controlled opposition' to liberals, and Peterson is a textbook example of this. He is a liberal who dresses up his ideas in 'conservatism.'
Take this short answer to a question on same-sex couples adopting children for example:
https://www.youtube.com/watch?v=hF4PS6sVn3w
Peterson SUPPORTS same-sex couples ADOPTING CHILDREN whilst at the same time asserting it is unnatural and poses unique challenges for them (that they can supposedly meet).
In other words, Peterson supports the rights of same-sex couples (the most damaged people in our society whose sexuality is intrinsically disordered) to adopt the most vulnerable children in our society. If that's not gunpowder meeting a lighted match, what is?
To quote a text titled Liberalism is a Sin authored by a Spanish priest in 1886, Don Felix Sarda y Salvany:
"The theater, literature, public and private morals are all saturated with obscenity and impurity. The result is inevitable; a corrupt generation necessarily begets a revolutionary generation. Liberalism is the program of naturalism. Free-thought begets free morals, or immorality. Restraint is thrown off and a free rein given to the passions. Whoever thinks what he pleases will do what he pleases. Liberalism in the intellectual order is license in the moral order. Disorder in the intellect begets disorder in the heart, and vice-versa. Thus does Liberalism propagate immorality, and immorality Liberalism." (Ch. 26).
Liberalism "is, therefore, the radical and universal denial of all divine truth and Christian dogma, the primal type of all heresy, and the supreme rebellion against the authority of God and His Church. As with Lucifer, its maxim is, 'I will not serve.'" (Ch. 3).
"Liberalism, whether in the doctrinal or practical order, is a sin. In the doctrinal order, it is heresy, and consequently a mortal sin against faith. In the practical order, it is a sin against the commandments of God and of the Church, for it virtually transgresses all commandments. To be more precise: in the doctrinal order, Liberalism strikes at the very foundations of faith; it is heresy radical and universal, because within it are comprehended all heresies. In the practical order it is a radical and universal infraction of the divine law, since it sanctions and authorizes all infractions of that law." (Ch. 3).
Source: http://www.ewtn.com/library/THEOLOGY/LIBSIN.HTM
Liberalism denies the slippery slope of sin. It preaches, as Peterson illustrates, that good can come from evil e.g. two men sodomising each other for pleasure can provide for the needs of a child.
Evil loves compromise because every time Truth makes a compromise with Evil, Good loses. This is why the false-left right paradigm (Hegelian dialectic) is so effective for the forces of evil.
Take contraceptives for example. Liberals convinced us that artificial birth control (i.e. separating the unitive from the procreative God intended for the marital act), should be permitted but strictly limited to married couples. Then what followed after Evil orchestrated this 'compromise' with the Truth?
Once the artificial separation of the unitive from the procreative was normalized the whole law collapsed. The unmarried demanded 'equal rights' and 'equal access' to contraceptives and were freely granted it. Abortion (the murder of a child) was then legalized as a fail-safe for when these technologies failed. Pornography was legalized. Sodomy was legalized. Secular feminism launched (because sexually active women were now free to pursue their careers over families). Broken families and sterile sex has become the norm, and so on.
Proverbs 14:12 (DRA)
12 There is a way which seemeth just to a man: but the ends thereof lead to death.
When will the world finally acknowledge Pope Paul VI in his encyclical Humanae Vitae (and the longstanding traditional teaching of the Church) has always been right?
http://w2.vatican.va/content/paul-vi/en/encyclicals/documents/hf_p-vi_enc_25071968_humanae-vitae.html
John 14:6 (DRA)
6 Jesus saith to him: I am the way, and the truth, and the life. No man cometh to the Father, but by me.
John 8:31-32 (DRA)
31 Then Jesus said to those Jews, who believed him: If you continue in my word, you shall be my disciples indeed.
32 And you shall know the truth, and the truth shall make you free.
There is good and there is evil. There is right and there is wrong.
Liberalism, which is rampant among both liberals and conservatives (as Peterson's cult status shows), is a sin, and it's one that leads to tyranny i.e. order out of chaos. Liberalism is moral anarchy and the chaos of moral anarchy requires outside an outside force (totalitarian government) to maintain order.
If we want to free ourselves from decadence as individuals, families and nations, first we have to sacrifice our liberalism at the foot of Cross of Jesus Christ Our Lord and Saviour.