July 8, 2018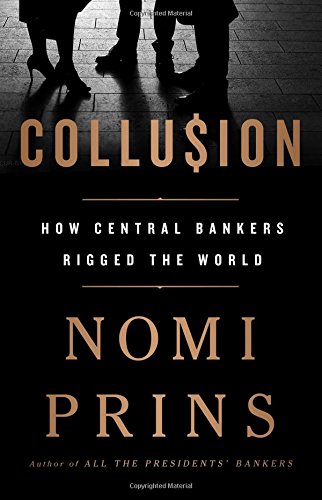 The nitty-gritty on Fed shenanigans during and after the credit crunch
by Amazon reader
Nomi Prins doesn't sensationalize or create fear porn. This entire volume is written very practically. I will warn readers up front that there is a lot of banking and financial terminology and acronyms. There's a glossary to help but it may be a bit of a challenge if you are completely unfamiliar with the banking system.
Rather than offer a summary, I'm going to offer a couple of quotes directly from the book that do well presenting the overall theme:
- "By conjuring money, the Fed had begun something it couldn't stop." - p. 223
- "Nowhere in any of this did the plight of ordinary citizens meaningfully feature in the discussion." - p. 224
- "This coddling of the oppressors depicted the illogic of a situation that hurt all those involved to some degree - except the central bankers themselves. It was the central banking establishment that had no real allegiance to voters and that remained virtually untouchable." - p. 242
Basically, in 2007/2008, a fiscal crisis erupted, with the epicenter being the United States. This crisis was in part caused by the deregulation of the banking industry during the Clinton Administration, including the repeal of the Glass-Steigal act. Though many who have been following the system are aware of that, Prins gets into detail of why this is true. It lead to out of control "betting" utilizing people's deposits. This "betting" included subprime loans, derivative markets (including derivatives from toxic assets), and so on. When it all came to a head, the bankers went to governments to bail them out. And they did. And the banks made out big time but Main Street did not. And then central banks pushed money conjuring (QE) for a trickle down effect. It didn't work. Banks hoarded it and bet on more derivatives. So the central banks keep doing the same thing and have for about a decade with the same effect.
The author does a great job in presenting the elitism of the central bankers, the revolving door between banking positions and government positions, the fact that the bankers are less and less accountable to governments and that governments are more and more held hostage by those bankers. This book should be on the reading list for every college student out there, but it won't be.
Political Trigger Warning: The author does not speak highly of any American administration, whether it be Bush, Obama, or Trump. So if you are in love with any of these presidents, you will be triggered.