Does Nazi Salute Reveal America's Occult Antecedents?
August 29, 2018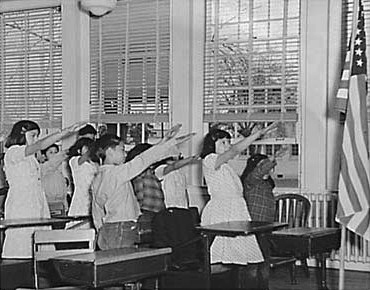 (Students pledging allegiance to US flag, May 1942)
The Bellamy salute is a palm-out salute described by
the Freemason Francis Bellamy,
the author of the American Pledge of Allegiance, as the gesture which was to accompany the pledge. During the period when it was used with the Pledge of Allegiance, it was sometimes known as the "flag salute". Both the Pledge and its salute originated in 1892.
Later, during the 1920s and 1930s, Italian fascists and Nazis adopted a salute which was very similar, and which was derived from the Roman salute, a gesture that was popularly (albeit erroneously) believed to have been used in ancient Rome.[1] This resulted in controversy over the use of the Bellamy salute in the United States. It was officially replaced by the hand-over-heart salute when Congress amended the Flag Code on December 22, 1942.
WIKIPEDIA
by Asiatic Lion
(henrymakow.com)
Long before Hitler youth were saluting
and clicking their heels for Der Führer, American children were saluting and clicking their heels for the idol of Lucifer:
"Old Glory", the American Flag.
The American flag
,
originally had the Masonic all-seeing eye of Lucifer on it. School children are unwittingly worshiping the devil as they pledge their allegiance to him like a heard of Pavlov dogs drooling.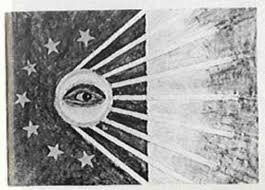 (AMUN(true) RA(RAys) of "Old Glory"'s light glowing on original USA flag )
Exodus 20:3 "...You must not have any other god but me..."
It is fitting that American children made Nazi-like salutes to the flag, since there is really only one political party in the world,
according to Eustace Mullin
s. This is the Nazi party (NA-National Socialist ZI-Zionist).
Christians that have been duped into believing the USA was founded on Christian principles need to "get a grip".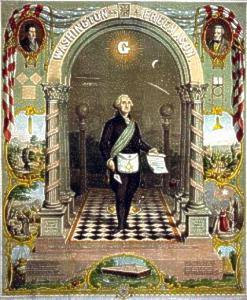 George Washington is quoted: "It is not my intention to doubt that the doctrine of the Illuminati and the principles of Jacobinism had not spread in the United States. On the contrary, no one is more satisfied of this fact than I am."- The Writings of George Washington, vol. 20, p. 518.
Moses was a prophet. Thomas Jefferson was not a prophet. The US constitution was not carried in the Arc of the Covenant; it was a mutation of the Iroquois Confederacy. George Washington "Kiboshed" the original organic constitution.
None of the negro slaves George Washington whipped, nor any of the Natives he murdered, were invited to the signing of this "all men are created equal" poppycock. The constitution even goes as far as to disqualify indigenous peoples as human beings calling them:
"...merciless Indian savages whose known rule of warfare, is an undistinguished destruction of all ages, sexes, and conditions...".
Vile putrid men like Jefferson and Washington were not prophets nor were they Christians.
------------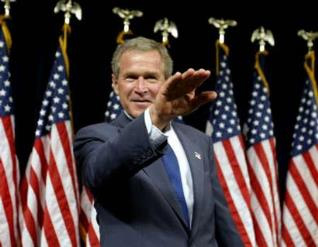 RELATED