Reminder - Trump is a Blackmailed Israeli Agent
September 4, 2018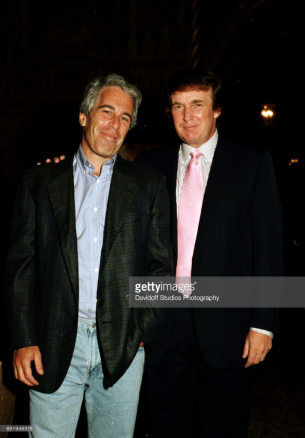 (with Mossad agent and convicted pedophile Jeffrey Epstein in the 1990's.
Many politicians are blackmailed to ensure satanist loyalty.)
Trump's deeds confirm he is a blackmailed agent of Israel.
2. Moving embassy to Jerusalem
3. Abrogating Iran Nuclear Deal and sanctioning Iran and companies that do business with Iran.
4. Cutting off humanitarian aid to Palestinians.
Trump's nationalist policies are popular with many Americans but they are a bribe to
the return of the "Messiah" (antichrist) and the Satanist NWO. The US is gearing up for such a war.
A Mossad false flag will ignite the powder keg. We are morally compromised by our complacency.
All court documents and affidavits are at the base of the article linked just above.
On April 26, [2016] a "Katie Johnson" filed a rape complaint in a California Court against defendants Donald Trump and Jeffrey Epstein[xii]. The complaint was dismissed by a judge due to a lack of plaintiff address, not due to any frivolity of the complaint. Trump supporters were quick to dismiss the charge, however, the lack of address on behalf of the plaintiff could have been due to fear for her life.

"On the fourth and final sexual encounter with the Defendant, Donald J. Trump, the Plaintiff, Katie Johnson, was tied to a bed by Defendant Trump who then proceeded to forcibly rape Plaintiff Johnson. During the course of this savage sexual attack, Plaintiff Johnson loudly pleaded with Defendant Trump to 'please wear a condom'. Defendant Trump responded by violently striking Plaintiff Johnson in the face with his open hand and screaming that "he would do whatever he wanted' as he refused to wear protection. After achieving sexual orgasm, the Defendant, Donald J. Trump put his suit back on and when the Plaintiff, Katie Johnson, in tears asked Defendant Trump what would happen if he had impregnated her, Defendant Trump grabbed his wallet and threw some money at her and screamed that she should use the money "to get a fucking abortion'."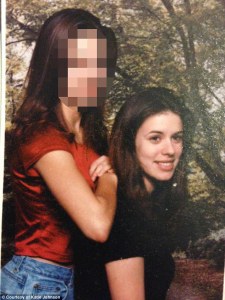 Incidentally, Trump has flip-flopped on his abortion stance. Of course, how could Trump ever ban abortion? What would 13-year-old rape victims do then?
New Jersey lawyer Thomas Francis Meagher revised Johnson's case and filed it in U.S. District Court for the Southern District of New York.
"Plaintiff was subject to acts of rape, sexual misconduct, criminal sexual acts, sexual abuse, forcible touching, assault, battery, intentional and reckless infliction of emotional distress, duress, false imprisonment, and threats of death and/or serious bodily injury by the Defendants that tool place at several parties during the summer months of 1994. The parties were held by Defendant Epstein at a New York City residence that was being used by Defendant Epstein at 9 E. 71st St. in Manhattan [known as the Wexler Mansion]. During this period, Plaintiff was a minor of age 13...."[xiii]
An alleged witness, Tiffany Doe, to the above rape, has come forward. She claims she was paid by Epstein to lure underage girls to Epstein-and-friends parties with the bait of promised modeling opportunities.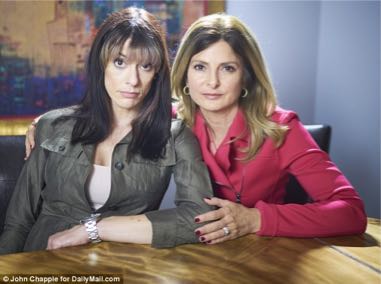 (left, Johnson with lawyer Lisa Bloom)
"It was at these series of parties that I personally witness the Plaintiff being forced to perform various sexual acts with Donald J. Trump and Mr. Epstein. Both Mr. Trump and Mr. Epstein were advised that she was 13 years old."[xiv]
Tiffany Doe goes on in her affidavit to identify a 12-year-old victim of Trump and Epstein as well as to witness Epstein making death threats to the girls should they reveal the abuse. A second witness to the original Jane Doe (previous pseudonym Katie Johnson) corroborates the story of both Johnson and her lurer.[xv] The case remains open.
Related-
--------------https://www.henrymakow.com/2018/04/chabad-trump-family-cult.html
------- Wolfgang Eggert--The Cabalist Plot to Islamize Germany
First Comment from Ken Adachi
I agree with the 4 points you make at the beginning of the article. They, and the Bolton appointment, combine to make Trump look like he's in bed with the JWO's World Conquerors agenda. However, I do not believe that Trump is an evil man, nor an attendee at Satanic murder rituals, nor a rapist of 13 year old children. I think he's playing a dangerous game and wants to keep enough Zionist support in his pocket to get through an 8 year administration. So he makes concessions to feed the Chabad zealots and keep Bibi smiling, but will he go to war against Syria to please the Zio-psychos? I don't think so.
If he does, THEN we'll throw Donald under the bus. But until that happens, he's still a damn sight better than the Mother of Darkness.
You give far too much credence to utterly UNPROVEN allegations leveled against Trump by an accuser whose accusations and credibility are wholly untenable to even the most casual of observers. I read all the articles which you linked to at the bottom of this article and the only person who apparently buys Katie Johnson's story hook, line and sinker is Tim Fitzpatrick. He posted his multi-part Trump diatribe on October 29, 2016, one week before the election; the same month that "Jane Doe" - without listing an address- decided to file a pro se lawsuit against Trump alleging she was raped 22 years earlier. The timing just being a coincidence I'm sure.