Reader Recalls Vietnam Era College Brawl
October 8, 2018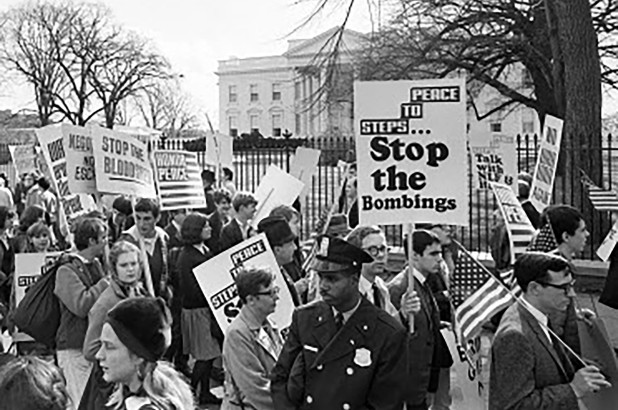 (left, Creating a generation of Communists)

Theodore Herzl- "When we sink, we become a revolutionary proletariat,
but when we rise, there rises also our terrible power of the purse."
Divide and conquer. Illuminati bankers started the Vietnam war and then funded the antiwar movement to brainwash an entire generation to hate their own country.
by Gregory M. Zeigler, Ph.D.,
former Captain, US Army, Military Intelligence.
(henrymakow.com)
This video, "I lost all my friends to the culture war," brings back a very bitter memory for me. In my senior year at Princeton in 1969, on a Sunday evening, the SDS stuck fliers under the doors of our dormitory to the effect that a Marine recruiter was coming to campus, to Whig or Clio Hall. The flier said that he was to be attacked and carried off campus.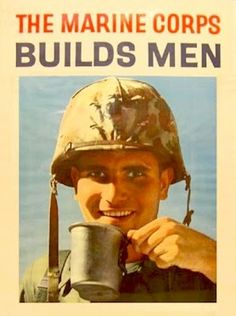 I was not enamored of the Vietnam
War,
and was in no hurry to sign up. But in my opinion, the uniform of our armed forces is sacred, like our flag. Together with a bunch of jocks, we agreed to show up with jackets and ties, to look respectable, as we anticipated media presence.
I was the spokesman. I
talked to
the Marine recruiter when he arrived. He was ramrod straight, his uniform impeccable. I told him what was going on and that we were there to guard him. He replied that he was a master of martial arts and could handle whatever was thrown at him. I responded that that was not the point. No hand was to be laid on him. By my estimate, we had about twenty jocks on our team. A group of possibly one hundred SDS folks showed up, looking like something out of an Al Capp caricature. I was the first one to make contact, merely twisting an arm behind a back.
The news camera
flashbulbs
exploded. The fight was on. Jocks versus protesters. I do not need to tell you the outcome. Not one hand was laid on the Marine recruiter, though the fight spread over campus, from the debating society buildings to the Woodrow Wilson School (the Yamasaki Bicycle Rack as it was lovingly known).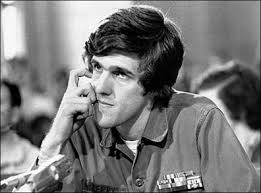 (Judas' goat, John Kerry as Vietnam protester)
Being a philosophy major, I lost all my nominal friends on that one day. I was sad to see their faces in the grimacing mob. But I felt that I had no choice. No one is going to show disrespect for our flag or the uniform of our armed forces, be they in the right or in the wrong.
https://www.youtube.com/watch?v=PWmGi4MoFNc
First Comment from Tony B-
When I discovered that the U.S. was basically a Masonic creation, rebelling against the King of England because of vicious lies spread about his handling of the American colonies, it didn't exactly turn me against the country, it just cemented in what I had already observed myself. I already knew that even the American flag uses occult star symbols while, at that time, almost every European flag displayed Christian symbols. Plus it was obvious that "my" country worships materialism much more than God. Such knowledge tends to spoil one's outlook for patriotism.
No one is responsible for the country in which he/she is born. I cannot see a mandated love for one's country due to the accident of birth alone. One should learn the real history of his nation of birth so as to live in a sane manner in it or even decide to leave it if a more suitable can be found.
What is missing concerning patriotism, as most of us understand it, is that everyone's first loyalty should be to the God who creates us all. If we happen to be born into a godless nation, or one that turns godless, why should we give it loyalty?
Edin
"But in my opinion, the uniform of our armed forces is sacred, like our flag."
"No one is going to show disrespect for our flag or the uniform of our armed forces, be they in the right or in the wrong."
Henry, your anonymous reader is a school example of blindness. An organization which maims and kills millions all over the world is worthy of nothing but having its 'sacred' uniforms crapped on 24/7, that way at least the soldiers' uniforms can fully match the soldiers' inner beauty. When the unholy US Army stops messing up the world (don't hold your breath), then and only then will it be worthy of any kind of respect. The thing wrong with this dude is the same thing applying to the vast majority of white nationalists in both Europe and USA: they don't give a damn that their morally 'superior' countries destabilize and destroy the 3d World countries (making normal life in those countries impossible), because their own houses aren't the ones getting bombed. But when life (or perhaps God Himself) starts dealing out corrective punishment and the consequences arrive at their doorstep (millions of Muslims, blacks, and Latin-Americans), the nationalists don't wanna take responsibility for their own stupidity and utter carelessness and want the migrants to leave. Unless their attitude changes, the nationalists will only bring more misery upon themselves and their countries. Don't blame me, c'est la vie.
What's the difference, besides color, between Communists killing millions in the name of 'tolerance' and 'progress' and nationalists killing or supporting the killing of millions in the name of 'democracy' and 'freedom'? NONE ! It's funny how the same mentality can have different colors.