Democrats - A Communist Coalition of Disgruntled Minorities
November 12, 2018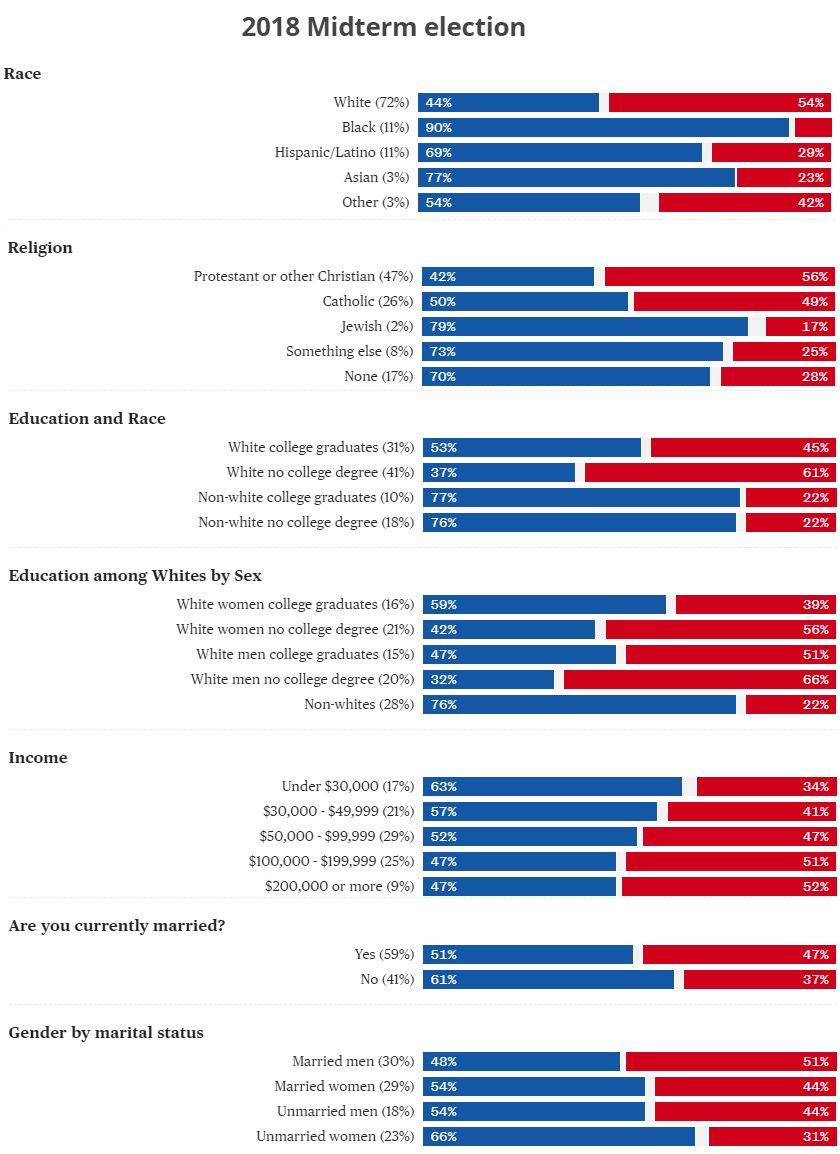 By Henry Makow Ph.D.
The midterm results last week can be understood by the following quote from yours truly:
"Organized Jewry is a corrosive acid that seeps into the fissures of society (class, gender, race) to undermine it in the name of "social change." Despite this moral posture, there is no genuine desire to empower the goyim. See communism, feminism, migration, homosexuality in this light."
The Democratic Party and most of the mainstream media are instruments of organized Jewry and Freemasonry which in turn are instruments of the Rothschild world central banking cartel.
They appeal to a coalition of "disgruntled minorities" --anyone with a grievance-- to gain power.
According to the graph above, this coalition consists of non-whites, non-Christians, Jews, unmarried women and brainwashed college grads, anyone but the founding peoples of the West. (Of course, there are minorities within the minorities who supported the GOP.)
The liberal (communist) modus operandi is to gain power by pretending to champion "underdogs." The real goal is to gain power and loot the treasury. Compare them to a plague of locusts.
The Democrats have done nothing but obstruct Trump rather than cooperate on beneficial programs because gaining the perks of power is their real program. Communists, they will do anything to win: Give felons the right to vote, stuff the ballot boxes, physically intimate and slander their opponents by making false sex charges. They need to be stopped by force of law. They need to be prosecuted or otherwise stopped.
Meanwhile, the shrinking white "majority" is not allowed to have an identity, let alone protect it.
The media is fixated on minorities. Anyone who advances majority interests is pilloried as "racist."
BANKING
Every day billions of monetary transactions take place. We imagine that "money" changes hands but in fact all that changes are digits on a giant ledger kept by the Rothschilds and their bank franchisees. (See Banking System Explains Our Servitude)
Money is a social construct, a mental abstraction which powers society like the electrical power grid. It magically shape shifts changing from commodities to services to coupons ("cash") to its digital form in a matter of seconds.
It is based on an imaginary debt every nation owes the Rothschilds for this "money" they created out thin air.
Money also has a kind of occult power. Most of our energy and thought is devoted to acquiring it whether we need it or not. It has cast a spell over us.
We are puppets on a $tring.
To switch analogies, think of money as the bloodstream of humanity. We are doomed as long as our "blood supply" is contaminated, i.e. as long as the satanist central banking cartel is the equivalent of the heart.
However since most people in power are there because they support this arrangement, it is unlikely to change. The fact that all corporations promote homosexuality and miscegenation indicates the bankers control them all. We live in a veiled Communist regime.
In order to retain their monopoly over "credit," (all money is, hence the "credit" card) the Rothschilds must extend this monopoly to everything ( power, thought, culture) using Organized Jewry and Freemasonry as their instruments. Eventually they will cut off "credit" to truth tellers, much as they are cutting free speech on the Internet today.
In order to retain their monopoly over credit,
they have to enslave humanity. They do this by controlling both "Left" (Communism) and "Right" (Zionism)--both sides of the political spectrum, both Jewish. Thus Trump seems to oppose globalism but advances it by preparing Albert Pike's predicted Third World War which will depopulate the planet and usher in a global police state.
Why are they taking such pains to reengineer society sexually and racially if they plan to destroy it? Perhaps war is Plan B.
IMMIGRATION
Legal immigration is healthy. Illegal migration is not. Our country is our home and migrants have no more rights than home invaders. Migration is promoted by Communists to add to their coalition of grievers.
Nations have distinct cultures which they have a right to protect by selecting who is allowed to enter. This was always been taken for granted until globalists took over.
The harsh reality is that the people of European ancestry have forfeited their birthright by allowing Freemasons and Jewish traitors to take control of all social institutions. Under Zionist auspices, they are fighting back in places like the US, Russia, Italy, Hungary, Brazil and Poland.
We need step up our game, to call out our political leaders and media as traitors, and win elections. Media cartels need to be broken up. Universities need to be cleansed. It is the Eleventh Hour.
I realize that this seems a contradiction if the bankers also control the Right, but what option do we have? There is a difference.