November 16, 2018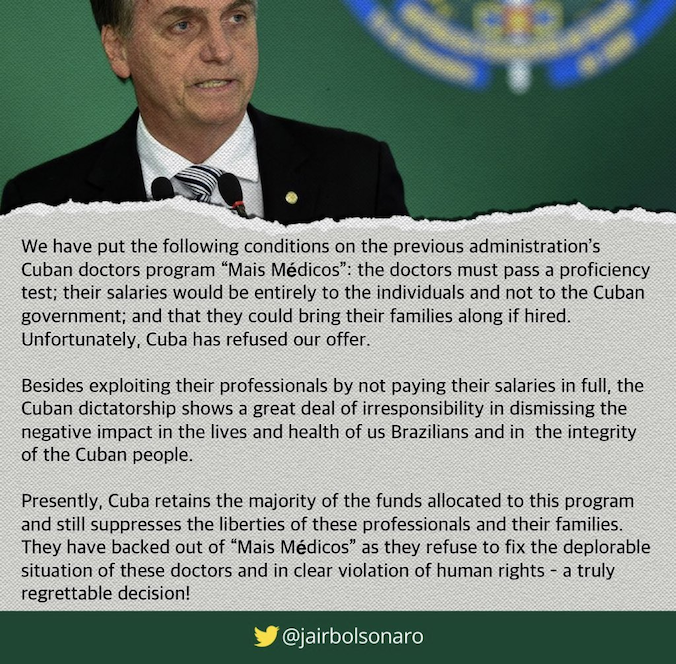 From Marcos- The Cuban "Doctor" Scam
Fake doctors from Cuba working in Brazil, invited by Lula to spread communist ideology, had to give 75% of their salaries to the Cuban government. Their families stayed on the island as hostages. Cuba made billions of dollars from Brazil. Most can't prescribe aspirin. Don't know the medicines, the exams, nothing. Many medical errors.
Bolsonaro demanded they got the full salary and possibility of bringing family. Cuba refused, so they will leave next month, except those who accept asylum offer and have no families to pay the cost of retribution that will come.
Cuba wants to create a problem for Bolsonaro, so they gave the doctors only 10 days to return.
There are 8,000 of them here. 2,000 are in relationships with Brazilians and are not expected to go back. I would say more.
Brazil graduates 28,000 new doctors every year, but the Workers Party made sure to not give them any support, in order to fabricate an artificial crisis. Meanwhile, people in Cuba are dying like flies for lack of medical assistance and diseases like dengue fever.
Castro made almost 2 Billion dollars from the program since 2013. For a fraction of this money, Brazilian doctors can be hired to go anywhere.
Cuba is using the situation also as an excuse to not pay $700 MM in debt for the construction of Muriel Harbour it owes Brazil.
Lula was nothing but a traitor of Brazil.