Time to Believe in Hell Again?
March 3, 2019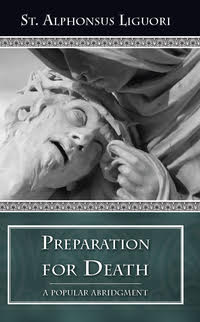 Mike Stone makes the case for believing in
everlasting punishment for our sins.
I'm not interested in whether religious beliefs are true,
I judge them solely on the basis of their
effect on our behaviour and happiness.
Does hell exist?
We'll find out soon enough.
In the meantime, if believing that it exists
saves us from hell on earth, I'm all for it.
Scared Straight to Heaven

by Mike Stone
(henrymakow.com)
Have you ever seen the documentary "Scared Straight!"? In it, a group of juvenile delinquents are taken to Rahway State Prison for a three-hour session with actual convicts in which the convicts proceed to "scare the kids straight" with terrifying tales of life behind prison walls. The kids are screamed at, cussed at, and threatened with violence, all in an attempt to get them to change their ways. And apparently, the approach works as only one of them ended up in prison later. Fear can be a great motivator.
The book "Preparation for Death" by St. Alphonsus Liguori will have the same effect on you concerning hell as the convicts did on the delinquent kids in "Scared Straight!". This book, which I can't recommend more highly, paints a terrifying picture of the afterlife for those who disobey God and reject Him.
One of the main points of the book is that hell is eternal. Think about that for a moment. Eternal. Burning alive in fire, inhaling the putrid smell of dead carcasses, and hearing the howls and wails of tortured souls forever and ever.
"He will be in fire like a fish in water. This fire will not only surround the damned, but it will enter into his bowels to torment him. His body will become all fire; so that the bowels within him will burn, his heart will burn in his bosom, his brains in his head, his blood in his veins, even the marrow in his bones: each reprobate will in himself become a furnace of fire."
If that didn't send a shudder up your spine, nothing will.
The book stresses the point that in death all men are equal. Are you disappointed with the way your life turned out? Are you sad that you never achieved the fame, the money, the prestige that you dreamed of? Forget about it. Fame, money, power ... none of it will matter when it's your time to cross over the veil and stand in front of the judge. "Consider that thou art dust, and to dust thou shalt return. The day will come when thou shalt die and rot in a grave, where the 'worms shall be thy covering.' (Isaias 14:11). The same fate awaits all, high and low, the prince and the peasant."
Earthly power means nothing. The world's mightiest ruler could end up in hell, while the world's lowliest peasant goes to Heaven. In today's world, who is more powerful than the President of the United States? And yet, where are our presidents now? "Give 'Em Hell, Harry" Truman, a 33rd degree Freemason, certainly lived up to his billing. He atom-bombed the civilian populations of Hiroshima and Nagasaki, Japan. Where do you think he is now?
Woodrow Wilson, Franklin Roosevelt, Papa Bush ... Just about every president that this country has ever had is more than likely burning in hell for all eternity. They were the most powerful men in the world in their time. What good did it do them? (There's a rumor that George Washington, our country's first president, converted to the true Catholic faith on his deathbed. He might be a rare president that didn't end up in hell.)
The same is true of the rich and famous. Who achieved more fame in the world than Elvis Presley, Michael Jackson or John Lennon? Where are they all now? Recently, a movie came out celebrating the life of Freddie Mercury. He had the world by the tail, too. Fame, money, adoring fans, everything. Where do you think he is now?
If you're the nervous type, then you're probably telling yourself that this hell stuff is all hogwash. But is it really? Or is it merely your own mind denying a reality you'd rather not face? My suggestion is to read the book and then decide for yourself. As Padre Pio famously said to a hell-doubter: "You'll believe it when you get there."
If you're a logical thinker or a probability type of person, consider this: If you believe that hell is real and act accordingly by embracing the true Catholic faith (pre-Vatican II) and obeying the 10 Commandments, and it turns out you're right, you win. You go to Heaven. If it turns out that hell is not real, you still win, because you'll live a more balanced and peaceful life. The only thing you'll lose is your sins.
On the other hand, if you believe that hell isn't real and it turns out you're wrong, then you lose - BIG TIME. And the result will be catastrophic: an eternity spent in hell. The only way you win in this scenario is if hell isn't real. And the odds of that, despite all evidence to the contrary, are slim to none.
In essence, if you act as if hell is real, then you win, no matter what. If you act as if hell isn't real, then you're taking a huge, possibly catastrophic gamble. Only a fool would play those odds. In fact, you could rate those odds as a "snowball's chance in hell."
"Preparation for Death" cautions us to always be ready, to always have our "debts cleared", because we never know when the end is coming. That's good advice.
If you think religion is a bunch of nonsense, read this book. If you're a non-believer in hell, read this book. In fact, if you're a non-believer, especially read this book. If you read no other book this year, read this one. It's that important.
---------
Mike Stone is the author of
A New America
, the first novel of the Alt-Right, a dark comedy set on Election Day 2016 in Los Angeles - - Available
exclusively on Amazon.
First Comment by Gordon W
It's irritating to see you lend precious space on your website to the simpleton, Mike Stone, and his juvenile apologetics.
Anyone who reads the Bible for himself - and ALL of it - can figure out that it preaches: 1. It is given unto men once to die, then the crisis = judgment. 2. There is none righteous, no, not one. 3. there is a Judgment day for each and every human being who ever lived. 4. At that Day, those who are justified by their faith in Jesus - alone (NOT by any works of their own nor anyone else's ritual) - will be resurrected and live to fellowship with God in His Kingdom which Jesus Christ establishes ON THE EARTH. 5. The wicked will be annihilated; confer with the parable of the wheat and the tares. 6. a cohort of those who worship God's Adversary, the Beast, will indeed continue on in the torment of the smoke which goes up forever.
Mr Stone's theology is Roman-ism at its worst, postulating that A - God Almighty created all human beings ( after Adam + Eve ) already guilty of sin and on their way to the grave. Pronounced guilty and bearing the punishment for something they did not do. Humans then live anywhere from mere minutes, to 990 years ... but usually around 70 years. For which they - nearly all people who ever lived on the planet, who'd never heard of Jesus Christ, mind you!, - then die, only to suffer forevermore in utter torment. And worst of all, sez Roman Catholic tradition ... while they're awaiting judgement, they're undergoing the torments of Hell, in Purgatory. Of course, you won't find such non-sense in Scripture.
And the Big Guy in charge of all this, is 'a God of love', eh?
no, those who actually read the Bible ... versus being told 'about it' by some religious racketeer ... find out that the God of Israel speaks of Himself as The Great Shepherd and people as "sheep". As Charles Fort put it : "I think we're being farmed"
in the scenario presented in the Bible; God, the Original Landowner, is running his ranch ( planet Earth ) so as to breed for type. That most desirable trait, being, obedience. Which is why he chose Abraham and his descendants as civil servants, to run the place, come the Millenium. Confer with the Book of the Revelation to see who qualifies for those positions. All the rejects get judged then thrown away.... as if they'd never been
I strongly advise you not to let your otherwise excellent website, degenerate in the push and shove of juvenile cut + thrust of dogma. In person = it is "iron sharpening iron", but on the internet, it never ends and does nothing to further understanding