The Insanity of Opening a Restaurant
May 22, 2019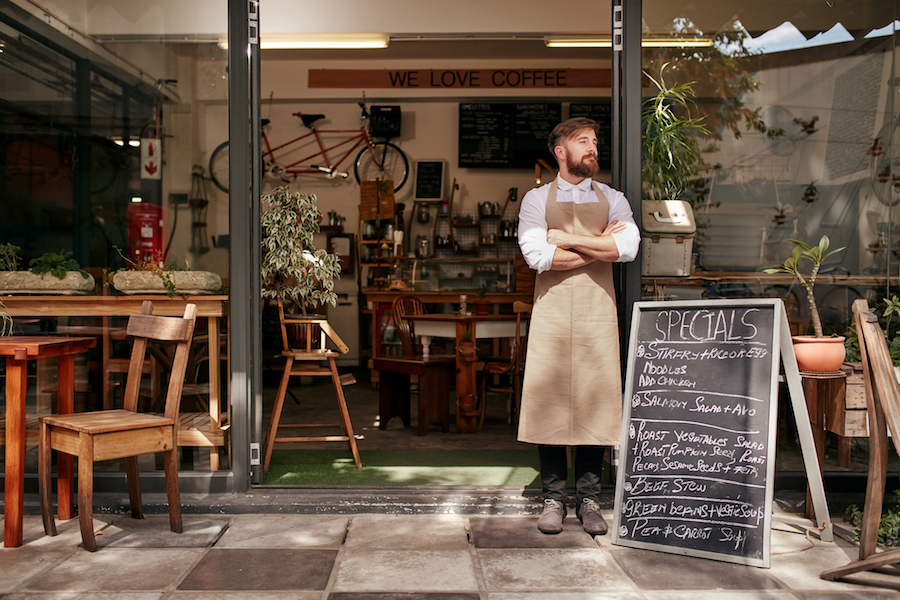 I suffer from RCS (Restaurateur Compassion Syndrome)

I can't help but notice if a restaurant is empty.
I feel the helplessness and anxiety of the owner
as he contemplates the hourly payroll.
Certain restaurants are on my deathwatch.
I silently pray for them but am relieved when
they go to a `better place. I don't eat out
very often, not because of the
food.
I object to their business model.
(See below- Response from restaurateurs who thank me for this free therapy. )





(Updated from April 15, 2018)

by Henry Makow PhD. If I were starting out in life again,
I would become a psychologist instead of a writer.
I would specialize in the peculiar mental derangement that causes people to open a restaurant. This mania infects thousands.
Approximately
60% of restaurants fail within three years.
And no wonder. There are tons of restaurants competing for business.

Indeed, restaurants compete with everyone who has a kitchen and a cookbook, which is almost everyone.
My cooking is as good as most restaurants. They advertise "home cooking." Why not eat at home?
One of my great pleasures in life, for which I am grateful, is being able to indulge my changing appetite.
Appetite is the body's way of telling you what it needs.

When I consider the cost of food, equipment, furnishings, rent, advertising, labor, taxes, utilities, etc. I can't understand how restaurants survive. When I eat out, I am conscious that the owner's profit is the difference between what I pay and all of these items. No wonder I often feel ripped off in terms of quality and quantity. (My advice is to charge a bit more and provide generous portions.)

For me, opening a restaurant would be like renting, furnishing and staffing a reading room where people buy my books and then sit down and enjoy them. I would go broke.

Never sell anything that can't be mass produced. Once I've finished a book, it's done. But a restaurant must manufacture its product anew every time, to exacting standards or face the indignation of the customer and a scathing online review.
Not just one product, there are dozens on a menu! You are at the mercy of your cooks.

Did I mention the hard work and long hours? The city health inspectors? How just one bad review can spoil your business? How food goes bad? Imagine if someone gets food poisoning?
When I'm one of only a few customers, I feel the owner's anxiety.
What's so great about cooking for strangers? They are rarely grateful.

My sister owns a successful restaurant. The margin is 5%. You must do a lot of business for that to pay. My brother-in-law says it's like preparing to give a concert every night, and not knowing if anyone will show up.
I've noticed that successful restaurants serve a niche. They give people what they already eat, only better. The market for people curious about Eritrean food is limited.

What inspires people to get into this labor of love?
Throw a dinner party and get it out of your system! At least the customers are your friends and you won't go broke!
Ok, I confess I will still eat at restaurants because I like to get out. In my dotage, the quest for food perfection, like finding the best cigar, hamburger, gyro or coffee gives life challenge. So buy a drink and leave a generous tip for the selfless souls who sacrifice their mental and financial stability for you.
----------
Restaurant Owners- What I wish I had Known!

-----
Comment from PJ:
I was born into the restaurant business. For 40 years my family has managed to control this beast of a career. I know all about the missed holidays, the horrible hours, the late nights, and the crazy staff members. I'm not here to crush anyone's dream about owning a restaurant but this business isn't for anyone normal...You have to be a little insane. It takes lots of money, passion, determination and grit just to get through a lunch rush. Employees calling in and training someone to cook is a whole new level of hell. Every day I ask
myself how in the F did I end up doing this?? I've got a degree from college and I've landed a career that isn't much respected. Yes, I'm the boss, but I'm more of an employee. The money is decent and I've got bills so....I'm stuck. Ahh, it just feels good to vent and read what others have written. Good luck to everyone. You'll need it eventually.
Comment from AQ:


it's
midnight
and I just finished reading your article about the restaurant business.
well, I have opened a pizza joint with Mediterranean food five years ago and now I'm closing doors after i have depleted my savings trying to revive it. I am surrounded by big-name corporations, papa jones, pizza hut, dominos and the likes. they have been crushing since I opened; it is a war, they have guns and tanks and I have knives and sticks. guess who is winning. I entered the restaurant business because I Iike to cook.


and now I have no choice but to close doors. I'm by myself by the way and I don't deliver pizza.


but taxes, licenses, insurance, dumpster fees, health inspectors and the rising food cost are killing me. just yesterday I had to pay the sanitation department $950.00 for grease trap fees alone or they were going to shut off my water. had to borrow half of the money from my son. he did not ask for collateral by the way.
anyway, I'm finished, saddened, and old with no skill and nobody would hire me.
I guess i'll deliver for papa jones.
thanks, Henry for hastening my decision and helping me cut down my losses.
by the way on the same street, there are little caesars, papa jones, pizza hut, dominos, and 2 other locally - owned joints.
well i'd better get some sleep and figure out a way to store my stuff until I sell it.
good night
CR writes:


I wish I had read this article 15 years ago. I went to cooking school with hopes to one day open my own restaurant, if only I had known what I was getting myself into. Needless to say, I never opened a restaurant. Little did I realize that here in Ottawa to open a simple restaurant with 20 seats or so would cost around $250,000 and no bank will give you a loan because of the excessively high risk. Unless you or your business partners have the money you will need to find private investors, which is not easy at all.

Most people who open a restaurant are motivated by the fact that they "like cooking" and think it will be "fun". Anyone who has ever worked in a restaurant can tell you that there is very little about it that is fun or to be liked. I enjoy cooking at home, but a restaurant environment is something completely different. When it's busy, you are under constant stress. When it's not busy, you are either stuck scraping some grease in the corner or you are going home. It's a business in which employee's rights are rarely recognized - no overtime pay, no holiday pay, no breaks (even though they deduct money for them), no chance to eat even though you are working with food all day long.
Not all restaurants are equally bad, but these are regular things to expect. The next thing is wages - although minimum wage (in Ontario) has gone up by nearly $4 in the last few years, the average restaurant wages have barely increased. When I look at job ads they are offering the same wages I was making in 2008. In most restaurants, there are maybe one or two people (chef and sous-chef) who get a decent salary, but often they are working 60-80 hours a week for no extra pay over what they would have made for 40 hours. There are few cooks and waiters over 35 years old, most are single and childless, many have drinking and/or drug problems. You wonder why. Those who have their heads on somewhat straight are often motivated by a misguided sense of pride, "look at me, I'm a cook in a fancy restaurant but I live in my mom's basement". Currently, I cook for a nursing home and also as a personal trainer. Nursing homes are far from glamorous, but the hourly wage is a lot more than what most restaurant cooks make.

On a side note, I try to avoid eating from restaurants as much as possible. After seeing what goes on in there I don't want to take the risk. "What? There's no time to wash your hands!", "Just pick it up off the floor, we can't throw out steaks", "No need to wash the lettuce, there's black pepper in the salad dressing, nobody will know the difference". These are not imaginary stories. Speaking of lettuce, most restaurants I have worked in use the same sink to wash lettuce (the ones that actually do) and dump the water from the mop bucket. Is salad really a healthy option? If you are hungry and don't have time to cook you are better grabbing a burger at McDonald's or something like that, it's greasy and doesn't taste so great but you won't spend the night on the toilet. If you are worried about your weight then skip the fries and soft drink, eat some fruit when you get home instead.