Football Game Inspired Me -- Never Quit Fighting!
June 30, 2019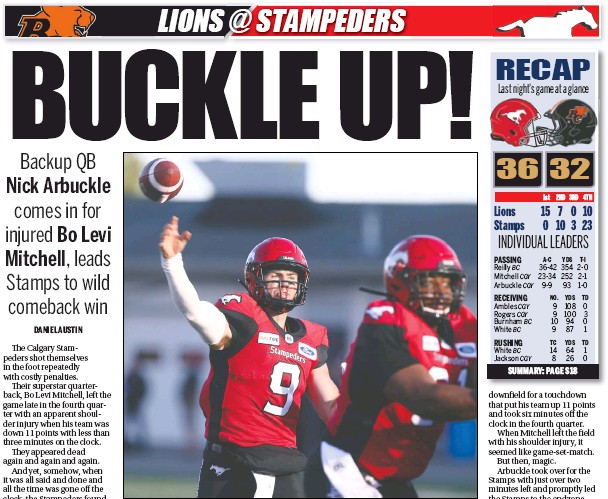 This was the best football game I have ever watched. The Calgary Stampeders were trailing all through the game. The BC Lions led 32-21 with just three minutes left.
Then, the unthinkable happened. Calgary's star quarterback
Bo Levi Mitchell hurt his shoulder and was replaced by a no-name back-up, Nick Arbuckle. Well, I thought, the game was over. The back-up would just run out the clock.
Instead I witnessed a miracle. Arbuckle proceeded to complete nine passes in a row, and after an onside kick, scored two touchdowns and won the game!
This was men being men, a
battle
of muscle, agility and wit. This is why I watch Canadian football because, despite naysayers, it is the only thing the Rothschilds haven't fixed yet.
Instant replays and challenges ensure that rulings on the field are accurate. (This is what the world needs. More referees.)
Performance is all that matters. There is no affirmative action. (Well, a little to ensure some Canadians play.)
I have a tendency to get discouraged. This football game showed me how to give everything I've got. It's a matter of Will Power. Never quit fighting!
With just over four minutes left in the fourth quarter, Mike Reilly gave the Lions a 32-21 lead with a 10-yard touchdown run which appeared to salt away the Lions' first win of the season.

That lead looked especially safe when Stamps quarterback Bo Levi Mitchell left the game with an undisclosed injury on the home team's next possession.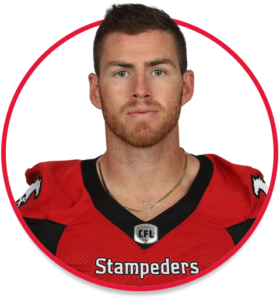 Stamps backup
Nick Arbuckle
, however, would have something to say about the final outcome.
Entering the game just after the three-minute warning, Arbuckle converted a third-and-two on his first play, then drove the Stamps 56 yards for a touchdown. He capped off that drive with a quarterback sneak, then hit Eric Rogers for the two-point conversion.
Still, no worries right? The Lions led 32-27 and they had the wind. What could go wrong?
Plenty as it turned out.
On the ensuing kickoff, Stamps kicker Rene Parades executed a perfect onside kick which was recovered by that man Rogers. Seven plays later, Arbuckle hit Rogers in the back of the end zone for the game-winning score. In just over two minutes of mayhem, the Lions had snatched defeat from the jaws of the victory and, afterwards, they were still having trouble processing everything that happened.
Here's what we learned:
'It wasn't pretty' "This is probably the best we've played as a team but, I don't know what I'm feeling right now," said receiver Lamar Durant, one of the Lions who had a big individual day that was buried by Arbuckle's remarkable turn. "It's just disappointing. We felt like we dominated the game and we just let it slip away. "
"It was a wild two and a half minutes," said Lions head coach DeVone Claybrooks. "Welcome to the CFL. We just have to find a way to finish the game. We stressed the fact the game is 57 plus three (minutes). You can't take anything for granted."
Especially the Stamps' backup quarterback.
Arbuckle finished the game nine-for-nine for 93 yards, scored one touchdown and threw the game-winning touchdown pass in just over two minutes of work.
"It wasn't pretty," said Stamps head coach Dave Dickenson. "Did we outplay them? Probably not. They probably outplayed us. Time of possession was obscene in their favour, but football is football.
"I believe that's why we love the CFL because the game's not over. That clock goes slow in those last three minutes and we were able to take advantage of it."
--
Note- Wikipedia--
Nicholas Arbuckle (born October 4, 1993) is an American player of Canadian football who is currently a member of the Calgary Stampeders.[1] Arbuckle played college football at Georgia State.[2] During his time playing for the Panthers, he was first-team All-Sunbelt Conference in 2015. Also in 2015, Arbuckle set a Sun Belt record 3,368 passing yards along with school records in completions (307) and touchdowns (28).[3] After a minicamp with the Pittsburgh Steelers in 2016, Arbuckle signed with the Stampeders in March 2017.[4]
First Comment from Jeff
Very important article. Again - I have seen over and over again men who had drive and ambition being slaughtered by feminists. As soon as I see a young buck who has vision and energy, I know that very quickly he will be a target for the feminist. I have seen it many times. The important thing is to not give up and to redirect that energy to other things. That energy needs to be used somehow in some way, usually on one's own self-project.