We are Not Defined by Our Politics
July 11, 2019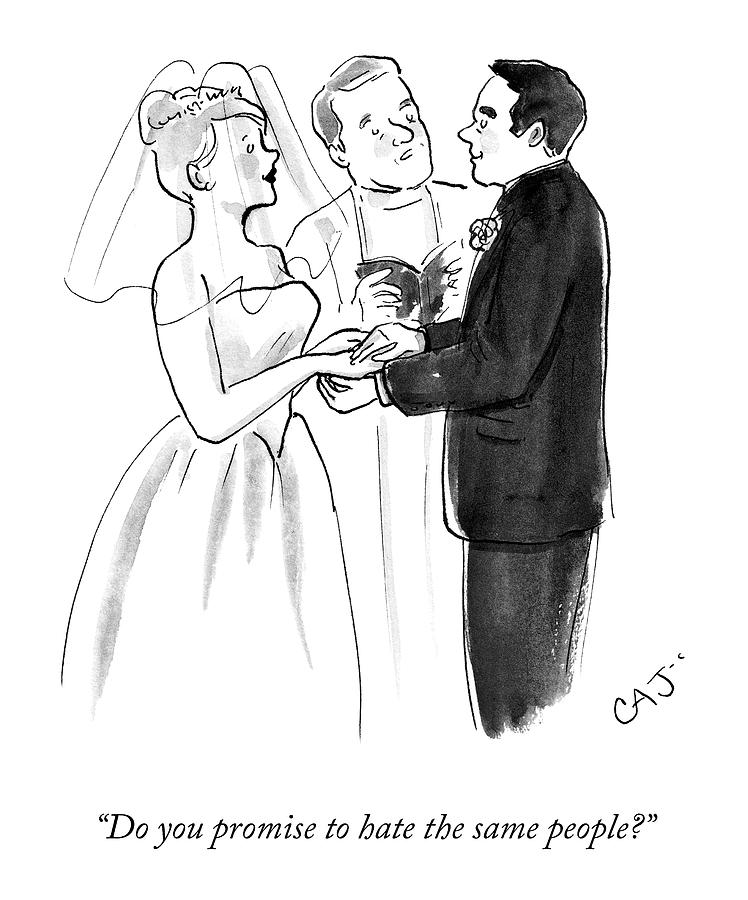 (credit, The NewYorker)
A female friend dumped a great guy because he
didn't want to hear another word about the
conspiracy. "My thoughts of a mate died that day."
I told her she made a mistake.
by Henry Makow PhD
A friend, a single woman, wrote: "My last significant relationship that lasted about 10 years...
Software engineer, making good money, very handsome, Marine.
Talk to me please!
Any new existential thoughts?
Towards the end of our relationship (and he was a good man, decent, nice to animals, family man, moral, would never beat me or starve me and so on...) I was waking up big time to the Satanic Conspiracy (and he just wanted to stay in his very, little, tiny, box.)
He laughed at me and thought I was a tin hat foil person. I remember the day he said to me, "I don't want to hear about anything you have to say or think about what is going on ever again". My thoughts of a mate died that day.
I don't see myself as the typical female that I meet day-to-day. Concerned about stupid 3 d things. Never thinking beyond fashion and the latest fad, how they are aging or what their home décor looks like.
I cannot bear it.
A lot of women are really stupid.
But there are equally numbed out men.
It's a wasteland Henry. --
I replied:
As you know, if I insisted on political sympathy from my wife, I would be divorced. I think you made a mistake dumping that guy. A marine, he was imprinted with a certain set of beliefs and has a right not to be confused or challenged. Marriages must be based on what you agree on, not what you don't.
Don't make the conspiracy your obsession.
She responded:
But...where do you get that feeling that someone "gets you?". Do you ever worry about those who don't get the BIG PICTURE?
DIVIDE AND CONQUER
Ideas are used to program people. The Illuminati bankers control information and discourse to a large degree. In addition, people have a sixth sense about what beliefs are conducive to material gain, and which are not. This is confirmed by the number of people losing their jobs for expressing the "wrong" beliefs, even outside the workplace.
Liberals and Lefties have been duped. How many of us haven't been? I used to be one myself. A feminist and a Zionist to boot. It took years of research and effort to deprogram myself. It was like shedding a mental wetsuit when the zipper is stuck. Not everyone is capable of doing this.
We are not defined by our political views. We are complex creatures with a kaleidoscope of qualities. Compassion, Loyalty, Honesty,
Devotion, Intelligence, Diligence, Talent, Skill, Charm, Style, Sense of Humour are some examples.
In general, men tend tend to favor Trump; women tend to oppose him. This is the case in my marriage. My wife thinks I am brainwashed; I know she is. But she is still a sweetheart.
No, she doesn't "get " me on my terms. Do we really need to be "understood?" She "gets" me on her own terms.
I'm not sure I would want someone who thinks like I do. It would be too depressing. We agree to disagree and focus on the other great things we give each other.
--
Related