Movie "La La Land" - Hollywood Redeems Itself
August 28, 2019
(The trailer, 35 million views)
La La Land transports us back to an era when women loved men,
and people behaved with self-respect & dignity. Marriage and family were ideals.
Its charm - completely free of PC propaganda, occultism, depravity & diversity.

There are Blacks; the hero is into jazz but no flaming gays. The surprise - it was universally acclaimed, grossing $455 million and winning Oscars for Best Director and Actress.
La La Land is a movie that conservatives may have overlooked.

Updated from Feb. 1, 2019
by Henry Makow PhD
I had mentally blocked La La Land when it came out in Dec. 2016.
A musical?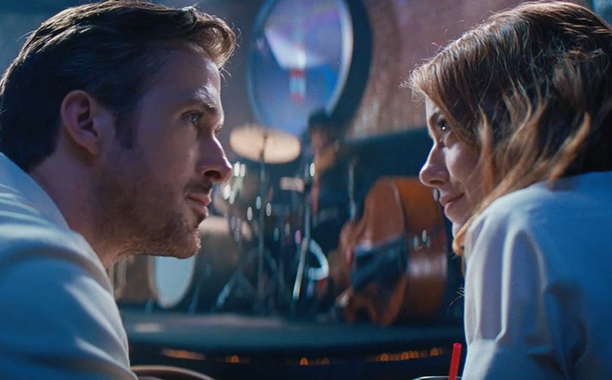 But I watched it again last night and was mesmerized. It took me to a mythical place, an idealized (sans #MeToo) vision of Hollywood in the middle of the last century.
I am always condemning Hollywood so I must acknowledge when it hits one out of the ballpark.
This movie is a work of art that gives me hope for civilization
. It is not so much a story as a complex symphony of feeling with sweet and sour but never false notes. They reflect the struggle of Mia, an actress & Seb, a jazz pianist-- to follow their dream. Each scene and narrative twist is original, fresh and unexpected.
Ryan Gosling learned to play piano and dance for the role.
Emma Stone is a consummate actress. Both actors are so convincing it is hard to believe they are acting.
And it was so nice to see Emma Stone wearing dresses. (Anyone who taught women to be feminine again would make a fortune.)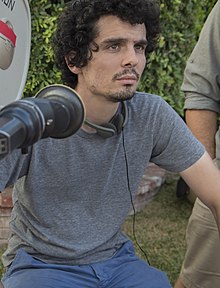 Writer/ Director Damien Chazelle, 34, left, wanted "to take the old musical but ground it in real life where things don't always exactly work out," and to salute creative people who move to Los Angeles to chase their dreams.

Wikipedia:
"Having been fond of musicals during his time as a drummer, Chazelle first conceptualized the film alongside Justin Hurwitz while attending Harvard University together. Moving to Los Angeles in 2010, Chazelle wrote the screenplay but did not find a studio willing to finance the production without changes to his design. Following the success of his 2014 film
Whiplash
, the project was picked up by Summit Entertainment...
La La Land was critically praised, especially for Chazelle's screenplay and direction, Gosling and Stone's performances, Hurwitz's musical score, musical numbers, cinematography, and production values. Both the American Film Institute and National Board of Review selected La La Land as one of the top ten films of 2016.[5][6] It won in every category for which it was nominated at the 74th Golden Globe Awards, with a record-breaking seven wins and received 11 nominations at the 70th British Academy Film Awards, winning five including Best Film. It also received 14 nominations at the 89th Academy Awards, tying the record for the most Oscar nominations with All About Eve (1950) and Titanic (1997); it went on to win for Best Director (Chazelle), Best Actress (Stone), Best Cinematography, Best Original Score, Best Original Song ("City of Stars"), and Best Production Design."
Critic Mark Hobin captures the movie's appeal: "Chazelle makes our present era seem so much more magical. There is an exuberant quality I haven't seen recently. Mia and Sebastian radiate sweetness too. This uncorrupted pair shares a purity. You want them to be together. Their emotion is real. You fall in love. This is why we go to the cinema. If I may paraphrase a famous expression once said by Humphrey Bogart, La La Land is the stuff that [movies] are made of. It is sublime." (fastfilmreviews.com)
La La Land exists only in our hearts. But it's a real place and we need to go there more often.
------------------------------------