A Reader Reviews Recent Trump Rally
December 13, 2019
America finally has a full fledged demagogue as President. His mission is to start World War Three. This should be obvious from his about-face on Russia, his military build-up and his overwhelming devotion to Israel and Jews, demonstrated recently by his ban on criticizing them.
His willingness to overturn the First Amendment guaranteeing freedom of speech, tells you his true loyalties lie with a fanatical doomsday cult.
Wesley Everest reviews Trump's speech in Hershey PA last week.
Trump Rally - Hershey PA Dec.10

by Wesley Everest
(henrymakow.com)
I must admit, Trump is funny. It's the life of an actor to have those skills.
I tuned in to see enough of VP Pence's introduction to realize he is one scary man. As far as warming up the crowd and ass-kissing in a most exponential way, touting success in the economy I personally don't see in my town, his wind-up at the end sent shivers down my spine.
Saying in his best down home Pentecostal preacher voice "I have faith. And I will follow him." I assume he meant Him, but that means DJT, seems the same in his mind. But four stars for presentation and drama in the propaganda sense.
These rallies do have a Third Reichian quality and I'm the last person that hurls the "just like Hitler' scenario. In the terms of theater and political agitation, they are very effective. Even though I'm one of millions tuning in, it seems I'm on the inside of a very special group.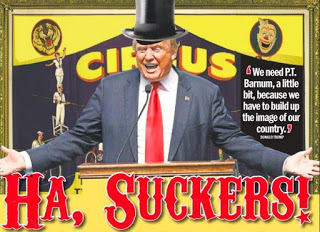 When major news ignores a sitting President's address to the people, however partisan it is, it gives a feeling of belonging. This illusion is created, of course. The rulers of the economy are going to give what the populist platitude spewing Judas Goat of actor/leader and his adoring 'common man' want and then pull the rug from under them, crashing the stock market and showing everyone who is Boss.
The Democrat Party is doing everything in its' power to lose the upcoming election and it's no accident. Using Orange Man's description of his 'opponents' - "Low IQ Maxine Waters", "Sleepy Joe Biden doesn't even know what state he is in", Elizabeth Warren is Pocahontas, has a big mouth and is crazy, Buttigieg "I dream about him at night" and the evergreen Barack HUSSEIN Obama.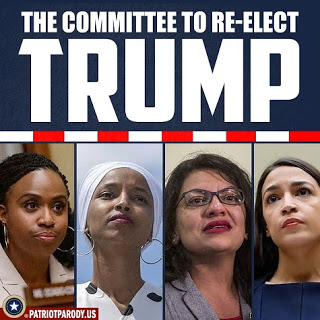 How can you not agree with Trump that, "The Democrats have nothing" and "They are bad people that do not represent you." That is according to script.
His 80-minute presentation was a tour-de-force of sarcasm and confidence, while yelling "Brooklyn" at all times. I guess that is what a political rally is supposed to be.
In a society that needs constant entertainment; finally we have a Catskill refugee that can deliver the lines. Maybe it's why the Industry killed stand-up comics to make way for Him. He has some great writers from the Tribe - Shiff, Nadler, Goldman, et.al. - to provide material. His Lenny Brucian extended "Lisa, I love you so much..." bit was troubling and made me uneasy, but so did Lenny Bruce - and he was funny. He doesn't take any prisoners, that's for sure, calling Ambassador Sondlund "corrupt", mocking Shifty Schiff's press conference appearance and slamming him with derisive description again and again and saying "there are good people in the FBI, but not in leadership positions."
Who created this Phantom Menace 'Bag Daddy'. James Brown sang Papa Got A Brand New Bag. The intelligence office that made up that name must laughing their asses off. What was disturbing was both Pence and Trump salivating with delight recreating the hokey scenario that went down. It plays into the worst of the crowd, which, of course, they loved. As expected, a vocal demonstrator on cue interrupted and was escorted out to the congratulation of law enforcement.
One telling quote - out of context, I concede - was "The Republican Party has never been so united because they understand it's all a hoax." The use of the words 'hoax' and 'fraud' could have been used as a drinking game like when W said 'freedom and 'liberty'. These actors really do tell you what they are doing, but not for those "Who have eyes and do not see and ears that do not hear." That was the real Him that said that.
------