Letter from a Young Ugandan
February 18, 2020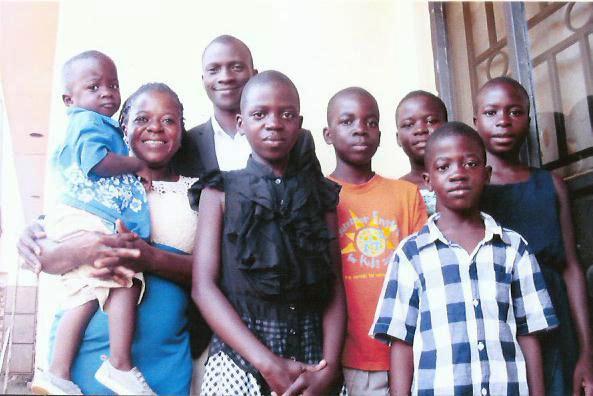 My readers and I are supposed to be "white supremacists." This is a smear used by the Cabalists to dispossess people of European descent. We want everyone to thrive in their own nations. When James, a regular reader, wrote to me for help, I asked him to tell his story.
"Whites" have ignored the pillaging of the Third World by the Cabalist bankers. We have prospered while billions wallow in poverty. We have been complicit in their exploitation (cheap clothes and electronics.) So it is poetic justice that the bankers would now
weaponize these impoverished masses as migrants, and use them to deprive us of our culture, independence and standard of living. If mankind is to have a future, we must raise the standards of people living in the Third World.
by James Mubiru
(henrymakow.com)
I was born October 9th, 1978 (Uganda's Independence day) during President Idi Amin's regime.
I grow up in a Christian home (Anglican Church), so our family was God fearing. Sadly my parents divorced and was raised by a single father (my mother got married to another man) so I grow up only experiencing my father's parental love without my mother.
I was the oldest of the 3 brothers, no sister. Taking us to school was a struggle due to poverty but i was able to complete my secondary level (High school) but could not make it to the university.
I was bright at school but poverty hindered my higher education. I wanted to be a teacher by profession.
On the side of religion, I converted to Mormonism (LDS Church) soon after joining Secondary/High school back in year 1993. I was among the first LDS Member pioneers here in UGANDA. I served in various Church callings/offices including Young Men's President, Seminary and Institute teacher/Instructor and later ordained an Elder and was called to serve a full time mission in Kenya Nairobi, Mission (year 1999 to 2001).
After my mission, i wanted to go for further education, University level but surprisingly no one cared to assist me accomplish that. Even no sponsorship from LDS Church ,may be it was racial discrimination, still don't now why though I had faithfully served in church for many years but they did not bother to help.
Also on the other hand, I had lots of Theological concerns about LDS Doctrines and teachings, so my decision was to withdraw from LDS Church in 2003.
Since then, I am referred to as "an apostate". Even those i counted to be my close friends abandoned me, so i decided to remain spiritual but NOT in Organized religion.
I am currently a family man still struggling with life to take care of my family.Time back we experienced serious set backs due to robbery. I had secured a small loan for the setting up of a small family business (grocery store) but sadly thieves broke into our business block and stole almost every thing.
We had to sell off almost all our house holds in order to pay off the big debts.I am currently trying to see that i again reset our small family business (grocery store) to take care of my family.
Sadly my children stopped going to school and are home due to lack of school fees.
I have four biological children (3 boys and i girl) in addition i have other two girls, not my biological children but still under my care. so that totals to 6 children I have to take care of.
My wife and i struggle here and there to see that we get some bread on the table so it is a struggle and we really need some assistance.
Some one kind to us temporarily provided some shelter for us but still we need to pay some rental fee monthly.
Our plan is to first reset our small family business for our daily income, then our children's education needs, including medical needs, etc.
Also we plan on securing a small piece of land where we can build our own house/home for the permanent settlement of my family.
My wife and i will be very grateful for any assistance rendered to us so that our children go back to school and acquire education for their bright future.
In conclusion, as a father i am trying to break that cycle of poverty in my family. I grew up struggling in my academics, so i would not wish to see my children stopping going to school and other life basic needs.
May our merciful God provide means for my family to have a better life.
Note- I am sending a contribution to James. If you are able to help, send the contribution to me. Contact me at [email protected] for info. (Just got kicked off paypal.)
Five "white supremacist" readers have already sent and/or promised $1750!!!
ML writes:
The poor who are honest and godly can squeeze a nickel until the Indian rides the buffalo. This man has six children to support. Let's make his day! I know what rich is and I know what poor is. What I can't stand is having money sit idle when it can do some good in this world. My husband and I have enough with our regular income. We don't have high aspirations or designs on this life. Our kids are all doing well enough and they take care of their own. Some are even millionaires, and they did it on their own. Let's help those who really need it. The Word says that if we give to the poor we are lending to God, and God gives a really good return on investments made into His kingdom. If I remember correctly, that's something like 100% ?
It will be mailed out today. Please agree with me in prayer that it will get to you safely. The Word says that if two or three of us AGREE ABOUT ANYTHING, it will be done for us. Two friends and I prayed there would be no violence in VA at the last big gun rally there. THERE WAS NONE, when it looked like a fire keg about to explode. And how about the latest news out of there? They WON'T be taking the guns after all! Good thinking on their part! Can you imagine the horror that would come of that? VA is just north of NC where I live.
Can you imagine the good that would come of people agreeing with you for GOOD OUTCOMES, and then praying to God to that end? We would see miracles all over this world....We could choose certain situations, take them to God, and SEE WHAT MIGHT HAPPEN! He really does answer prayer, Henry. More than that, HE SEES US, just like He saw Hagar at the well, which she named The God Who Sees Me. I can give you ALL SORTS OF TESTIMONIES 'bout how God has seen me and ANSWERED ME! He is faithful to His Word to perform it, and it never comes back to him void. Says so in His Word.....
God is STILL RULING THIS UNIVERSE! And, as long as we are on His Side, He is on Our Side!