Genocide: Millions are Starving Due to Rothschilds' Scamdemic
May 15, 2020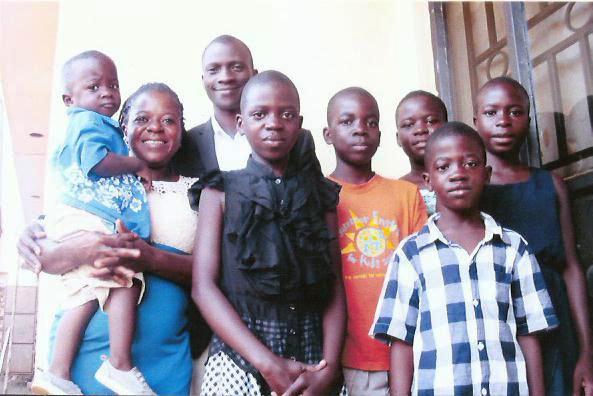 (Left, James and his family of six)
The poor in Uganda have been hit hard by the lockdown due to Covid19 scamdemic. The Uganda government has tried to distribute some food aid but still millions of Ugandans are starving. They have not received any aid.
by James Mubiru
(henrymakow.com)
The world is undergoing panic and fear due to a Coronavirus hoax designed to enslave humanity.
In my home country, Uganda, very many people have been greatly affected due to the lockdown whereby it is very difficult for them to meet their daily basic needs including food and other life essentials.
The move to Uganda lockdown came after its first confirmed case of Coronavirus on March 22nd. Since then, up to now (May 15th) my homeland has been under lockdown.
Here, there are lots of sufferings among the local people as most of them live in poverty lacking means to fully sustain themselves.
According to the revised Version of the Uganda National Household Survey (UNHS) report issued on Feb.19th 2017, it is estimated that 21.4% of Ugandans live in poverty. That is 8 Million Ugandans living in poverty.
While the Sept 2017 report indicated that 27.7% of Ugandans live in poverty. That is 10 Million Ugandans living in poverty. The biggest share of Uganda's population is rural-based and account for 89% of the poverty rate in Uganda.
Uganda is one of the world's most impoverished and least-developed countries. Many Ugandans live in inadequate and overcrowded slums most without clean water, proper sanitation or electricity.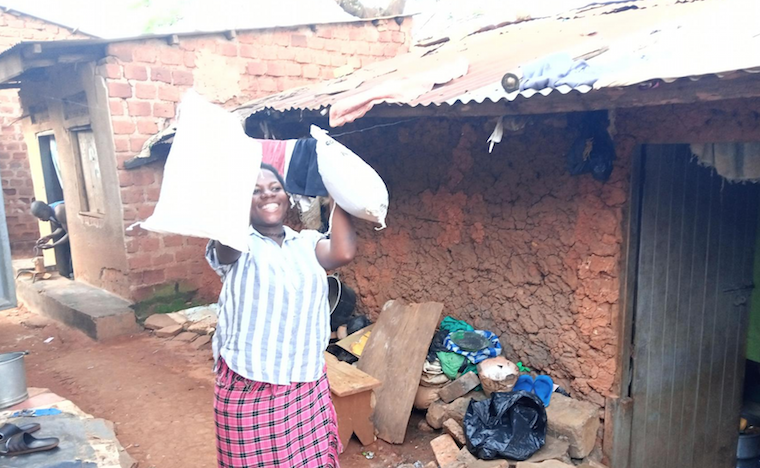 (Happy woman displays her food aid)
The government ordered restrictions on movement of people including use of both public and private vehicles. Several businesses were ordered to close as part of efforts to contain the Covid19 scamdemic.
Sadly, millions of Ugandans are left with no option but to "stay home and keep safe" (Stay home and starve).
Uganda's "stay at home" order has also left many urban residents in fear of dying of hunger rather than virus as the majority urban residents live hand-to-mouth .Literally they live off their ability to make it to City or Town centers every day.
A disruption in this routine automatically leads people to go hungry and starve at home.
Food prices are rising. For example, a kilogram of dry beans currently costs 6000 UG Shillings (twice the price before the lockdown), so many can not afford buying food. Also domestic violence, suicide, robbery, and other crime cases are at a high rate during the lockdown.
For example, a man committed suicide because he had failed to buy some salt for his complaining wife.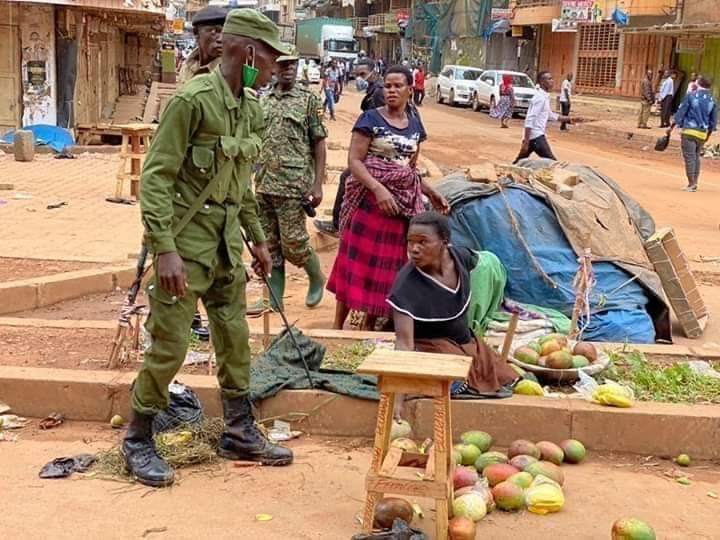 (Army enforces social distancing)
As a family man and a believer in Jesus Christ as my personal Savior, I put all my trust in God, leaving all my worries and family needs in God's hands through praying and fasting.
I have a strong testimony that God truly exists and hears and answers our sincere prayers. Many miracles have happened in my life before and after the Covid19 scamdemic.
Our merciful God has provided means for me and my family during this global crisis. I leave my humble testimony that God is still the ruler of this Universe. Satan will be defeated.This I testify in the name of our Lord and Savior Jesus Christ, Amen.
Yours in Christ, James Mubiru, UGANDA

--------
Makow Comment-- I am trying to raise $4000 so that James can start a grocery store and give his family security.
If you have not been affected financially by the scamdemic and want to help, please go to this gofundmepage. I have already made a generous contribution toward this goal. James will personally acknowledge your contribution if you notify me at [email protected] Canadians can use etransfer to [email protected] at the TD