Human Psychology: Mass Media Defines Reality
May 23, 2020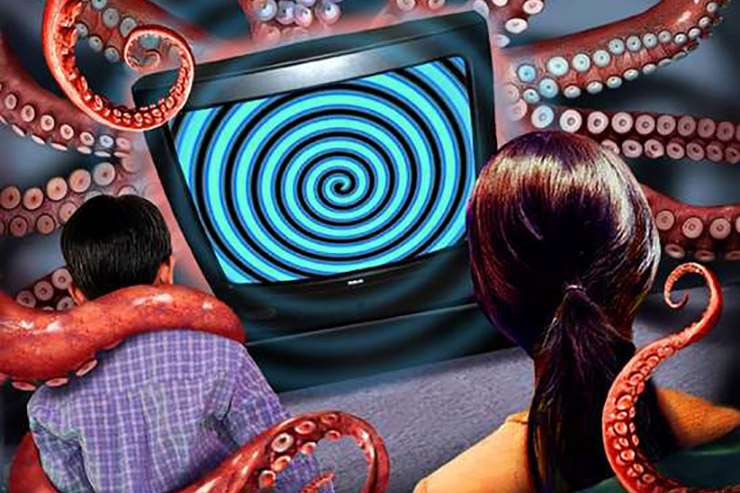 Why do people fear sickness
but not poverty or starvation?
Because the media doesn't talk
about the latter.
Why media cartels need to be broken up.
By Aliasy
(henrymakow.com)
It is amazing how easily people slid down the Maslow pyramid.
Freedom, dignity, even prosperity are not needed. People are ready to die of hunger, as long as they don't get sick with the Covid.
Fear has a completely interior, animal character.
In fact, this fear is even stronger than the fear of death, since death from starvation seems preferable to infection with Covid (which leads to death in a small minority of cases).
And why? Because death from starvation, like death from other diseases, is not in the media. Therefore, it does not exist. The specifics of the information age of society: that which is not in the media does not exist.
And, inversely, there is only what is in the media.
And it turns out to be a paradox: modern media technologies manipulate the ancient basic instinct - the fear of death.
Moreover, at such a level that the instinct of self-preservation is suppressed.
Why is the instinct of self-preservation suppressed? Because, having agreed to sacrifice freedom, dignity and the right to life (because one cannot live without yum-yum), mankind got on a train with a one-way ticket to hell.
For each person, the train's speed and number of stops at stations along the way can vary, but the final destination is clear.
At one time, Winston Churchill said: "Choosing between dishonor and war, we chose dishonor. In the end, we got both."
So here we have the same thing: we chose a complete waiver of rights in exchange for protection from the Covid.
Covid is not going anywhere.
But we have no more rights and never will.
Because now, in order to get the rights back, they need to be won.
It will be a long and hard war.
But not for those people who have drained all their rights at the click of a finger.
----
First Comment from Tony B
Over 50 years ago Paquita de Shishmareff (writer L. Fry, author of
Waters Flowing Eastward
) repeatedly mentioned government schools as "PLANNED IGNORANCE." How right she was. I was already home-schooling my sons, being very wary of do-gooders who would turn me in to the "authorities" in a NY second, wherein I would have been imprisoned and my children stolen by the state, "for their own good."
Throughout those long years myself and my home-educated sons have been telling anyone, especially those who complained because their kid had been expelled from school for a time, TO GET THEIR KIDS OUT OF THOSE HELL HOLES AND TAKE THEIR RESPONSIBILITY TO BRING THEM UP PROPERLY, but the selfish mothers still love the "free" babysitter. Even that is a monstrous lie as the government school empire sucks up more taxes overall than even the military hardware corporations.
Of course, unlike mis-education, neither the media, nor the totality of government, nor of industry had been totally captured at that time but all were already deep into the agenda of being bought by the same few criminals of the satanically constructed banking monopoly, as is now terroristically evident with all real law ignored by the criminal tyrants at the top in all these societal forms.