Is there any Limit to US "Debt"?
August 30, 2020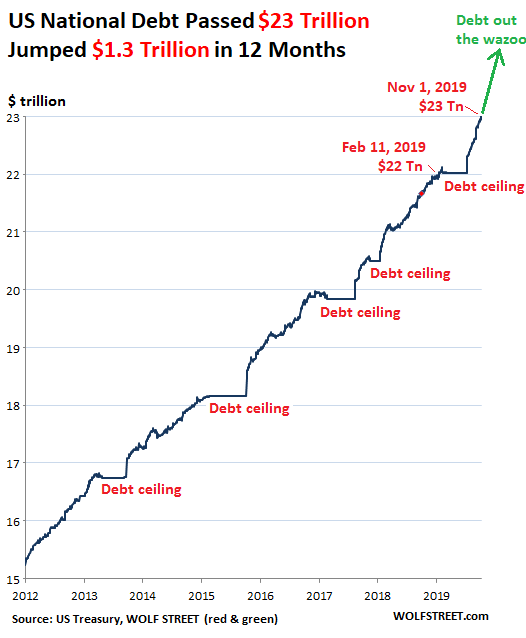 Owning gold today is like yelling fire
in a crowded theatre and hoping people
will rush to the right exit. In a crisis or crash,
they are just as likely to dump gold and
embrace the "worthless" USD.
by Henry Makow Ph.D
(henrymakow.com)
In 2000, U.S. debt was $6 trillion
-- a 30% debt to GDP ratio. It was $14 trillion in 2010 and
$23 trillion in 2019,
increasing $1 trillion a year while the U.S. economy was booming. Or maybe this is why the economy was booming. The U.S. was charging $1 trillion a year, year after year, on its national credit card to buy things and
to engineer this growth.
"Money" is a medium of exchange that the central bankers create as a debt to themselves. It is a mental concept,
a notion of value expressed in terms of some coupon
(i.e. currency.) It has no inherent value. Its value is based on its acceptance for goods or services and is linked to the "credit" of the issuing nation. Your "money" is just digits on a ledger kept by the central bankers, the same people who encourage sodomy.
The criminal cabal in charge has been producing this "money" and stuffing its pockets and those of its friends. Is there any limit to the amount they will produce? If the "debt" doubled to $70 trillion, would it make any difference?
"Debt" is simply the money supply. It will never be repaid and shouldn't be. Interest rates are near zero so there's no limit to the amount they can create.
GOLD
Everyone thinks gold is a hedge against inflation brought on by this money creation. But there hasn't been much inflation.
Is gold really a better store of value? True it was $400 in 2000 so it has kept pace with the increased "debt." But
it was actually $2200 in 1980
when the national debt was less than a trillion. Is gold just a mental concept as well?
"Doodle" wrote on a yahoo message board: "Someone help me to understand. So we have investors here in the fund saying dollars aren't worth the paper they are printed on, so are investing in GLD. But when they go to sell if they have a gain, won't they be paid in dollars? Am I missing something?"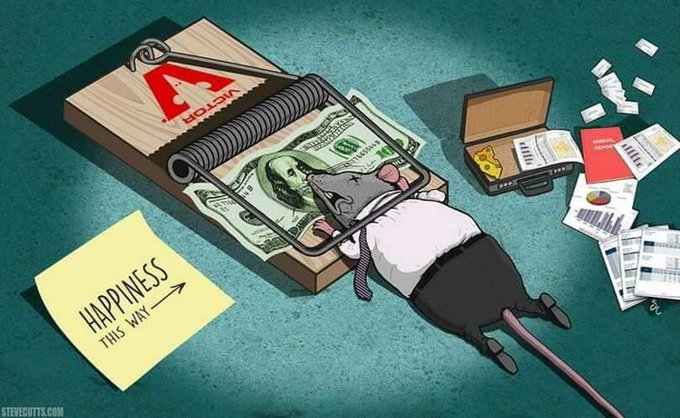 We seem headed to a world where a few people actually produce needed products and services, while the majority of people do nothing and get paid anyway. How long until the productive people put down their tools and demand free money too? Except there will be nothing to buy. Remind you of Communism?
Once our practical needs are secured, money becomes the abstraction it is.
Time is more valuable than money. Best to place value on something that is real.
"Build your house upon a rock." Matthew 7-24
First Comment from Anthony Migchels
I saw your question 'where does the money go'.
"Of course, as always, it's touted as 'Main Street' and 'helping workers': " "This package will be the single largest Main Street assistance program in the history of the United States," Kudlow said at the White House coronavirus task force briefing Tuesday evening.
Included in the package is Congress's almost $2 trillion emergency bill, which, when passed, will issue direct checks for American families, bailouts for the airline industry and a $350 billion loan program for struggling small businesses."
But the kicker is this: "The other $4 trillion will allow the Federal Reserve to make huge emergency bailouts of whatever entity it chooses -- a measure that was used to prop up Wall Street firms from collapse during the 2008 financial crisis."
And again: the Media will not talk about this at all, since it is Trump that must win the election. Tucker won't talk about it, Trump's 'enemies' at CNN won't talk about it.
But of course, if they need another $4 Trillion (and it doesn't need a big brain to realize they have plans with this money, it's not 'just in case') after giving the Bank $6 Trillion only months ago, it gives a fair idea of how disastrous things are.
This is really the funniest financial collapse ever. Usually, it's the talk of the town, but it's a complete non-issue now, while America is being absolutely SMOKED. $10 Trillion dollars for the Bank in 6 months...
And think of all the people that are getting destroyed, all the small business, the tens of millions unemployed, the sky high rents that people who do have a job have to pay, killing their living standards.
And the fact is: Trump is in the thick of it, doling out this cash under the full protection of the Media."
https://nypost.com/2020/03/24/coronavirus-stimulus-package-to-exceed-6t-larry-kudlow-says/
PS: it's stunning. All this is about finance. And everybody is blathering about some 'virus'.
They locked us up IN THE SAME WEEKEND as they bailed out those bastards with $6 Trillion, and nobody is talking about it. But Harry Vox was entirely correct, in 2014: "if there is ever going to be social unrest in the US, there will be an Ebola outbreak" https://www.youtube.com/watch?v=P-FA1HxzwqE&feature=youtu.be
Ok, it proved to be 'corona', but the message is clear: it was, and is, medical Martial Law, aimed simply at keeping people tied up while they demolish America and the West in the biggest financial collapse in history.
Peter Colt writes-

To further expand upon
your recent article concerning money,
let me explain what taxes are for and why they exist. We all know that the powers-that-be own the money system and that they can print up all the money that they desire for themselves at any time for any reason. Of course, many people will tell you that this can't be done because simply printing up money leads to Zimbabwe-style hyperinflation; but in reality, this is done all the time and wealthy nations and especially those whose currency is the world reserve currency can get away with such policies for a long time and are very adept at hiding their money creation in various financial ruses such as artificially-inflated stock markets, housing bubbles, and the derivative fiasco. This hiding of all this newly created money in the financial system is very effective in forestalling the onset of hyperinflation.
The reason worthless fiat currencies were created in the first place is for the very reason that an endless supply of this 'money' can be conjured up out of thin air, based on nothing and backed by nothing. Those creating it need not actually produce any goods nor offer up anything of value with which to back up the value of the currency, they can simply print up as much money as they need to buy everyone and everything that they desire. Unlike with the case of commodities such as gold or food or finished products, trillions of dollars can be created with zero effort on their part. Zero effort in its creation and zero effort in transportation and storage. Most of the money in existence isn't even in physical form, it's merely entries in a ledger or in recent times just digits on a computer screen.
Now being able to print up all the money they want is one thing but if no one actually needs any of this money to be able to survive then the powers-that-be wouldn't be able to make people accept their worthless pieces of paper in trade for goods and services (who would willingly trade the hard-earned fruits-of-their-labor for a worthless piece of paper unless they had some reason to need to). In other words, if no one had the need for 'money' with which to pay their taxes, the powers-that-be wouldn't be able to use their 'money' to acquire things, wage wars, buy fuel, pay soldiers, buy gold, bribe officials, manipulate financial markets, etc.
Now at this point, some people will say that money serves as a sort of bartering chip to facilitate trade, and of course, this is correct, but you mustn't lose sight of the fact that people could use anything that they agree upon as the bartering chip. The powers-that-be use taxes as a means to force their own 'money' to be accepted as the only form of bartering chips that anyone actually needs to trade with.
So, you see, taxes are there so as to create a permanent demand for this fictional currency by requiring that people (and businesses) acquire this 'money' so as to be able to pay their taxes. The powers-that-be don't need your tax money to survive; what they need is for you to be compelled to trade your lifetime of work for their essentially worthless currency. They need to give society a reason to need their money. Their existence depends on it.
And furthermore, they justify it all to the population by passing blame. They inflate these bubbles, such as the housing bubbles, and then cut the money supply to force many people into bankruptcy and then they "repossess" assets bought with the fraudulent currency and blame those who they swindled through market manipulation for being irresponsible and taking on too great of a debt load.