October 18, 2020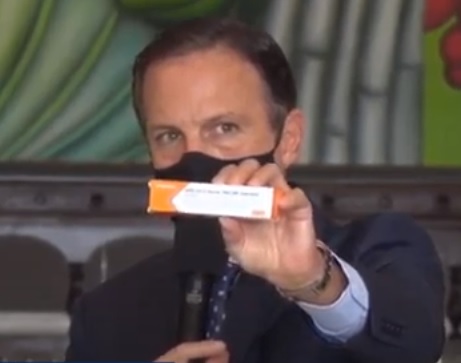 Joao Doria with his Chinese vaccine
Boondoggle- Covid-19 vaccine to be MANDATORY
in Brazil's most populous state, Sao Paulo - Governor
The head of Brazil's most populous state has promised that the vaccination for Covid-19 will be compulsory for its residents. The statement quickly led to a clash with the country's president. Sao Paulo Governor Joao Doria told reporters that immunization will start once the vaccine is authorized by the National Health Surveillance Agency (ANVISA).
"In Sao Paulo it will be mandatory, except for those with a medical note and a certificate stating that they cannot [take the vaccine]," Doria said, explaining that the state will adopt necessary regulations for the measure.
Local media reported that the Sao Paulo government hopes to have the Chinese CoronaVac vaccine approved by the regulator in time to start vaccination of medical staff in December. The trials are expected to be completed this weekend, with the results ready on Monday.
Apparently reacting to Doria's comments, President Jair Bolsonaro wrote on social media that the Health Ministry will provide vaccination "without making it mandatory." He cited two laws saying that it is the job of the federal government to determine whether to carry out compulsory vaccination.
Marcos:
Doria is a corrupt governor who opened an office in Shanghai and is selling the state to the Chinese.
The vaccine is Chinese, and he bought 46 million doses. One can imagine the size of the bribe he got. [State population is 46 million]
Of course, young people who don't get sick don't need it. Experts say only 10 million doses for the elderly would have been enough.
Also, the pandemic is practically over, especially in the capital city, with less than 1 death/day per million people.
Instead of discarding the vaccines, he just incorporated a dictator spirit and said he will vaccinate everybody and will issue sanctions on those who refuse it.
Bolsonaro said he will not let this happen, it's against the law, but we have a satanic Supreme Court which probably will side with Doria.
People are mad with Doria, everybody fears the vaccine because it was made in China, and there is already a protest scheduled for November 1st against it.
He is the most hated politician in the history of the state, probably more than Lula.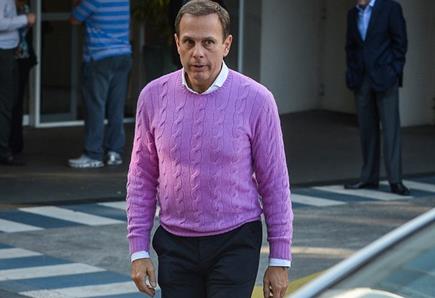 62-year-old, a marriage of convenience, a millionaire from shady deals with the government. His father was the chief of a global occultist organization.
CLOSETED HOMO. Called Doria skinny pants, sweetie, etc. Loves to dance with men, would be a good match to Fidelito.
https://youtu.be/1DKBhqGBxGU
https://youtu.be/ev2sn3nMo6g