October 2, 2020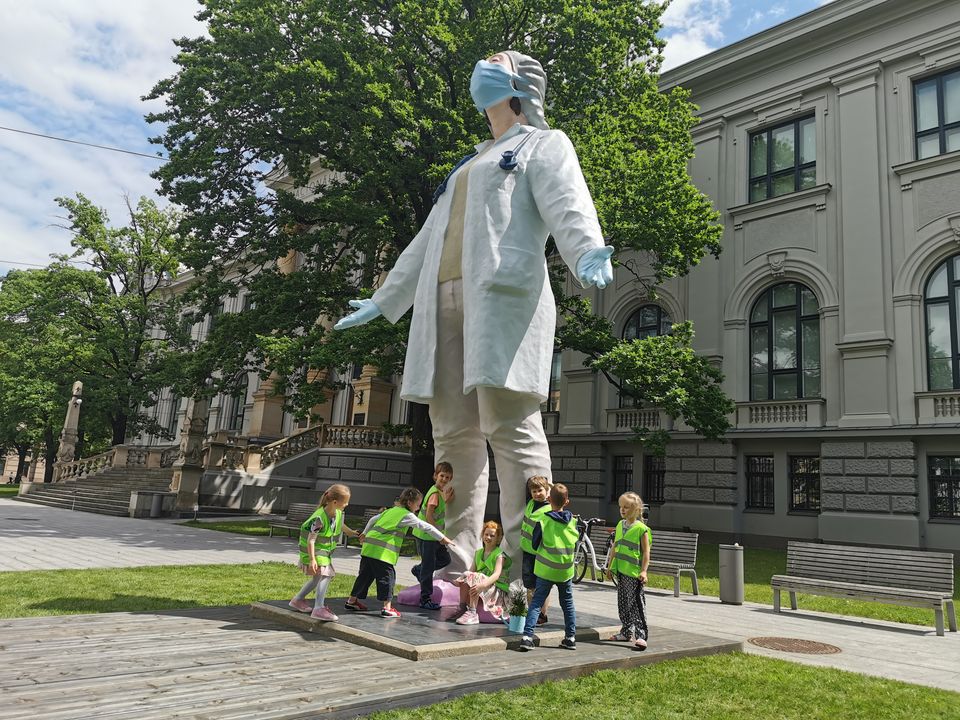 (Statue honors health workers who are scamming us.)
Letter from Latvia
by R
(henrymakow.com)
Well, today, the government-controlled MSM propaganda page www.delfi.lv has stated that yesterday there have been 4000 tests performed and there has been record (for our country) 95 cases, so they are again trying to instill fear in us and saying that there might be new restrictions.
They have already quarantined 2 smaller cities for 2 weeks until the 14th of October.
Obviously, that is all a big lie, I have talked to some people in private; of course, they do not believe all these lies.
Sadly, many people look scared and just quietly try to distance themselves from all this situation. We don't have mandatory masks, as for today, 30th of September. Interestingly, last week there was some military training in our capital city, Riga, where I live, also.
Media and officials are saying that this is just training, nothing to worry about. There is one guy (I really hope that he is not controlled opposition), an attorney, who is in our government, but he exposes many aspects of our deeply-corrupted and controlled puppet government.
He is organizing now a peaceful protest in Riga on the 10th of October, against all of this madness (particularly, one parent had shown to him a document, where school administration try to force COVID-tests on children, that`s infuriated many of us).
Right now, I am reading an investigative report on COVID scam, provided by link on Your twitter (I`m reading it almost every day as Your website) translated to English, by the french officer's reserve army, and I`m deeply saddened, at some point, reading this document, my heart started to racing very fast, we all must stand up and take a stance against satan and all of his minions, all these ancient generational satanic families...
Much of what I have read is confirmed there, soon I will try to talk to my family and friends and inform them about what is coming to us. I have a wife and a 9-year-old son. I myself am 36 years old, consider myself a sinner, but as I understand, we must do as much good as we can and as less evil as we can, to love, hope, and believe, and then the light, this divine spark, may shine from inside of us.
On some local pages, I have read, that Latvia can become one of the first countries in the world with a fully installed 5G network. Just look, what they`re are writing in this agenda, for example, Who knew that trees can become digital?
In this talk, we will hear about the digitalization of this valuable sector. This is true madness we are heading to, we, the people, must unite against those Satanists, or we can perish, I`m not scared for myself now, but for my wife and son, for my parents, my family, fellow humankind.
I`m not scared, if I must die for the greater good of humankind, let it be, but I don't want our humankind to become artificial bio-robots, and, ultimately, be destroyed within the soul-spirit level.