April 25, 2021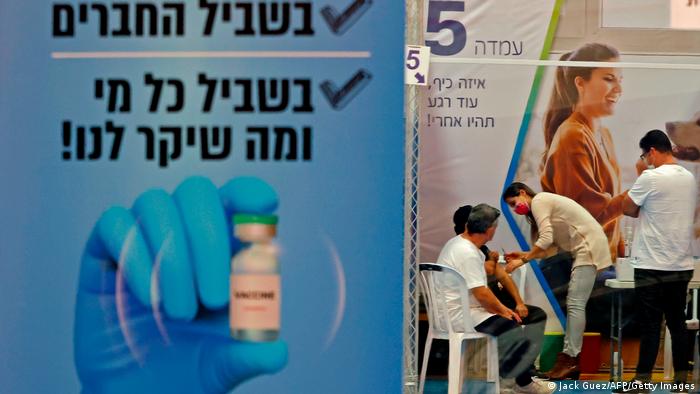 Israel and its citizens will meet a horrific end over the coming 2 or 3 years.

5 million Israelis or 55% of the population has been vaccinated.
Israel is now the biggest hell on earth for precisely two reasons:
JI is a reader who claims visionary powers. We hope he is mistaken.
by JI
(henrymakow.com)
1) With around 53 % of the Israeli population vaccinated with 2 shots of the mRNA vaccines and with Israeli kids (10 to 15 age group), too, set to be vaxxed over the coming 3 to 4 months, we should see millions of deaths in Eretz Yisroel (Land of Israel) over the next 9 to 14 months or so as the killer C19 vaccine manifests its deadly autoimmune and blood clotting effects resulting in Israelis dying 24 x 7 everywhere - at home, on the roads, in hospitals, in malls, in schools, on the beaches, in bars and offices.
The phenomenon of virus/vaccination shedding, will, in addition, spread serious diseases to unvaxxed people in contact with those vaxxed. Shedding of harmful pathogens and toxins occurs via exhaled breath, perspiration, physical touch, coughing, talking, body waste and the like.
2) From the spiritual perspective, it's clearly visible through the mystical vision that the forces of suffering and death are steadily gathering as a thickening sheet of life force-sucking vibrations in the aura of Israel and Palestine.
This pervasive field of black energy can be perceived hanging all over Israel covering and penetrating all the people and objects.
Israel and its citizens will meet a horrific end over the coming 2 or 3 years. I can't look at any recent video or recently typed page coming from Israel because the life force sucking black colored vibes are so very disturbing and harmful. I've unsubscribed from almost all Israeli YT Hebrew/English channels and print media and have stopped communicating with Israeli relatives/friends as the energy exchange with them is damaging and then it takes me at least 45 minutes to detox my body, clothes, carpets, bedding, furniture and walls in my apartment of the coating of black energy coming from these Israeli contacts.
HaShem wants to destroy Israel and almost all its people and is using the evil spirit entities like Baal, Molech and Baphomet among others and their human shills on earth to execute the genocidal job.
With the fall of Israel and the decimation of almost all its 9 million or so population via vax and a concomitant Globalist scripted regional war, the rest of the world, too, enters a massive depopulation phase.
Be prepared. A spiritual Israel should arise from the ashes with remnants of Jewry from around the world post apocalypse.
----
Now, I understand why Globalist chief spokesperson, Dr Henry Kissinger, remarked to the New York Post in 2012 that "there won't be an Israel in 10 years.." (i.e. by 2022).
Correct.
The C19 vax will destroy Israel within a year or two by late 2022 end or thereabouts.
Not surprised the Israeli government (obviously working under orders from the Globalists) has lifted lockdown and done away with masks outdoors so that those vaxxed become "super spreaders" of new infections that their collapsing immune systems won't be capable of neutralising resulting in their own deaths and destruction of those who catch the infections from them. Add to this the adverse effects of virus/vaccine shedding and a mammoth horror show is unfolding in Israel.
Both mystical vision and science arrive at the same conclusion regarding the fate of Israel in coming days...
Renowned microbiologist Dr Sucharit Bhakdi said to journalist Alex Newman that C19 vaccination has turned Israel into "hell on earth". He's right.
As expected of a nationalistic newspaper Haretz ran a counter article to Dr Kissinger's shocking 2012 prediction of Israel disappearing in 10 years (i.e. by 2022) and Dr Kissinger was forced to recant saying he was misquoted post the the huge outcry from blinkered fellow Jews who don't understand ethics, Torah or mysticism but are arrogantly claiming Jews are G-d's treasure without living up to the exceptionally high moral, intellectual and spiritual standards expected of us by HaShem.
Dr Henry Kissinger made another accurate observations saying Jews have been persecuted down the ages because many if not most Jews misbehave.. doing something wrong to ruffle the feathers of Gentiles.
Pogroms, forced conversions, expulsions, Holocaust and now vaccination leading to genocide.
Well, we Jews have been given a long rope to hang ourselves and now after 2000 years since the destruction of the 2nd Temple and the scattering of the "stiff necked" Levantine Jews to other places the time of another G-d created mass destruction of Jews (and of course Non-Jews too) has arrived.
"Is there any evil in a place and I have not done it," said HaShem to the prophet Amos in Amos 3.6 in the Tanakh or Hebrew Bible.
This statement succinctly lays out the strict meaning of monotheism on which Judaism is based.
The One creates everything and is responsible for everything. Without His consent nothing can happen. The causal law He lays out is inviolable. In Judaism, even Satan is a dutiful servant of G-d not a rival battling G-d and His angels.
G-d is the creator and controller of everything good, evil and transcendant, while His true innate nature is ineffable.
No wonder the Chabad Lubavitcher Rebbe Menachem Mendel Schneerson of blessed memory did not once step foot in Israel nor condone aliyah because through his spiritual vision he knew that the modern state of Israel was founded on Illuminati demonology (thanks to Albert Pike!) and would as such be destroyed after which a spiritual Israel would arise during the expected Messianic Age.
The Chabad Lubavitcher Rebbe Menachem Mendel Schneerson had superlative mystical powers following in the footsteps of pioneering medieval Jewish mystic-sages like tzaddik Baal Shem Tov and his own father-in-law, the previous Lubavitcher Rebbe.
Be prepared - the horror is unfolding and results should be visible soon.
Aside from vax, other methods of mass destruction lined up by the Globalists for humanity are world war, cyberpandemic, weather modification, tectonic weapons, starvation, live germ/chemical warfare and others.