Mike Stone- Libtards Don't Hate Kyle; They Hate YOU
November 20, 2021
Rosanna Arquette retweeted-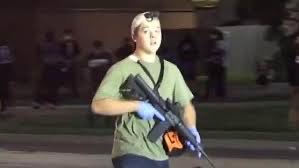 Kyle Rittenhouse is an American hero for defending himself

Libtards are proving they are certifiably insane.
What these Satanists wanted to do to Kyle,
they want to do to you

by Mike Stone
(henrymakow.com)

Sally Field once famously declared, "You like me, right now, you like me!"
Peaceful, law-abiding Americans, seeing the unhinged reactions to the acquittal of Kyle Rittenhouse, could just as easily say, "You hate me, right now, you hate me!"
From politicians to has-been athletes to washed up Hollywood whores, everyone is getting in on the action.
Rep. Cori Bush, D-Mo., tweeted: "The judge. The jury. The defendant. It's white supremacy in action. This system isn't built to hold white supremacists accountable. It's why black and brown folks are brutalized and put in cages while white supremacist murderers walk free. I'm hurt. I'm angry. I'm heartbroken."


White supremacists? Does she have any idea what she is talking about? This is a U.S. Representative for Missouri's 1st Congressional district. Makes you wonder how she ever graduated grade school, let alone was elected to public office.
Failed NFL player Colin Kaepernick said, "We just witnessed a system built on white supremacy validate the terroristic acts of a white supremacist. This only further validates the need to abolish our current system. White supremacy cannot be reformed."
There's another idiot touting "white supremacy."
Washed up Hollywood actress Ellen Barkin, who once had talent--I'll give her that-- tweeted: "Kyle Rittenhouse walks free as we are all taken prisoner by our now openly authoritarian state."
Fellow actress Rosanna Arquette whose past tweets have expressed shame at being born white, wrote: "I have no faith in the justice system in America today. I don't want to live in a country that is ruled by violent ignorance racists."
And on it goes, probably ten thousand or more tweets and reactions right now, all of them condemning a man forced to defend himself from violent attack. Do you any of them even know that the man who instigated the violence and first attacked Rittenhouse was a convicted child molester who anally raped little boys?
Apparently not. Joy Reid tweeted: "While we're out reacting and processing the Rittenhouse verdict, please spare a thought for the families of Joseph Rosenbaum and Anthony Hubler, who are mourning, and for Gaige Grosskreutz and Jacob Blake. There is nothing here but tragedy, and these families are in pain."
What about the pain that Joseph Rosenbaum caused to the little boys he raped?
You see, all this hate being spewed about the verdict isn't so much hatred for Kyle Rittenhouse, it's hatred for you. It's hated for anyone and anything that represents law and order in even the slightest way. And to a lot of people, the non sensible phrase "white supremacist" represents law and order.
One thing I've learned is that all hatred comes from self-hatred. You can't hate someone else without hating yourself first. The people expressing outrage over the verdict are seething with self-hatred and mired in sin, and they hate the idea that their sinful actions can have consequences. They want the freedom to riot and loot and to sodomize little boys.


One person standing up to them, like Rittenhouse did, reminds them that there is something in the world called justice. And even in the current Clown World we're living in, sometimes justice rears its head.
You might find that level of hatred hard to understand, but remember the phrase, "Misery loves company"? People that hate themselves want to drag everyone else down to their level. People that are going to hell want to drag as many other people as they can down to hell with them.
What do you think of the verdict? Why do you think so many people are openly hostile to the concept of self-defense and want to blame everything on "white supremacists"?

---------------------

Mike Stone is the author of -

"
COVID-19 and Kids: A Parent's Guide to the COVID-19 Pandemic"
available here:
https://amzn.to/3b4M4Qr
"Reversing the Side Effects of the COVID-19 Vaccine: How to Heal Yourself from Adverse Reactions to the Trump Vaccine and Protect Yourself from Shedding,"
available here.
"
COVID-19 and the Mark of the Beast: What Every Christian Needs to Know About the Trump Vaccine"
https://amzn.to/3DA8shu
He is also the author of
Based
, a young adult novel about race, dating and growing up in America,
and
A New America
,
the first novel of the Alt-Right, a dark comedy set on Election Day 2016 in Los Angeles - -
Available on Amazon.