Ottawa Police are Guilty of War Crimes
February 7, 2022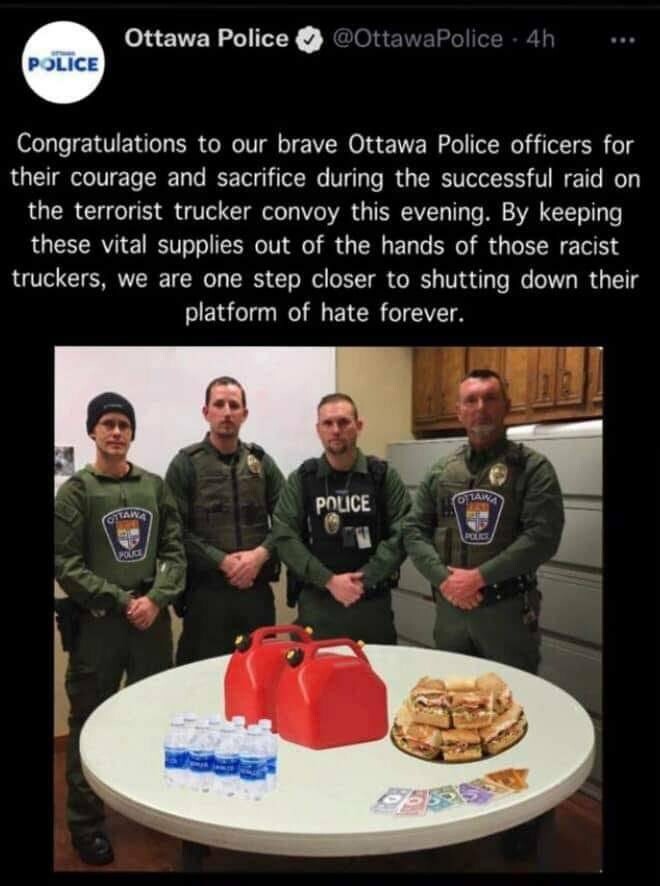 Send comments and links to hmakow@gmail.com
(Left, Communists cannot defend evil so they must smear their victims. Gas lighting and intimation are their only means of defence.)

Patriots must initiate a law suit under the Geneva Convention
Hello, My name is Beth Ann Wright, an attorney in the United States
. I have been watching the TruckersForFreedom with interest.
This evening I saw a video that purports to be Canadian police officers in Ottawa seizing fuel from truckers posted with a timestamp of 6:35 pm CST by Rebel News (in a message forwarded from Covid Red Pills Channel) in the
TruckersForFreedom Telegram channel.
These Canadian police officers are committing War Crimes in violation of GENEVA CONVENTION RELATIVE TO THE PROTECTION OF CIVILIAN PERSONS IN TIME OF WAR OF AUGUST 12, 1949, ATRICLE 30 - APPLICATION TO PROTECTING POWERS AND RELIEF ORGANIZATIONS, PARAGRAPH 1. - RIGHT OF COMMUNICATION, 1. PRINCIPLE, p. 174. See also THE GENEVA CONVENTIONS OF 12 AUGUST 1949 COMMENTARY, Jean S. PICTET, pp. 213-215.

The Truckers and other members of the public are "Protected Persons" under Article 30 and have the "absolute right" to "protest" inter alia and receive "material relief" from "any organization that might assist them."

Moreover, the Canadian police force has an affirmative duty such that the "Detaining or Occupying Powers [the Canadian police force] shall facilitate as much as possible visits to protected persons by the representatives of other organizations whose object is to give spiritual aid or material relief to such persons" inter alia. Id.

Therefore, the Canadian police officers are committing War Crimes against Protected Persons under Geneva Convention 4, Article 30, Paragraph 1, 1. Principle by seizing fuel from Protected Persons. The Canadian police are advised to immediately Cease and Desist such War Crimes.

The Protected Persons are advised to remain peaceful; record the names and images of anyone potentially committing War Crimes; and request assistance from "Protecting Powers," namely, the Global Military Alliance. See id.
Beth Ann Wright, JD,
OTR/L Can you get this message out?
------