Gonzalo Lira -- The Ukraine Thing is Jewish
March 9, 2022
YouTube Link
Golanzo Lira is a Chilean Roman Catholic living in Ukraine. He says Jewish billionaires PURPOSELY started this war to destroy Russia and unseat Putin.
"This is what its all about--and still STEAL Crimea for Kolomoyskyi. Soros, Bloomberg, Kolomoyskyi, Tom Steyer, Zuckerberg--THEY ALL WORK TOGETHER--It is the Jewish mafia but on the World Stage"
(henrymakow.com)

We all know that Zelensky is Jewish. Right?

Did you know that 3/4 of his cabinet is Jewish?

Did you know that he has a Jewish Handler?

Golanzo outs the rise of Zelensky and the guy who shepherded him into politics and still guides him today.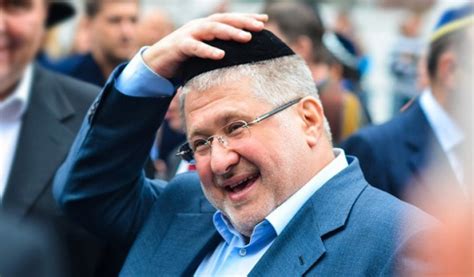 Have you heard of Ihor Valeriyovych Kolomoyskyi? He is a prominent member of Chabad. (left)
According to Golanzo, this guy is a very very very bad man; he used mafia tactics to rise to the top and he is one of the many billionaires of Ukraine.
He started his own media Empire (aka Rudolf Murdoch of Fox News).

He then created a show about a teacher becoming president of Ukraine. He chose Zelensky and then used his money to promote the show.

Golanzo states that Zelensky is a puppet of Kolomoyskyi. Kolomoyskyi HATES RUSSIANS. He has business dealings in the Donbass where there are huge mineral and metal companies.

Golanzo says Kolomoyskyi has BOTH religious and racial animosity towards the Russians and seeks to destroy them.

It is Kolomoyskyi that set up the Azov brigade and the other neo-Nazi units in the Donbass area.

Golanzo has a tremendous knowledge about the history and goings on in Ukraine.

Do you know that there are pics of John McCain at the Maiden revolt in Ukraine praising the coup?

Do you know that Lindsay Graham was in Ukraine in 2019 praising the Ukrainian push to oust the Russians from the Donbass? ...praising the nationalism of the Ukrainians?

Let me bring to you the BIG picture, the Global Overarching goal that ties this all together. Ask yourself,

Why did we go into Iraq and unseat Saddam Hussein?

Libya and unseat Mohammar Ghaddafi?

And tried to take out Assad in Syria?

What does Russia, Iraq, Libya and Syria have in common?

Dictatorships....Authoritarianism. --Separationism! What is a Dictatorship? A pseudo-Monarchy!

Why is it that George Soros called Xi as a betrayer?

The WHOLE thing is Jewish.

The people who pushed the Iraq War were Neocons--who were what? ---ALL Jewish!

It is the Rich Jews who laid it upon themselves to accomplish the World Republic-and that means EVERYBODY has to have democracy!

Democracy is the vehicle for the Jewish World Republic and their "messiah" to come.

It is about rebuilding the Tower of Babel so one of them sits on top.

This whole thing is a continuation of the modern Republican movement that ended Christendom, Western Civilization of Throne and Altar!

And THAT is why you see this massive propaganda campaign, economic warfare against Russia.

They PURPOSELY started this war to destroy Russia; they want unrest IN Russia to unseat Putin.

This is what its all about--and still STEAL Crimea for Kolomoyskyi. Soros, Bloomberg, Kolomoyskyi, Tom Steyer, Zuckerberg--THEY ALL WORK TOGETHER--It is the Jewish mafia but on the World Stage!

Everybody and anybody in Power has a Jewish Handler. Nixon his Kissinger. Bush his Neocons, Trump his Kushner.

It is ALL about destroying Dictatorships and implementing "Democracy."
Democracy is Jewish government!
---
WLW adds-
"Democracy is the road to socialism." Karl Marx
"Democracy is indispensable to socialism." Vladimir Ilyich Lenin
"Modern Socialism is inseparable from political democracy." Spargo, John (1912) Elements of Socialism. pg 337.
"The view that democracy and Socialism are inwardly related spread far and wide in the decades which preceded the Bolshevist revolution. Many came to believe that democracy and Socialism meant the same thing, and that democracy without Socialism or Socialism without democracy would not be possible." Socialism, Ludwig von Mises, pg 67.
"The Western democracy of today is the forerunner of Marxism which without it would not be thinkable." Adolf Hitler as a young man watching the Social Democracy marches in Vienna. (Mein Kampf, pg 78. Manheim translation, Mariner paperback)
"For Bernstein democracy was both means and ends of the struggle to achieve socialism, the belief in a future new dawn when the dust of the apocalypse had cleared a utopian chimera." Weisberger, Adam M. (1997) The Jewish Ethic and the Spirit of Socialism. Peter Lang: New York. pg 146
"But the tents of Shem are communism, internationalism, democracy, the equality of the races, nations and peoples, the universal brotherhood of man, the emancipation of the working class, and the human society." Wanton, Harry (1939)
A Program for the Jews; An Answer to all Anti-Semites; A Program for Humanity.
Committee for the Preservation of the Jews Astoria Press: NY.
http://mailstar.net/waton-program.html
pg 74.
As Ezra Pound put it decades ago, "Democracy" is just Jewspeak for "a country run by Jews".
The German classicist, Prof. Karl Otfried Müller notes that, "...democracy likes a large mass, and hates all divisions."
'Democracy' is the political manifestation of Gnosticism.