Please Ron, Get a Clue
November 30, 2007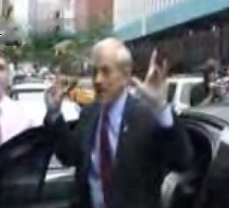 Why Can't He Just Wave? (Is there anything more all-American, and inclusive?)
A reader has pointed out that Ron Paul has a habit of flashing something like the horned goat handsign . She sent 5 "You Tubes" in which he does this and as a result, she has now withdrawn her support. She notified his campaign manager who laughed it off as the "rock on" sign.
She says Paul has been on Alex Jones show and should know the significance of this sign, which Illuminati like Clinton and Bush flash regularly. She also points out that Paul worked for Ronald Reagan who was certainly Illuminati. Reagan was for small government and against abortion as well.
True, the thumb is in a different place than the horned goat. It is extended rather than folded over the fingers. Some say this is the "Hawaian universal hang loose" sign. Others say it is "I love you" in universal sign language or the sign of "The UTexas Longhorns." Whatever. It is much too reminiscent of the horn's goat which all Illuminati members use. (Obviously they are going to say it means something else.)
How can we support a man who doesn't understand such a basic point? Why is a 72- year-old physician pandering to youth? His supporters aren't hippies or rock concert go'ers. Paul should address this issue. Is he Illuminati?
see homepage www.henrymakow.com for Paul giving what look like masonic handshakes to Ben Affleck and P.J. O'Rourke on Bill Maher's show (scroll down)
You Tubes
http://www.youtube.com/watch?v=D5HWR8NdIoM&watch_response

http://www.youtube.com/watch?v=Jpnajrx7FGM

http://www.youtube.com/watch?v=HXkVJtz0bNI

http://www.youtube.com/watch?v=BjpjUZBcsss

http://www.youtube.com/watch?v=z0xhPGA7EXQ