Rev. Ted Pike & Wife Battle Satanic Forces
January 8, 2012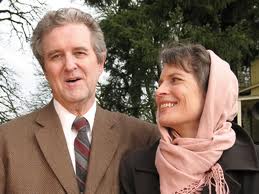 (left. Ted Pike & Alynn)
The temptation is to dismiss Ted Pike as a crackpot.
But he is one of the sanest people around.
That's what makes his account so disturbing.
by Henry Makow Ph.D.On Friday Dec. 9
,
on his radio program,
Jeff Rense asked the Rev. Ted Pike, a leading champion of freedom, if anyone had attacked him lately. Pike replied that it was the usual suspects, the ADL and longtime Zionist bootlicker Joseph Farrah.
On Jan 3,
in a jaw dropping account
, Rev Pike revealed that just three days prior to that interview, on Dec. 6, his wife of 27-years, Elizabeth Alynn Pike, had committed suicide by jumping off a Portland OR bridge.
He revealed that both he and his wife have been under intense demonic attack from Cabalist Jews for decades for opposing the satanic New World Order.
Yet in the interview, Pike didn't miss a beat. He gave no sign he had just suffered a tragedy, or that his ministry had been under attack from occult forces. He was the brilliant, articulate, credible crusader that we have always held in high esteem.
His story is so incredible, there is a temptation is to dismiss Pike as a crackpot. But he is one of the sanest people around. That's what makes his account so disturbing to me.
Ted describes the satanic possession:
"
The demons willingly volunteered their names through Alynn's voice: Pitcaw, E-yong, Shit, Contention, It-kid-eva, Oink, etc. It became clear as the years went on that Pitcaw, who told Alynn he was her "private demon," seemed to have been stationed in our house while most of the rest went on to other deviltry.

Many times, in the name of Jesus, I adjured the demons to be gone. To no avail. It became clear we were under attack, as Job had been, by God's permission. The demons were not particularly afraid of the name of Jesus. Often they would exclaim mockingly, "Oh, thank Jesus!" or "Jesus, save us!"

Pitcaw almost always went into a rage, shouting "No, no, no!" when I was about to publish a crucial article resisting hate laws, Israel, or Jewish supremacism. One of the two times he said "yes" was when Alynn asked him if she was being attacked because she was my shield, protecting me so I might continue the dangerous work of warning against Jewish supremacism. She also once asked him whom he was really opposing; he said, "The Almighty."

The demons had power to horribly disfigure Alynn's face, pulling many dozens of muscles in contrary directions almost every day. Just as common were sudden, blood-curdling screams. Such attacks were often accompanied by howling, barking, roaring, growling, vibrating her lips in exhalation, hissing. Sometimes her tongue would extend to an incredibly long, serpentine distance. Several times her body assumed animal-like postures, crawling over the floor or sofa like a snake or her back arched and her hands raked like a cat....

Every day for nearly six years, Alynn frequently babbled in tongues. Among gibberish, two names were always clear and repeated many times daily. The first was Baal Shem Tob. The second was Shabbathai. Students of Jewish Kabbalism will recognize these as two of the most esteemed and wicked Jewish Kabbalists in history. Baal Shem Tob founded Hassidic Ultra-Orthodox Judaism. He was an 18th century Polish mystic, miracle worker and pivotal subversive pioneer of the world Jewish revolutionary movement.

Another major figure was Shabbetai Zevi, a Turkish Jewish Kabbalist. In 1648 Zevi proclaimed himself messiah of the Jews. His followers, the Sabbateans, became the most opportunistic and ruthless line of Jewish supremacists, conspirators whose depraved values are epitomized by communism and ADL/B'nai B'rith International. Communism)

I was greeted many mornings by the cheery voice of Pitcaw through my half-awake wife proclaiming, "Baal Shem Tob, Teddy!" or "Shabbathai, Teddy!" Alynn had never heard of these icons of Kabbalist Judaism. Where did she get their names if she was merely suffering postoperative hallucinations? All this caused us to suspect that we were victims of a present-day Kabbalistic curse pronounced somewhere deep within the bowels of the Synagogue of Satan." (End of Quotation)


Alynn was clearly satanically possessed. She was also mentally deranged. She once spent 45-minutes in an outhouse because she thought she could discern the word "love" in the excrement below. Was this bizarre behavior due to a benign brain tumor removed in 2003 or satanic possession?
No matter. Ted also suffered milder variations of these attacks. But he had no brain tumor and he is clearly rational and sane. He also witnessed articles disappearing and reappearing days later, and many other demonic manifestations.
conclusion
I believe mankind is satanically possessed, but the concept is so bizarre, sometimes I can't believe it myself. This is cognitive dissonance.
Where the secret Cabalist Jewish leadership hates mankind and has been subverting humanity for centuries, it has convinced everyone that
they
are the haters ("anti-Semites") for resisting their own destruction.
When I read Ted Pike's testimony last week, I felt winded and depressed. If Cabalists have these occult powers, our situation is dire indeed. What happened to Ted and Alynn Pike is happening to mankind collectively.
Cabalists have the means to execute their vendetta against humanity. The Illuminati have control of the mass media; government; finance; intelligence agencies and military. Look at what television has become: porn, propaganda, violence and satanism.
The question is, how do we resist this occult attack? Perhaps, Rev. Ted Pike's courage and unwavering determination provide a model.
--
Ted Pike's latest
on Demons




-----