Will Illuminati Throw Jews Under the Bus? (Again)
January 23, 2020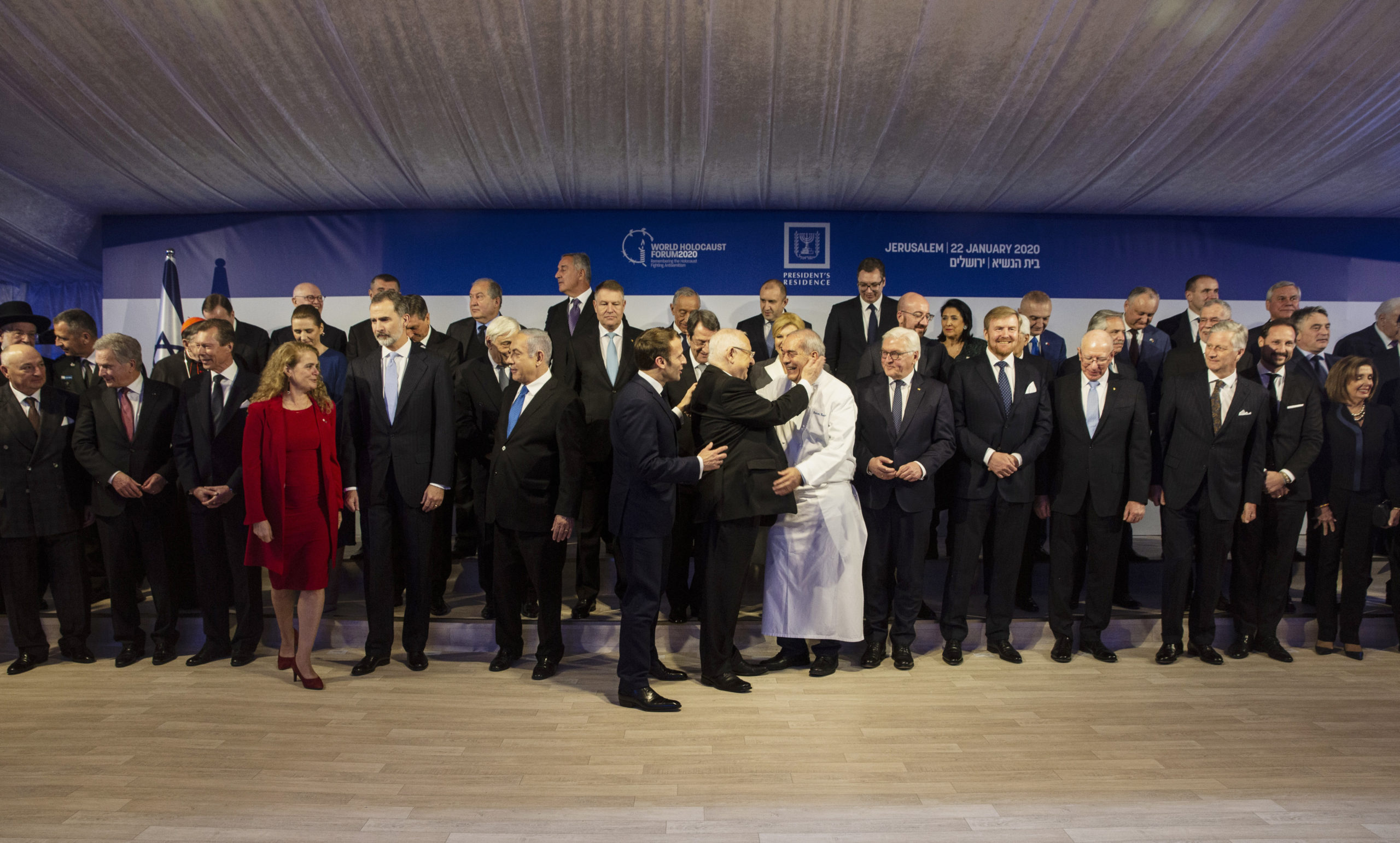 (Illuminati leaders mourn holocaust Illuminati were complicit in.)
World leaders gather in Jerusalem today to commemorate the liberation of the Auschwitz concentration camp by the Red Army 75 years ago.

In the 1989 book, The Holocaust Conspiracy ( reviewed below), William Perl demonstrates that the Illuminati engineered the Holocaust for exactly this purpose. Zionists needed a human sacrifice.

How Jews were trauma brainwashed -- In 1938-39, just before Europe erupted in an inferno for Jews, all the exits were sealed shut. The Nazis allowed Jews to leave, but no country allowed them to enter.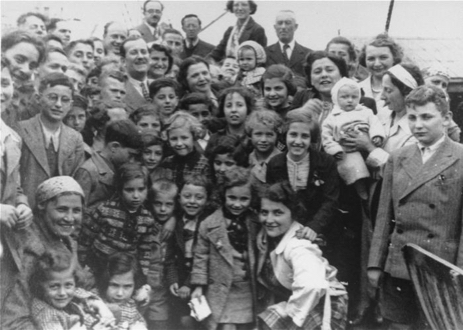 (Passengers on SS St. Louis. Jews are also pawns in the illuminati game.)

Are Jews Beings Set Up for Another Holocaust?
by Henry Makow Ph.D.

(Updated from April 14, 2013)
In May 1939,
the passenger liner
"St. Louis"
carrying 900 German Jewish refugees was turned away from Havana. The passengers' costly tourist visas had been revoked by Cuban authorities. The liner lingered near the coast of Florida but FDR refused to let it dock. Reluctantly, the ship returned to Europe where the refugees were divided among four Allied countries, of which three were soon overrun.

The image of unwanted Jews was seared into the collective Jewish psyche. It argued the necessity of a homeland in Israel as insurance against anti-Semitism. Millions of Jews devoted their money and lives to wresting Israel from its rightful owners and building "a Jewish sanctuary" there. Millions of non-Jews were recruited to this cause. World peace has hung in the balance ever since.

FDR famously said nothing in history happens by accident. Given what we know about Jewish power, it is impossible to believe these refugees were not admitted.
The possibility that this gruesome spectacle was staged by Illuminati Jews to manipulate their "lesser brethren", (and at the same time give them moral impunity,) is repugnant to consider. But that may indeed have been what happened, and what may be happening again today. The Illuminati may be fuelling anti Semitism again.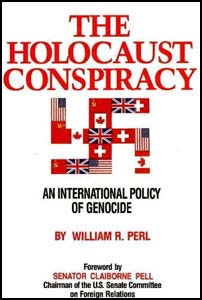 A book,
"The Holocaust Conspiracy"
(1989) shows how Allied and neutral governments ensured that most Jews would remain in Europe and would die. The author William R. Perl argues that a parallel Nuremberg Trial is necessary for "those leading figures in the Allied and neutral camps" who "knowingly and willingly co-operated in the German annihilation scheme." (34)
William Perl (1906-1998) was not some armchair conspiracy theorist like me. He was a lawyer in Vienna in the 1930's who helped organize illegal transits to Palestine for the Revisionist Zionists. He negotiated with Adolf Eichmann face-to-face; and after the war, he prosecuted Nazi war criminals.
In this book, Perl argues that the Jewish holocaust was part of an international conspiracy. But of course, he didn't understand that the perpetrators were "the Illuminati," the highest rung of Freemasonry empowered by the world central banking cartel. Their goal is to create a world government tyranny dedicated to Lucifer with its capital in Jerusalem.
Holocaust means "burned offering." By what logic can we call this genocide a "sacrifice"? By Illuminati logic of course! They sacrificed Jews to hoodwink the world into establishing a Masonic state in Israel. The design of the
Israeli Supreme Court
is proof that this is exactly what has transpired. Modern Israel was
Masonic from its conception.
PERL'S CASE
William Perl states that there were "deliberate, concerted steps to thwart rescue actions...not only by individuals in power but by governments." He says this failure to rescue was more than a simple lack of action but a "deliberate set of actions bound to ensure the success of the German annihilation plans." While this seems "unbelievable," he says the documents available make this conclusion "not only logical but inescapable." (16)
For example, Morgenthau's Treasury Dept. investigated the State Department and identified a half dozen top officials it described as "an American underground to let the Jews be killed." The report was especially critical of John J. McCloy, assistant Secretary of War, who later became the Rockefeller's lawyer, the President of the World Bank and a member of the Warren Commission. Yes children, he was Illuminati.

Perl says that next to the Nazis, the British "carry the heaviest guilt" for the Jewish holocaust because they fought tooth and nail to block the escape route to Palestine. In fact, the first person killed by the British in WW2 was a Jewish refugee on the vessel
"Tiger Hill."
Now you ask, if the Rothschilds control England, and wanted to set up a national home for Jews, why wouldn't England let all these Jews go to Israel? The answer is that this action would demonstrate to Jews that they didn't need a state and didn't need to become the lethal weapon they have become in the hands of the Rothschilds.
These people are not stupid.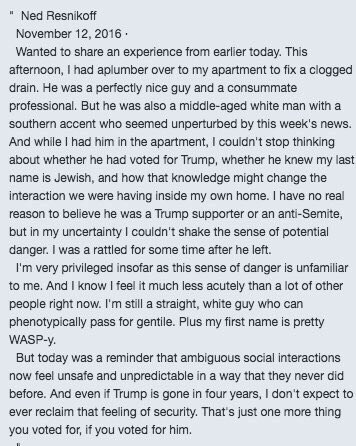 (left, post Trump Jewish reaction. This man is editor of the leading left wing blog, Think Progress. Is it paranoia?)
The Soviets were supposed to be a Jewish front. But Perl also blames the USSR. Information was tightly controlled in Russia. The Soviets did nothing to warn the Jews of what they could expect from the Nazis. (In his biography of Hitler, John Toland describes Jews in the Ukraine greeting the Nazis as saviors.)
Just to illustrate the transnational nature of the Illuminati, in Feb 1942, a Soviet submarine torpedoed the
"Struma"
a disabled cattle boat crammed with 760 Romanian Jewish refugees. There was one survivor. Why this gratuitous murder of Jews? More souls sacrificed for the Luciferian New World Order capital.
The Allies also blocked Nazi attempts to ransom Jews and calls to bomb the concentration camps, although factories five miles from Auschwitz were demolished in 1944. In all this, the Allies were
supported by the Zionist establishment,
which is directed by the Illuminati.
COULD IT HAPPEN AGAIN?
We usually think of Jews and the Illuminati as one and the same. But clearly there is a distinction between Cabalist Jews (Illuminati) and the ordinary Jews they use as their pawns. Jews are certainly acting as though Trump was Hitler and his followers Nazis. "Anti Semitism" appears to be growing. Is there a scenario where a new wave of anti Semitism, a new holocaust, could serve the Illuminati once more?

History teaches that the Illuminati consists of Satan-loving Jews and non-Jews; and exploits and kills anyone who doesn't fit into its plan for a Luciferian NWO. Think of the victims of 9-11 or Hiroshima or the 80 million casualties of the World Wars.
At first glance, Israel would be a prime candidate for a repeat of the Jewish holocaust as most Israelis probably don't see themselves in Masonic NWO terms.
Fellow Winnipegger Barry Chamish [1952-2016] was a leading exponent of the view that the Illuminati, through its CFR arm, controls Israel and intends to spare Jerusalem, but
sacrifice the rest
to its ultimate goal. The Iran deal indicates
an apparent fissure between Communist and Zionist Jews.
The Communist Jews seem to think Israel might be expendable.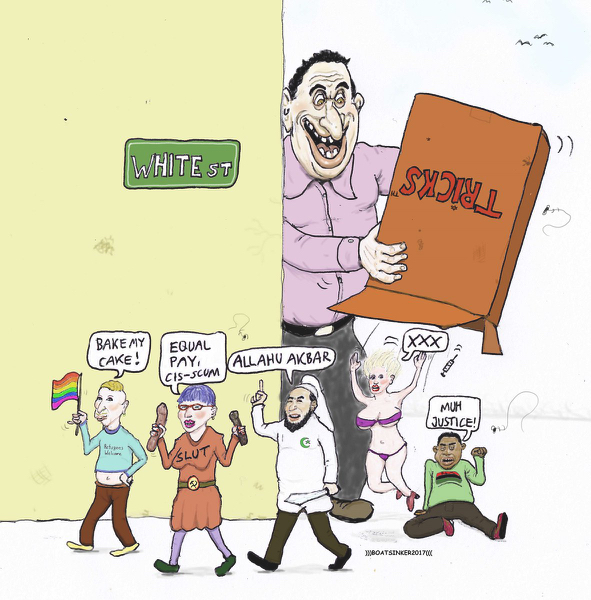 (Left, "Jews" blamed for inciting useful idiots)
In Europe, the Muslim invasion serves a double purpose. It dilutes and destroys European national cultures, an Illuminati Jewish goal, while making Europeans see Muslims as the enemy. This also fits with Pike's vision of a war between islam and the Zionist West. (Jews need only worry if "Christians" and Muslims were to unite.)
In America, the Jewish role bears a remarkable resemblance to their position in the Weimar Republic. Their role in government, culture and the economy is well out of proportion to their numbers. As witting and unwitting tools of the Illuminati, they are seen by many as a corrupting influence, undermining Christian values and American interests. They are the most vociferous in their opposition to Trump and they are vowing to continue their battle despite the election result.
Pastor Chuck Baldwin made the comparison with Jesus and the "moneychangers."
"It is too bad that today's pastors and Christians do not share Jesus' disdain for the current generation of moneychangers, because it is the moneychangers who are in the process of destroying these United States of America--and our pastors and Christians either do not see it, or, if they do see it, do not seem to care."

Americans, like the Germans before them, are not anti Semitic by nature. The economic situation in Germany had to deteriorate before Hitler could come to power. The real question is, does the Illuminati have anything to gain from an attack on Jews?
In the short term, as long as they need Zionists to control America, no. But as the New World Order becomes more onerous, and the position of Americans more perilous, the Illuminati (i.e. Cabalists, Freemasons) may be happy to use Jews as their scapegoats once again. After all, Zionists did it before.
----
Note: If you are a holocaust minimizer, we both agree it was a political psy-op. We just disagree on the numbers. Do not write to me. Here is
my position.
Moreover I believe Hitler was
created by the Illuminati.
Compare the article above with
this review of a new book
"FDR & the Jews"
which portrays FDR, an Illuminati Jew, as a Christian, and whitewashes his role in the holocaust.
First Comment by Ole Jensen
>A book, "The Holocaust Conspiracy" (1989) shows how Allied and neutral governments ensured that most Jews would remain in Europe and would die. The author William R. Perl argues that a parallel Nuremberg Trial is necessary for "those leading figures in the Allied and neutral camps" who "knowingly and willingly co-operated in the German annihilation scheme." (34)<
Oh, shame on those evil governments, who didn't let european/german jews into their countries! They should of course be made to pay!
Hey! wait a minute!
Chief Rabbi of New York, Stephen Wise, lobbied for NOT letting in german jews. Chief Rabbi of London, Rabbi Chaim Weizmann, lobbied for NOT letting in german jews. The jewish orgs in Sweden, lobbied for NOT letting in german jews.
Im sure more examples could be found.
All this, because the jewish leadership wanted german jews to go found the coming state of israel. (see also Havara)
Not themselves of course, "im a chief rabbi, im fine here, im going no where". But those german jews, who prefered to be Dr. meds and lawyers in a western nation, THEY should go to Palestine, and grow oranges and kill philistine infidels.
As Rabbi Mendel Schneerson said about the "Holocaust" (reg. trademark) "a rotten branch on the tree of jewry had to be cut of". Do Aliyah, ascension to Holy land, or DIE!
At the sound of it, Im pretty sure, that Perls book is a half truth=a full lie!
---
Makow reply- There is nothing wrong with Jewish immigrants so long as they are not weaponized, and assimilate. Look at me! This article shows how Jews are used as pawns to create Rothschild (Communist) world tyranny, and will take the blame for it.