March 12, 2010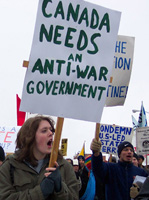 Canadian Military Hiring 20 Actors
Dear Henry:
I thought this might interest you. I live in Barrie, Ontario. There are absolutely no jobs here, I mean you can't even get a job at a fast food joint! (no coverage of this however). Thus, I am constantly on the job bank looking for work. Last night, after reading an article on Truthseeker about
US Military training [to combat civilians],
I went on the job bank and found this job posting. I bet the sheeple are lining up for this one, totally oblivious to the true nature. See attached for actual job posting.
Job Number: 4896012
Title: Actor/actress (CFB Borden-civilian positions) (NOC: 5135)
Terms of Employment: Temporary, Full Time, On Call, Day, Night, Evening
Salary: $14.00 Hourly for 40 hours per week
Anticipated Start Date: 2010/05/01
Location: CFB Borden, Ontario (20 vacancies )
Skill Requirements:
Education: Completion of high school

Credentials (certificates, licences, memberships, courses, etc.): Not required

Experience: No experience

Languages: Speak English

Work Conditions and Physical Capabilities: Fast-paced environment, Work under pressure, Physically demanding, Attention to detail

Work Site Environment: Noisy, Outdoors

Work Location Information: Rural area

Essential Skills: Oral communication, Working with others, Continuous learning

Other Information:
*Role Players (actors) will be involved in basic military training exercises and will be expected to perform in a broad spectrum of roles: POW's, suspicous [sic] persons, etc *Must get First Aid and WHMIS