China Intends to Absorb Mongolia
May 31, 2011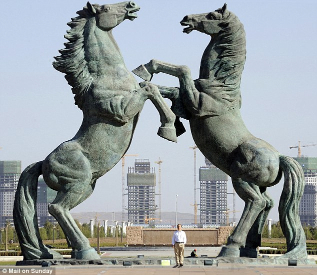 But race-proud Mongolians may have other ideas.
Did China build a metropolis on the Mongolian border to lure Mongolians?
BY DAVID RICHARDS
(henrymakow.com)There has been
a lot of talk lately on the unpopulated mega-cities that have been built in China.
One
such city is Kangbashi,
located in Inner Mongolia near the Mongolian border. Completed in 2008, Kangbashi was designed to house 1 million people. The city is filled with extravagant sculptures, office towers, administrative centers, government buildings, museums, theaters, sports arenas and middle class suburbs. But as yet only 20-30,000 people live there.
Authorities such as
Time magazine
have interpreted Kangbashi as a harbinger of China's looming property collapse.
'Genghis Khan Square' lies at the heart of the city. This provocative site steals Mongolia's national symbols, including a huge statue of Genghis Khan himself. This statement reveals Chinese intent to absorb its neighbor.
To appreciate the potential for conflict, we need to understand the Mongol people.
Firstly, Mongolians do not perceive 'Inner Mongolians' to be Mongolian in any real sense. Only 20% of Inner Mongolians are ethnically Mongol and most of these are assimilated Chinese and can speak none or very little Mongolian.
Mongols have a very strong sense of race. They are only 3 million people living in a country the size of Western Europe. When asked what is special about Mongols, they all refer to Mongol 'blood'. 'Blood' represents the essence and special qualities of Mongol people; their strength and resourcefulness, sharp intelligence, unique nomadism, and the shamanic traditions that add a certain mystique to the people.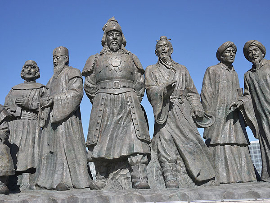 All of these qualities are encapsulated in Genghis Khan, left, a man they believe definitely proved the genius of the Mongol people. He is the figurehead of modern democratic Mongolia: a huge statue of him stands outside parliament, his face is on the money, and a university is named after him. Mongolia's most popular beer? Genghis Khan Beer.
The Mongols I know have complete contempt for the Chinese people. They view them as brutish and of low intelligence. One Mongolian girl recently told me that the sight of Chinese children makes her sick. These attitudes largely spring from fear they will be absorbed by China.
China companies dominate Mongolia's mining economy, and are increasingly monopolizing other business in the country. In reaction, there are often beatings and murders of Chinese men in Mongolia, such as in bars in Ulan Bator or in the countryside when nomads are evicted form their ancestral land by mining companies.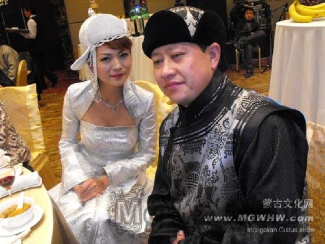 Recently, one of Mongolia's biggest female pop stars, Serchmaa, married one of China's richest men and went from being a superstar to the most hated person in Mongolia. A Mongol girl explained why, 'she had a Mongolian boyfriend for a long time and then married the Chinese man just for his money! She has no respect for her Mongolian blood.'
The Mongols believe China wants Mongolia for two reasons: one is that China has a weak gene pool and wants to strengthen itself with Mongolian blood. The second reason is that they want Mongolia's vast steppe to house their growing population.
CONCLUSION
Kangbashi demonstrates the Chinese desire to absorb Mongolia. They already own large parts of their economy, so why not build an advanced mega-city on the Mongolia border, fill it with Mongol symbology and cultural areas, and hope the Mongols embrace it as their own.
However, such a provocative statement could cause them problems. Mongols are warriors by nature; we are talking about people who idolize Genghis Khan and wrestle virtually naked in -20 degrees temperatures. Their willingness to be politically confrontational can also be seen in riots in Ulan Bator in 2008 in response to rigged election results.
I showed a 17-year-old Mongol boy a picture of 'Genghis Khan Square' and asked him what Genghis Khan would do if he saw it. He paused and then replied in all seriousness, 'he would kill all Chinese people.'
Such an extreme reaction is perhaps not needed though. The fate of Kangbashi is in their own hands. If native Mongols do not embrace the city in the coming decades it will look increasingly absurd; a Mongol homeland with no Mongols.
---
David Richards, 23, teaches English in Harbin, in North China.

Note from DR:


On an aside, your American and Canadian readers don't need to look far to see Mongol-type culture. Native Americans were originally tribes from Eastern Siberia/ Mongolia. Recent analyses of native american DNA show this e.g.
http://www.newscientist.com/article/dn11178-native-american-populations-share-gene-signature.html
There are some striking similarities between Mongol and Native American traditional culture. For instance, the Tipi is very similar in construction to the mongol ger, traditional mongol and American Indian jewelry are strikingly similar, and they share similar spiritual beliefs. Native Americans also look very similar to Mongols, high cheekbones and a more muscular physiques than other Asians. I have shown Mongols here pictures of native Americans and they say they look very like Mongolians.
Feature Comment :
What's behind China's Empty Cities?