Cinematic Art - Throwing Pearls to Swine
April 4, 2011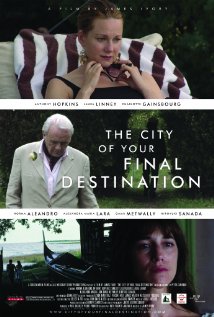 Critics call it "dull," a "chore to watch"; "artificial," "turgid," "self conscious." In fact, this is a delightful movie for people whose sensibilities haven't been destroyed by a steady diet of sex, violence and special effects.
by Henry Makow Ph.D."The City of Your Final Destination,"
James Ivory's latest and probably last movie is a gem, but you're unlikely to hear about it, let alone see it.
The 83-year-old director of such classics as
"A Room with a View," "Howard's End"
and
"The Remains of the Day,"
couldn't find a distributor for his last movie. Dim witted critics panned it, giving it
37% approval on Rotten Tomatoes.
The movie bombed at the box office. It cost something like $8,000,000 and only grossed $500,000. Anthony Hopkins is suing for his $750,000 fee.
The movie is about intelligent, articulate, attractive, honest, civilized people trying to improve their lives. It is set in beautiful surroundings and is a great escape from the sordid, hypocritical, materialistic world in which we live.
The premise doesn't seem promising at first. Graduate student
Omar Razaghi (Omar Metwally)
has a grant to write a biography of Latin American writer Jules Gund but needs the cooperation of his estate controlled by his widow, Christine (played by Laura Linney); brother Adam (Anthony Hopkins) and mistress, Arlen (Charlotte Gainsbourgh) with whom he had a child.
They say no and Omar is about to give up. However his plucky girlfriend Deirdre (Alexandra Maria Lara) convinces him to travel to Uruguay to convince them to change their minds.
He shows up unannounced at their estate, called Ochos Rios. The film is about how civilized people try to get what they want from other civilized people. It is about how they interact. Omar's career depends on getting permission for the biography. Caroline, the widow, doesn't want to cooperate. Deidre is pushing Omar to succeed.
It is a study in character. Omar and Arlen are gentle, unassertive people, who seem to want each other. Christine and Deirdre are very strong and determined people who want success and culture. Anthony Hopkins puts in a magnificent performance as Gund's gay brother who wants to provide for Pete, his life partner.
This is Ivory's first film after the death of his producing and life partner Ishmael Merchant. It was written by Ruth Prawer Jhabvala, who is a German Jew, who was married to an Indian. Jhabvala has done the screenplays for most of their movies, which are hit-or-miss affairs.
After this movie, my favorites are
"The Bostonians,"
about a man who deprograms a feminist in the nineteenth century;
"Soldier's Daughter Don't Cry"
and
"Le Divorce."
I rummage through the video store in vain looking for well written movies about intelligent, urbane, attractive people. There aren't many. And when someone like James Ivory makes one, it is like throwing pearls to swine. The world no longer cares about civilized behavior.
---
The Trailer