Does Bob Dylan Worship Satan?
January 31, 2011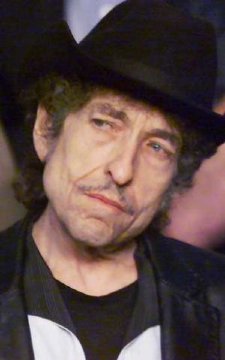 More evidence that society is being inducted into a satanic cult, and doesn't even know it.
by David Richards
(for henrymakow.com)
In an interview
on
Sixty Minutes
that can be
seen here
, Bob Dylan is asked why he keeps touring at his old age.
It goes back to the destiny thing, I made a bargain with it a long time ago, and I'm holding up my end.


What was your bargain?

To get where I am now.

Should I ask who you made the bargain with?

With the chief commander.

On this earth?

On this earth and in the world we can't see.
Many fans have argued that Dylan was talking about God. But who makes a pact with God to get ahead in this world?
Devil worship is common in the music industry. The Rolling Stones wrote a song called
'Sympathy For The Devil.
' One of Madonna's hits is a love ballad to Satan. 'Beautiful Stranger' describes the excitement of enjoying a casual sexual encounter. The man in question is '
The Devil in Disguise.'
She sings:
To know you is to love you

You're everywhere I go

And everybody knows

To love you is to be part of you
I recently saw a popular music variety show on the BBC. The chief guest was Robert Plant, formerly of Led Zeppelin. He sang a song called 'Satan, your kingdom must come down,' in a quite sickly and creepy way.
The author of the website
'Vigilant Citizen'
has a mastery of occult symbology and exposes its role in music and films. In his analysis of Lady Gaga's
'Bad Romance'
video, he highlights a scene where Gaga starts to resemble a reptilian monster, her skin becoming hard and translucent, and there is a strong emphasis on her spine. He compares this to the Devil taking on a reptilian form in old Christian paintings. The resemblance is striking.
In Jay-Z's
'Run This Town'
Vigilant notes the use of a lit torch by pop star Rihanna. He writes:
"Anybody vaguely familiar with occultism can easily associate the symbol of the lit torch held high to Lucifer a.k.a. the Light Bearer. Most occult orders secretly acknowledge Lucifer as being the savior of humanity, the fallen angel who liberated men from the oppression of the biblical God (Jehovah, Yahweh). These orders (the main one being Freemasonry) have been working for centuries towards the overthrow of the rule of organized religions to usher in a new age or a "New Order"."
Jay Z is the world's biggest rap star. He is an example of famous musicians who have been initiated into the occult and have sold their souls for fame and fortune. They work as social engineers for those who rule. His record label is called 'Rocafella Records'.
Jay Z also has a clothing brand called 'Rocawear' that is sold in some of the biggest retailers in the US, some of the clothes feature obvious Illuminati symbology.
POLITICAL MESSAGES
Theodore Adorno, a guiding light of the Frankfurt school (a Marxist Jewish banker organization that has helped re-shape Western Civilization), wrote that music is always political:
'If we listen to Beethoven and do not hear anything of the revolutionary bourgeoisie-not the echo of its slogans, but rather the need to realize them, we understand Beethoven no better than does one who cannot follow the purely musical content of the pieces."
Using the hook of melody and beat, music indoctrinates us into our master's mindset. Right now, they want us to be deviant. Our sources of communal resistance: race, religion, nation and family (gender) are being attacked in preparation for a world government.
Music is especially suited to this task, as it is historically linked with ritual, dance, sex, trance states and uncensored violence. Nietzsche called it the 'Dionysian mirror of the world.'
REAL ALTERNATIVE MUSIC
We identify ourselves through music. So what type of music would be desirable and healthy?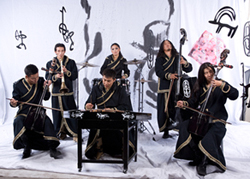 One model I propose to follow is a group from Mongolia called Altan Urag (left.) Since the early 90's, Mongolia has been through turbulent social changes as it transforms into a western style "democracy." The country has a rich cultural heritage based around its distinctive nomadic culture that is being washed away by a new consumer society.
Altan Urag are very important culturally in Mongolia, and often appear on television. They dress in traditional Mongol clothing and play folk rock music, a modernized version of traditional Mongol music that is very popular with young people.
The band members spent years studying traditional Mongol instruments and vocal techniques to make sounds inspired by the vast steppes, deserts and mountainous areas.
Their original compositions deal with the problems and hopes of modern Mongol life, Mongol shamanism, myths, and history.
The effect is to urge Mongols to draw on the collective reserves of a tough and resourceful people and to think creatively and optimistically about the future.
I have always tended to believe well-intentioned music is weak, like happy-clappy Christian rock music. But
Altan Urag's
music remains imaginative and hard despite its good intentions.
The song 'Requiem' criticizes modern man for no longer recognizing sin. 'Temuujin' recounts the childhood of Genghis Khan, who is still a primal source of Mongol identity. 'Duujin Daajin', provides a voice to the thousands of abandoned children who live in the sewers in the capital Ulaanbaatar. Written from a child's perspective, a few translated lyrics read:
Government dear, please listen to us,
The bureaucrats sitting in tall buildings,
Without playgrounds and places to play,
Without places to play and live,
Without food or clothes to wear,
Roaming from one sewer pip to another,
From the state we are in,
How we gonna inherit our country?
The song does not articulate the desire to satisfy predatory impulses or to experience cheap thrills, or wallow in self-pity. Rather it is the burning desire to help others and grow strong together.
Isn't that a better soundtrack to our lives?
--
David Richards is a 23-year-old Brit who teaches English in China.
---

From a Reader: "Dylan the Freemason"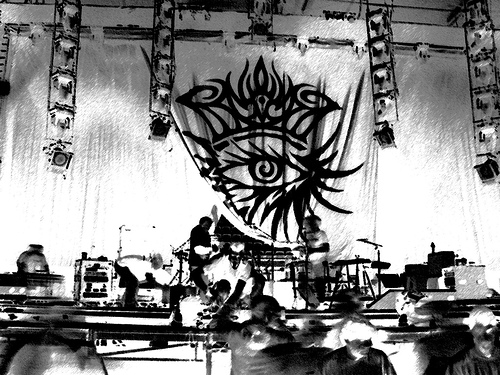 Henry, I think it's good that you put out that article on Dylan/music.I've been a fan of Dylan's since I was a kid in the 70s.Thru his whole conversion etc.Personally I stopped listening to him a couple years ago.I heard Masonic references in certain songs.It's tough because he's such a good songwriter.For instance,from Time out of mind. 'Standing in the doorway':
'I'll eat when I'm hungry, drink when I'm dry
And live my life on the square'
Plus the symbol he uses now.The all seeing eye.Seems a bit obvious?