Does the Devil Own all these Companies ???
June 7, 2012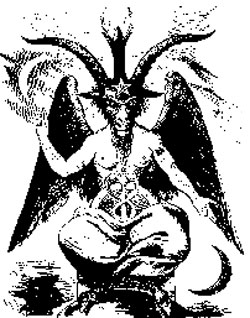 Left, Baphomet -Notice the crescent moon down at the right corner
A reader, DD, wrote: "Please notice that all corporate logos now have the crescent half moon sickle. For example Bud Light ,AOL, Capital One, Minuteman Press, Weight watchers, Comcast , Ryder Trucking, Newport cigarettes, Sandisk, Washington Wizards and plenty more -- too many to be a coincidence. With all copyrights laws etc. why are they all using the crescent half-moon?
Do Freemasons own them? "
The crescent moon is an
occult symbol that predates Islam.
See also
"Satanic Signs are Everywhere"
and
Masonic Corporate Logos