How Do Men Stay Faithful in a Sexualized Society?
October 4, 2016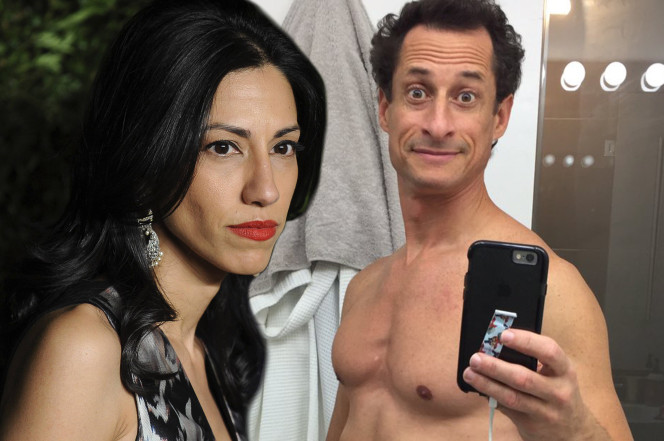 (left,
Anthony Weiner with Ex, Huma Abedin: A Lesson for all Men?)
Anthony Weiner is the latest in a long list of men
who have been destroyed by sex addiction.
How do men resist temptation
in a society mad about sex?
by Henry Makow Ph.D.


Anthony Weiner was a rising politician who destroyed his career because he is addicted to "sexting."
He had to resign from Congress in 2011 for posting a Twitter picture of his bulging shorts, and lost the New York Mayoralty race in 2013 for sexting young women who were not his wife.
He was leading in the Mayoralty race until the scandal broke.
His wife since 2010 was Huma Abedin, Hillary's chief aide
rumoured as the designate Secretary of State
in the unlikely event of a Clinton presidency. Huma divorced Anthony a month ago after he included
his three-year-old son Jordan in a (not nude) picture. Clearly he was becoming a political liability for Huma's boss.
Since then, Anthony
had yet another sexting setback, this time having
schoolgirl rape fantasies
with a 15-year-old girl.
Criminal charges have been muted.
THE DOCUMENTARY


Anthony Weiner is an universal laugh stock, dismissed as a lost cause. So "Weiner", a fly-on-the-fly film account of his doomed 2013 Mayoralty race surprised me in many ways. I didn't expect him to be so impressive as a politician and likeable as a human being. I know his addiction is perverted, degrading and pathetic but many politicians have done much worse. Yes, he broke his marriage vows in spirit but no one has accused him of physically cheating.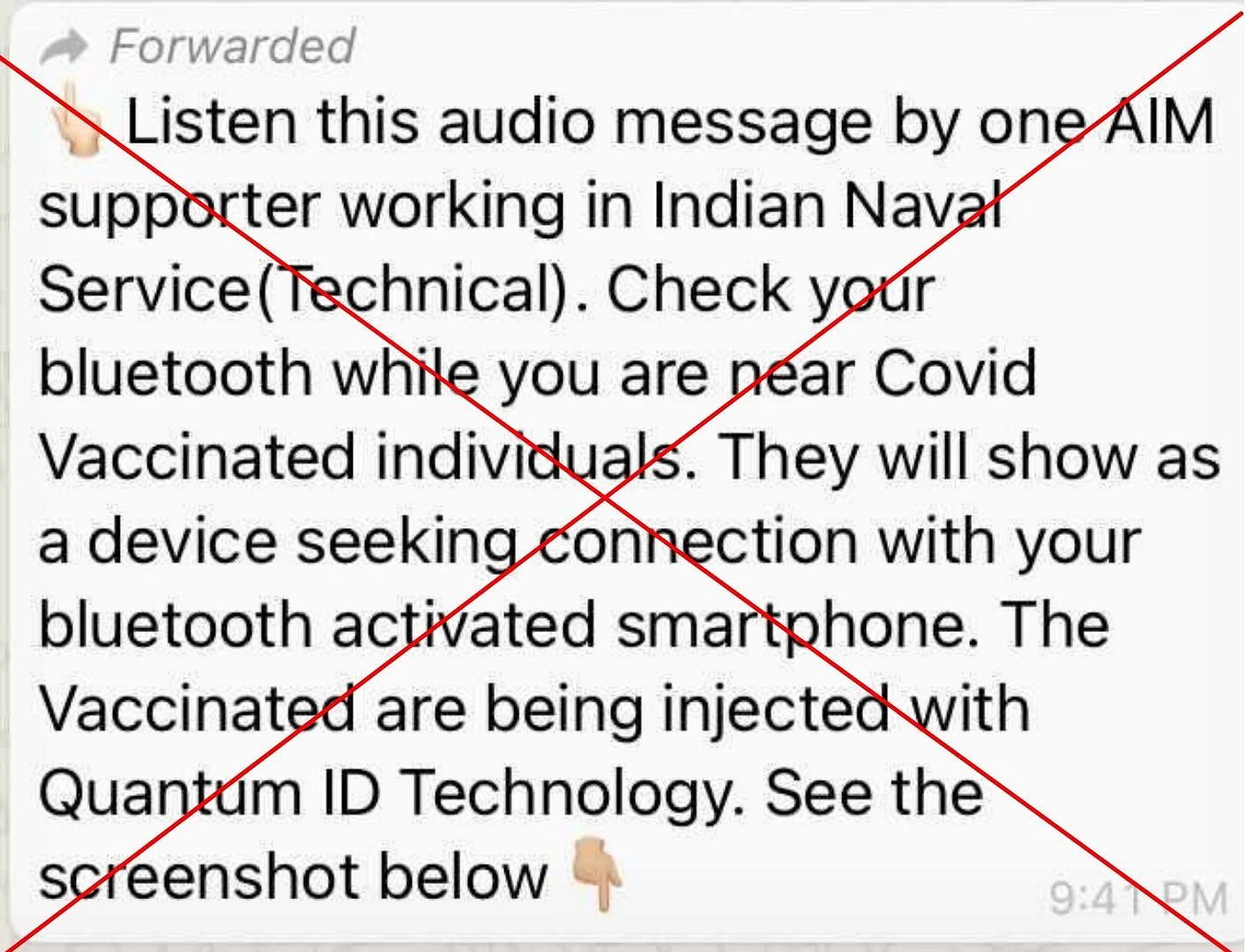 I was even more surprised by Huma Abedin who I dismissed as Hillary's lesbian lover (with Weiner as her "beard.") She came across as very "wifey" deferring to her husband and dutifully phoning Hillary's network to raise money for his campaign. Indeed, she stuck with him through the Mayoralty scandal and after. I was surprised at how they seemed like an average married couple with a toddler.
Weiner destroyed his career because he couldn't overcome his sex addiction.
New York City is a highly sexualized environment.
Sex is a unit of exchange. NYC is on the vanguard of a worldwide trend to make sex even more accessible.
Sexual depravity is the hallmark of satanic possession
so it is encouraged. Under the guise of "sex ed," public schools groom children for sex. They are
not taught
that sex should be confined to marriage (i.e. love and commitment.) M
ost single young people are on Tinder or a similar dating site.
The Internet has made hooking up
or cheating fairly easy. We are bombarded with images of beautiful half-naked women, even if we don't watch porn. Young women are taught to measure their value in sex appeal. They're likely to hook up just to prove something to
themselves
. We have all been inducted into a society-wide sex cult.
Although most men have more self-control than Weiner, we all hear the same siren calls. Weiner had even greater temptation because power is the ultimate aphrodisiac and attractive young women besieged him.
HOW DO MEN STAY FAITHFUL?
Despite the appearance of normality, it's hard to believe Weiner would be a sex addict if he had satisfying sex with his wife.
It's easier to believe that Huma Abadin turned a blind eye to his behavior, and that this was part of their "arrangement."
Happily-married men are in a better position to resist temptation and stay faithful.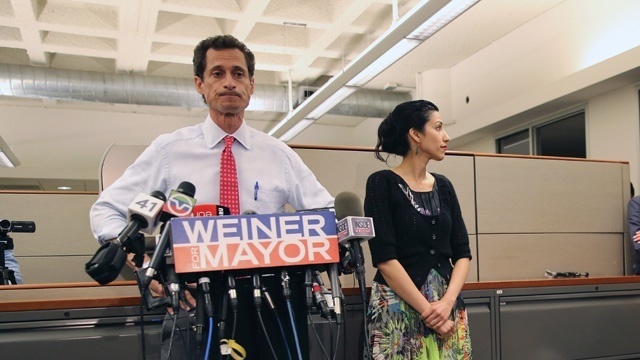 Why would a man stray if he had exactly what he wanted? Bad marriages are the main cause of cheating.
But good sex isn't enough. The promise of good sex is everywhere. There must also be a loving bond that is independent of sex, a commitment to another human being. This bond is based on many things, e.g. mutual dependence, trust, gratitude and respect. A wife who accepts her husband's leadership will be rewarded by his love i.e. "protection." This bond is strengthened by sexual intimacy.
A deeply felt commitment to your spouse is the best way to avoid the pitfalls of promiscuity and the fate of people like Anthony Weiner.
First Comment from Marco D:
I just turned 40, and your informative articles still confirm much of what I see in our world.
I am still happily married, now with 2 beautiful growing children! (8 and 5 yrs old). My wife for over 12 years is an awesome mother and does a great job with the everything around the house. I work and help out too - but she is the leader in the home and I can still be the man in the world.
People say we are lucky. I don't believe in luck. We made choices long ago that have helped define our current reality. Choices like fidelity, a love of God, no day-care ever for the children, eating healthy food, zero vaccinations, etc.
Yes there have been upsets and arguments over the years. Things are not always perfect and yes we do fight sometimes. However we recognize that these things that come up can be worked out if we stay open and available to each other.
Here are some basic observations I have made which define my reality:
1. Children need their parents ALOT when they are young. Parents - you need to be there for them during the first few years as much as possible. As they grow - you can encourage them to develop outside bonds and friendships.
2. Do not use daycare ever. Do not use before or after school daycare. Do not use iPads as a babysitter.
3. I don't cheat on my wife. My wife doesn't cheat on me. We joke about certain situations and can laugh together about people trying to hit on us when we are out separately :)
4. We talk about God to our children and they love it. We do not go to church or practice any faith but we spend time in nature and define God as that love that surrounds us.
I did not attend university and I credit my moderate success in life to thinking for myself. College programs, a top quality martial art dojo and Sensei, and good books are handy tools for success in this day and age.
The John Taylor Gatto material is great. Anastasia and The Ringing Cedars of Russia series by Vladimir Megre is also very interesting.
I will pass on what I have learned to my children which they in turn can pass along to their children. What a concept!
Thanks Henry for being a source of inspiration to me and many others. Keep up the great writings.
BTW: If you haven't already, please look into Professor Janice Fiamengo at UofOttawa. Her talks are well presented and timely!