Canadian Serial Killer Linked to Elite Satanists? (Updated)
October 21, 2010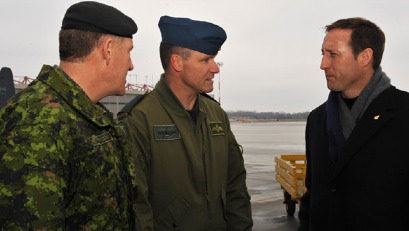 (left, serial killer Russell Williams, center, with Canadian Defense Minister Peter MacKay, right, and Chief of Defence Staff General Walter Natyncyk. See Williams wearing bra and panties below.)
by Henry Makow Ph.D.

Last February, Canadians
had their mental paradigm shattered when a senior member of the armed forces, Col. Russell Williams was arrested and charged with murdering two women.
"The accusations shook the armed forces and the Canadian public. Col. Williams had been hand-picked and 'pipelined' into the upper echelons of the air force. He trained new pilots, flew the prime minister's plane and last summer was awarded command of S-Wing Trenton, with 2300 men and women, the country's largest and busiest air force base." (
Globe and Mail, April 17.)
Today, Oct 21, Williams was sentenced to life in prison for murdering a subordinate, Cpl Marie-France Comeau in her home last October, and another woman Jessica Lloyd on Jan. 28. He confessed to breaking into the homes of other women, stripping them, beating them and photographing them naked. He also made some 80 pantie raids on women's homes.
He will still collect his $60,000 a year pension while in prison.
He was arrested by the Ontario Provincial Police at a roadblock when an officer noticed his tire treads matched those found near Lloyd's home.
Canadians were dumbfounded. As the
Globe and Mail
put it: "How is it possible that someone so polished and groomed for leadership could stand accused of such crimes?"
Canadians will continue to be baffled until they realize that such events, including cases of missing persons and child molestation, are symptomatic of the presence of a satanic cult, the Illuminati, subverting "respectable" society. This is true of most countries.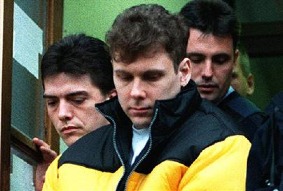 PAUL BERNARDO
(LEFT)
On February 12, the
Ottawa Sun
revealed that Russell Williams was a college pal of
Paul Bernardo,
who murdered and dismembered three teenage girls and raped 19 others in Toronto in the late 1980's. They both studied economics at the Scarborough campus of the University of Toronto.
The police speculated that the two may have "competed" against each other in terms of sex crimes.
Bernardo
offered advice for police
as they scour Williams' life.
"(Paul) suggested they go back 20 years and look at everything, because that's when his testosterone would have been at the highest," Bernardo's father said.
What the Bernardo trial covered up and the newspaper ignored, is that Bernardo's murders were satanic in nature. They were so horrific that the trial proceedings were made secret. Bernardo and his wife Karla Homolka filmed the murders as snuff films for the entertainment of a network of elite Illuminati Satanists. This is the real reason the trial was hit with a publication ban.
This information is contained in a rare encyclopedic work entitled
"New World Order - Corruption in Canada"
(1994) edited by Robert O'Driscoll and Elizabeth Elliott. The editors had many contacts inside the Illuminati. They were told these ritual murders are a source of spiritual power for satanists. (p.24)
"The serial killer's dissection of the body always parallels his attempt to vivisect the soul. In many cases, the limbs of the body are kept in close proximity for long periods of time even after they decompose; Damher in the US kept parts of the body in his fridge to be consumed at his will. Reports of these vivisections [and snuff films] go straight to the Illuminati or their political agents [and] to other cells of the Church [of Satan] as distant as far flung Japan." (p.25)
CONCLUSION
We will continue to have our paradigm shattered until we stop looking at the symptoms and address the cause, a vast satanic underground whose members are respected citizens by day and demons at night.
If Russell Williams is any indication, its tentacles reach into the highest offices in the land.
---
Two Life Sentences for Williams
Deep Background