For BPD's, People are Merely Objects
July 17, 2012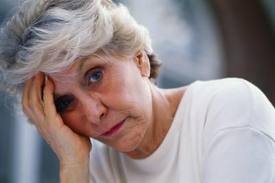 Borderline Personality Disorder
BPD's only seem to operate in two modes - black and white, on or off, I love you or I hate you.
by CC
(henrymakow.com)
Your latest guest contribution from Rosie completely nails what BPD involves and I can vouch for what she's saying as somebody who had a mother that I now realize suffers specifically from BPD.

The book title Rosie mentioned called "I Hate You, Don't Leave Me" describes EXACTLY how my mom was back when she was still in my life. Horrible vicious verbal abuse telling those closest to her all the reasons why she hates them and wants them out of her life, coupled with physical abuse, but when you oblige and run for the hills, there she is calling you on the phone in crying hysterics like a lost two year old, begging you to come back.

So you go back, and then it's back to being icy cold and hateful, including 180-degree Jekyll and Hyde personality flip flopping from moment to moment, as well as delusions and paranoid accusations against you about things that never happened, so you leave again....and here comes the crying phone calls again. I used to call it "push and pull."

BPD's only seem to operate in two modes - black and white, on or off, I love you or I hate you. Their ability to love and empathize was thwarted in early childhood due to abuse and abandonment (which was the textbook case with my own mom - abandonment started for her at age two, so a part of her never progressed beyond that point, then later the abuse kicked in) and so as "adults" they behave as a
lost, scared, spoiled and empty children always throwing fits, who can only take take take, and never give, and who don't understand the needs of others, and don't know how to feel true love and empathy for other people or pets.
"Love" for them is needy co-dependent dysfunction. A case of "I love you because I need you" not "I need you because I love you."

People and animals are merely objects that they project their own dysfunction and neediness onto. We take for granted that we can love another person or an animal for who they are, and not for "what emotional security and material gain can they provide for me." However for a dysfunctional, co-dependent Borderline like my mom, they seem unable to experience that.

Borderlines are also deathly afraid of letting the people closest to them get close. It's easier to heap physical and verbal abuse on them and keep them at an arms length than to risk loving them and getting close to them.

And that's actually a bit sad, something to have empathy for I guess. They've been denied one of the greatest things that one can experience while here.


Another VERY important thing to realize about Borderlines is that they learned the hard way as children that life is a war zone; negative stuff is always coming at them and there's no protection from any of it in sight.

As a consequence their over-the-top reactions and hyper vigilant paranoia and delusions as adults are often likened to Post Traumatic Stress Disorder in nature. It really is like that.

As one of your readers noted in a previous comment, it's commendable that Rosie sought help and is able to acknowledge her issue. That's usually not the case for most people with a personality disorder of any type.

In my mother's case she lacks the ability for self awareness and does not admit wrong doing at any point, nor apologize for anything. She allows her disorder to lead her around by the nose and never acknowledged that she has a problem.

And because of that she lost a daughter 19 years ago who ran for the hills and never looked back. She lost her son too.

I encourage people to research this subject. Here's the link to the wikipedia page outlining the main behavioral symptoms of BPD for those who aren't familiar:
http://en.wikipedia.org/wiki/Borderline_personality_disorder

Hopefully your series will make a few light bulb connections for readers who may not have realized that a problematic spouse or family member has this specific disorder.