Friends - The Latest Substitute for Marriage
August 24, 2012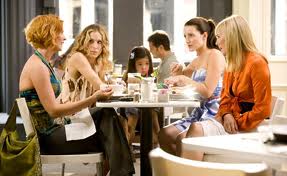 "
Friends are just there as a stop gap, a salve, a stitch - to hold together the fragile, dysfunctional egos of people too scared and too damaged to grow up.
"
The Illuminati want friends to replace family.
by Alexandra Fox
(henrymakow.com)
(Alexandra Fox, 28, our London Correspondent, is an astute observer of new trends.)
For some time now,
the media has been pushing the importance of "friendship" to young people. Advertising campaigns feature lots of happy, shiny friends laughing and having fun. All social media pivots around how many
friends
they have. The post popular sitcom of the last twenty years was called
"Friends"
.
No-one can disagree that friends are a good thing.However the media's interest in the concept should be a warning sign. The kind of central, inextricable daily role depicted in the media belongs to an age-and-stage. Promoting them into adulthood is promoting arrested development.
We need those kind of friendships growing up to learn how to socialize and interact with the world, but the natural progression is that these bonds naturally loosen and take a back seat to marriage and children.
This is no longer happening. Nature intends marriage and family to happen at some point between the ages of 18 and 25; but is a rare Gen X'er or Millennial who would even consider settling down in their early twenties.
These are their prime years for having "fun", and fun translates as hanging out with their friends every night. The usual story now is to graduate from college, and then recreate a sort of college dorm with 2 or 3 or more friends in a shared house, an arrangement that will persist for many years, often at the expense of forming meaningful romantic relationships outside. Young people are taught to distrust serious romantic relationships (i.e courtship) - they curtail your fun, they don't last, they'll hurt you. Better to stick with your friends.
The media has strongly pushed the notion that friends are critical, friends will always be there for you, friends must come first - and that it is they who will give you the affirmation and support you need, unlike nasty relationships, which are fickle and unstable.
Look at the sitcom
"Friends"
- Joey and Chandler, two heterosexual men in their late twenties, live together as a sort of "odd couple", both horrified at the idea of committing to a woman. Rachel and Ross (who is twice-divorced and has a child with a lesbian), have a one-night stand and conceive a child, but nevertheless don't pursue a relationship with each other, and Rachel moves in with a friend.
Monica and Phoebe go on endless strings of "dates" with men who only appear in the show once or twice and are usually depicted as eccentric or strange. When the characters finally do commit to other halves, the show immediately finished its ten-year run. Message? Having friends is fun, interesting, exciting. Settling down is boring, unremarkable and The End.
Then there's
"Sex and the City"
, one of the most vile and destructive examples of social programming ever produced. Its central message is that women's' most important relationships are with other women, and men merely come and go like a pair of last season's shoes.
A whole generation of young women have made the
Sex and the City
characters their idols, and are now emulating their empty, solipsistic lives - relying on asinine friendships to provide support and affirmation, rather than husbands and children.
NOT JUST WOMEN
It's not just women, though;
the New York Times
reported recently
on a group of bachelors in their late thirties who have eschewed marriage and children, in favor of continuing a long-term arrangement as roommates:
The men are described as having "no children, no linear career histories, no readily disposable savings". They are all heterosexual, approaching 40, never married, and have lived together for 18 years.
Judith Stacey, a sociologist at New York University, is quoted as saying that traditional couples and families carry conflicting "demands and tensions of desire and domesticity," whilst living among friends meant that "the vagaries of sexual attraction don't disrupt your security and stability."
This kind of communal living is especially good for creative types, as "it's an easy way to get support and it's less of a threat to your artistic life."
So, there we have it. Families are a toxic pressure cooker which destroys security, stability and creativity. Spoken like a true Illuminati pioneer.
Clinging on to "best buddies" in this way, throughout late adulthood and beyond, suspends everyone in perpetual adolescence. The natural development of a young adult is to pair-bond and reproduce, thereby taking on real adult responsibilities. But instead, everyone's stuck in the playground.
PERSONAL EXPERIENCE
When I arrived in London at age 24, I lived in a variety of shared houses. There was novelty value at first, but pretty soon it just became an endless repetitive cycle of petty arguments and tedious dramas, without the powerful glue of familial bonds or formal commitments to hold it all together.
Most of my roommates were badly damaged by the culture, and in need of constant counseling and supporting and propping up (usually by a range of powerful pharmaceuticals.) They brought home strange bedmates, took drugs and had abortions, the whole modern shebang. By the time I got to 27, I had had enough. I was sick of being "married" to my roommates' damaged lives. I couldn't quite afford to live on my own, but instead moved in with one other person who hated the house-share culture as much as I did.
These days, of all my friends and acquaintances (ages 25-38), only one is married with a child. Everyone else is living with their friends, and happy to continue this arrangement indefinitely. People are horrified at the thought of children, and mock the concept of marriage, Instead, they simply continue to behave like children themselves.
Of course, partly this is financial; many people in their twenties and thirties have no choice but to share a house as they simply can't afford anything else - or rather, the only other option would be to live with their parents.
This highlights another important anti-family, anti-human trend in our society. In most other cultures, it is normal for adult children to live at home until they get married. But now, there is great stigma and shame attached to adults (especially men) living at home once they have completed their education. Therefore, many people are forced into unhealthy, friend-fixated house-shares, to avoid the stigma of living at home.
Staying with family would in many cases be the healthier option for young unmarried adults - which is why the Illuminati media works hard to stop it - See
this article
from the Guardian. (Although the Guardian has some good journalism, on social issues they are nauseatingly liberal; "Guardian-reader" is quite a popular pejorative among conservatives!)
Despite all the dazzling good press modern friendships get, the reality is that these relationships are superficial and sterile. They revolve around blurry nights out, popular culture, and tedious dramas. They don't go anywhere, they don't elevate the participants to new plains of thought or creative discoveries. They are just there as a salve, a stitch - to hold together the fragile, dysfunctional egos of people too scared and too damaged to grow up.
As this trend becomes ever more pronounced, we are likely to see a campaign for "urban families rights" recognized by law. Soon, they will want to adopt children. The same logic that has been applied to legitimize homosexual parenting and single mothers will be applied here - "it takes a co-op house to raise a child".
Modern culture teaches young people nothing about family. They probably watched their own fall apart, and so learned that family is transient, temporary, optional. They have not been taught or guided how to grow up, and so they simply do not. While the media rewards them handsomely for this, their own shattered and empty emotional lives tell the real story.