Fritz Springmeier: A Message from Prison
May 10, 2010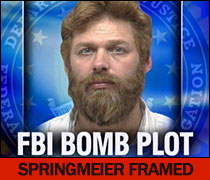 (Fritz asked me to post this letter he sent on April 8, 2010. It was received last week.)
You have been asking and seeking. As life hurries by, you see changes coming and new stages of life approaching. You may be instinctively clutching your possessions, creature comforts, and dear ones. I can't promise you tomorrow will be better. But now is not the time to lose our joy and hope. Now, more than before, is the time to love God even deeper, to encourage each other, to share our God given gifts, and lastly, to center our lives around appropriate meaningful work for God and humanity.
In February 2003, I was given an 111 month Federal Prison sentence for allegedly aiding and betting a bank robbery. I had been serving a role in frustrating the NWO's negative agenda and as an observer and journalist with a Biblical perspective exposing what was going on. I have been cut off from mainstream America, but I suspect many of you, dear readers (even though you are not in prison), also feel cut off from mainstream America. But we are not cut off from our source of strength, our Heavenly Father.
Some of you will naturally wonder how I've made out over seven years of captivity. I'm doing fine. I feel the love YHWH God and his Hand in my life. My body has survived the prison chow, the prison negativity and drama, and prison epidemics. The fact that my body can do at once over 27 pull-ups and over 65 pushups gives evidence that it still has strength. My personal autodidactic educational project has been the written and spoken Japanese language. Yes, I've been able to productively use my prison time, both educationally and spiritually.
Before a year's time is passed, I will again be among you to celebrate life and liberty. Due to the various possibilities, I don't know when or where my release will occur. The release address may be Oregon. It remains to be seen how God working through events and people will re-establish my life. Perhaps you have a positive role to play in that.
Feel free to drop me a line, and describe the landscape of your feelings, dreams and struggles, and your life in general.
FAITH, HOPE & LOVE... the greatest is LOVE.
Fritz Springmeier #65441-065
FCI
3600 Guard Rd.
Lompoc, CA. 93436