Lady Gaga Collaborators Continue to Die
July 22, 2011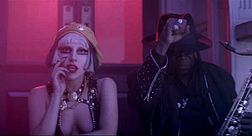 Left, Clarence Clemmons on Gaga's "Edge of Glory"
"The difference between Illuminati psychodrama and conventional plays is they actually kill characters for real when called for in the script"
Latest:
"Amy Winehouse Denies Collaboration with Lady Gaga"
by Richard Evans
(henrymakow.com)The body bags
are stacking up. Another sudden death of participant in recent Gaga hit.
I had heard recently that Bruce Springstein's famous saxophone man from way back since the '70's 'Born to Run' album died last month (June. 23rd)

But tonight I just saw Gaga's May 23rd video,
"Edge of Glory"
which shows only her and Clemons in a song about the glory of the moment of death.
Wow. Another sudden death of a participant in "Gaga's" latest hits.
First, the superficial details before I explain the occult meaning. This song charted on the top-ten in several major music markets, including Canada, Belgium, Germany, Norway, Spain, Australia and New Zealand. In the United States, it debuted at number three.
Clemons had a stroke 21 days after the release of the video. He died 6 days later, 27 days after the release.
Here is the chronology of events.
In Feb 2011
,
Rolling Stone Magazine
reported:
Three weeks ago, E Street Band saxophonist Clarence Clemons was putting together an exercise machine in his Florida house when his wife told him that Lady Gaga's people were on the phone. "They said to me, 'Lady Gaga wants you to play on her album,'" Clemons says. "This is on a Friday afternoon at 4:00 pm. I said, 'When do you want me to do it? I'm free Monday or Tuesday.' They go, "No, she needs you RIGHT NOW in New York City." Clemons dropped what he was doing and started driving to the airport. "I almost got a ticket I drove so fast," says Clemons. "It was wild. I was so excited. I'm a Gaga-ite."
May 2011
:
"Lady Gaga has premiered her new song "The Edge of Glory.". Bruce Springstein's sax player Clarence Clemons featured in video alone with Gaga. The Fernando Garibay-produced track was released on Monday May 17th as a part of the countdown to Gaga's forthcoming album
Born This Way
, due in stores on May 23rd."
June 2011
: E Street Band sax player Clarence Clemons dies:
"E Street Band saxophone player and recent Lady Gaga collaborator Clarence Clemons suffered a stroke in his Florida home on Sunday night, June 13th. Clarence Clemons, the larger-than-life saxophone player for the E Street Band who was one of the key influences in Bruce Springsteen's life and music through four decades, has died. He was 69."
This is the Illuminati carrying out human sacrifice-murder in plain sight.
Prior to the release, the singer said the song was written in mourning for her grandfather who died September 24th, 2010. "[It's] about "your last moment on earth, the moment of truth."
Nobody would know that watching the video. The melody of the song derives from Bruce Springsteen's late '70's 'electric jazz-rock' anthems. The video set is a reproduction of a Lower East Side alley with metal fire escapes and fake fog, no dancers, no plot - just Gaga and barely visible Clarence Clemons with his saxophone in the background, while Gaga cavorts in a quasi-ancient-Egyptian costume and wig.
This combination of memes seem as incongruent as her statement that the song is about mourning her late grandfather's "last moment on earth" seems with the lyrics:
"I need a man who thinks it's right when it's so wrong Tonight, yeah, baby, right on the limits / Where we know where we both belong."
"I'm on the edge of glory / And I'm hangin' on a moment of truth/ I'm on the edge of glory / And I'm hangin' on a moment with you / I'm on the edge."
Then it hit me. I remembered a movie that was a big hit in 1979, "All That Jazz", about a Broadway Musical choreographer's death experience - the final scene is an jazz saxophone finale as the character exits this life toward a radiant female called "Angel of Death" in the script.
The similarity of empty set with the man alone with this archetypal female angle of death isn't a 'ripoff' due to laziness of the creative director. You will find this very allegory in
The Egyptian Book of the Dead
. (literal translation; "Ritual of emerging forth into the Light".) The Egyptian text describes 192 spells the dead must complete on a journey through the underworld to attain godhood.
Gaga's quasi-Egyptian makeup and wig now identify her as playing MA'AT, [1.] the goddess of Truth (justice) in the final spell known as the "Weighing of the Heart". Ma'at weighs the dead man's heart on a scale against the weight of a feather. If his heart is as light, he becomes an immortal on the other side.
That's what this video is about. Obviously the people who put together the song and video knew what it was about, and that it needed a man they knew was going to die to be in it. Gaga doesn't interact with Clemons in the video and we never see his face.
I'm not writing this to give credence to the Illuminati music industry's OTO religion.
I write to inform you not to be conned into believing they have any secret wisdom or that they have supernatural power. I want people to know everything they do is psychodrama -- they create illusions, nothing more.
Their power comes from how many people swallow their con job. They write these elaborate scripts where fiction crosses back and forth into 'reality' until you can't tell the difference with this psychotic young woman they've made their current 'superstar'. The difference between Illuminati psychodrama and conventional plays is they actually kill characters for real when called for in the script.
Is it magic? Not really. It's a cheap trick to stoop to making a public spectacle of death.
Be aware that the Gaga project isn't to entertain you. It's teaching the NWO's 'new' religion. Stephanie Germanotta (Gaga's real name) is merely a musician and "clothes horse" plugged into the juggernaut of psychological 'Culture Creation', where 'recreation' means RE-creation of your morality, ethics, and behavior.
As Madonna twisted the symbols of religious morality with egoism, materialism through sexualization - Gaga videos ransack memes of good and evil, sex and murder to politicize them as 'equal rights'.
Other Gaga related sudden deaths include;
Feb 2011
Lady Gaga Designer, Alexander McQueen
, Believed Dead by Suicide
Controversial Designer was Known for His Outlandish Creations, Making Him a Perfect Match for Lady Gaga's Flamboyance. British media organization, is reporting that McQueen was found hanged, an apparent victim of suicide. Police are not launching an investigation, because it would appear that McQueen's death did not occur under suspicious circumstances. Alexander McQueen was 40.
http://www.associatedcontent.com/article/2689735/lady_gaga_designer_alexander_mcqueen.html
Lina Morgana Oct 2008
Former Gaga act partner Lina Morgana - who went jogging in Manhattan through a 16th story window on the Lower East Side during Samhain (Halloween) Oct 2008. Police and media said "suicide".
Russian immigrant girl's mother who said they "stole her soul."
http://mydeathspace.com/article/2010/09/09/Lina_Morgana_%2819%29_committed_suicide_and_her_mother_is_claiming_Lady_Gaga_stole_Lina_s_style_and_soul
Gaga stole Morgana's unreleased song, "Wonderland". Gaga simply changed the title to "Wunderland".
http://www.youtube.com/watch?v=xOVevXqmWlU
-----------Footnotes
[1.] Ma'at in the final spell of the Egyptian Book of the Dead, "Into the day (light0"
http://public.wsu.edu/~dee/EGYPT/BOD125.HTM
--
Related-
David Bowie Denies Gaga Collaboration
Illuminati Prophecy of Clarence Clemons Death (Vid)