Imaging Expert: Obama Birth Certificate Contains Anomaly
April 27, 2011
(Updated April 28, 10 am est)
"The following image was released by the White House as a copy of Barack Obama's actual birth certificate. What can be stated, without a doubt, is that the green safety paper on this image is there to engender a sense that the document is bonded and "official". What the public should be aware of is safety paper is used to prevent copying, erasing, and altering of a document and in general to make it difficult to edit or forge components. The green paper in the White House release is NOT a part of the original document.
The green safety paper texture was added either through photocopying a document onto it, or by assembling the entire structure in a program like photoshop, and then printing it out onto safety paper. What is provided graphically here, as well, is a simple proof that the green
safety paper cannot be a part of the original document. Some readers have astutely pointed out that this was never the intention - though an unsuspecting public should be made aware of the difference in any case.
When you scan or take a picture of something which is on a perfect plane (like a chess board), the transformation (excluding intrinsic non-linear parameters of a camera) will project a line, into another line. Ergo, its a linear transformation. The focus is on the left edge of the document - where its curved -as if it was taken out
of a book or the like. The bars of the texture should
follow the curvature as well. They don't. Which means someone added the texture after the fact, or some document was printed or scanned onto the paper, and then it was re-scanned.
This raises many questions. Why is the copy at such a low resolution? Why not take multiple, multi-angle photos of the copy like they did to fact check the certificate of live birth:
http://www.factcheck.org/UploadedFiles/birth_certificate_1.jpg
Why are there no seams ? Was the certificate first scanned, then cropped, then printed onto safety paper, then re-scanned ? Why go through such a tedious process when what the public is demanding is the actual original certificate -- where it would be more convincing, again, to simply take multiple, multi-angle photos ?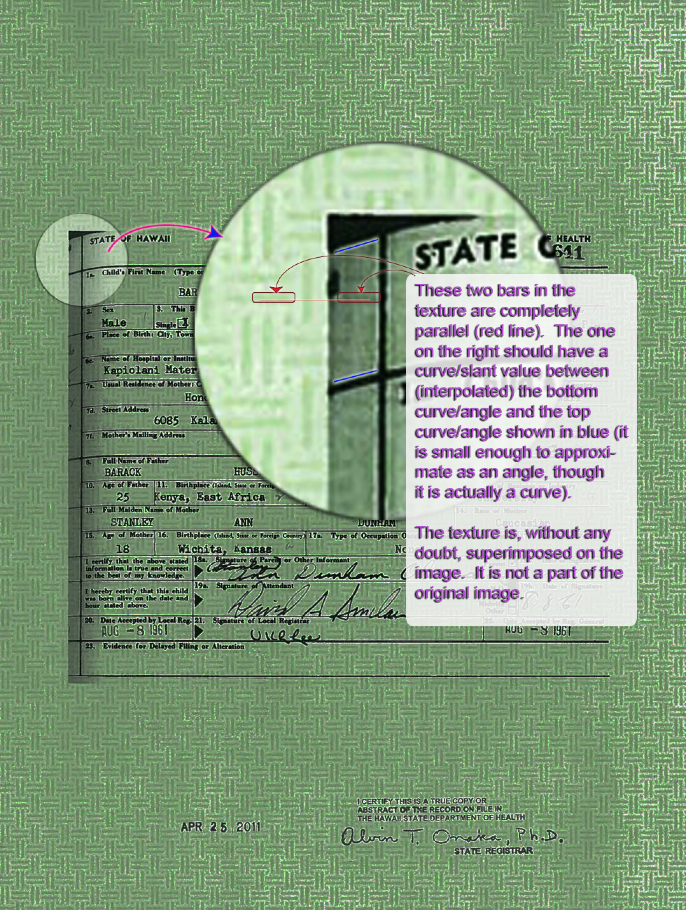 Forward